Nearly two-thirds of the country don't trust automakers to quickly announce recalls when defects are discovered and imports are widely seen as safer than domestics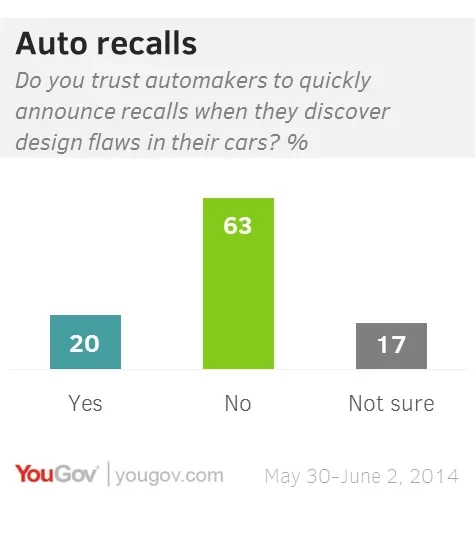 Last week Ford announced a recall of 1.4 million vehicles because of steering issues. This was closely preceeded by GM's 2.6 million vehicle recall because of a flaw involving the ignition system that has been implicated in a number of crashes, some fatal. GM has faced significant criticism after it emerged that GM engineers were apparently aware of the flaws for some time - even proposing a fix that was turned down by execs due to cost reasons - before the recall was announced.
The latest research from YouGov shows that Americans overwhelmingly don't trust automakers to quickly announce recalls when they discover flaws with their cars. Only 20% do trust automakers on this issue, compared to 63% who say that they don't.
Asked which automakers makes the safest cars, Toyota (14%), Honda (13%) and Ford (12%) win. Toyota itself announced a 6.4 million vehicle recall a few months ago, but this has apparently had little impact on public opinion. GM (16%) is the most likely to be seen as the least safe automaker, followed by Toyota (9%).
Overall, foreign automakers are more likely to be seen as safe than American firms, with 43% of Americans saying that the 'safest' cars are made by foreign companies compared to 19% who chose domestic manufacturers. Nearly half the country (47%) just aren't sure who makes the most dangerous cars, and attitudes are nearly even split among those who do have an opinion, with 28% choosing an American manufacturer and 25% choosing a foreign one.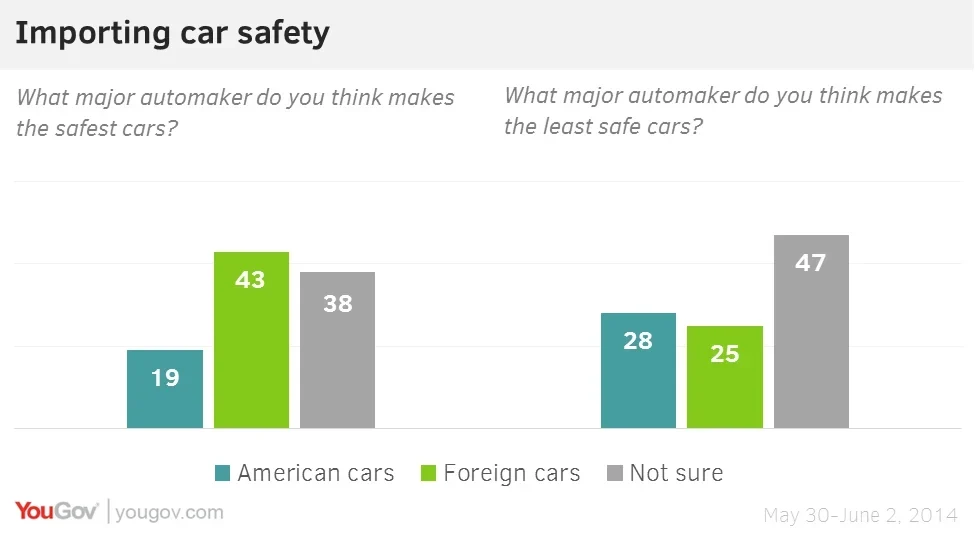 Full poll results can be found here.
Image: Getty