There is now much more agreement between blacks and whites about whether O.J. Simpson is guilty of murder
Twenty years ago Nicole Simpson, the wife of football and movie star O.J. Simpson, and her friend Ron Goldman were murdered at her California home. That crime set in motion a slow car chase that kept the country glued to its television and a televised trial that riveted the nation – and divided it along racial lines. In the latest Economist/YouGov Poll the trial still resonates, but this time whites and blacks agree on the guilt of O.J. Simpson.
Two decades ago, whites and blacks felt very differently about the O.J. case. In a CBS News poll conducted just after the acquittal of O.J. Simpson for the murders, there was a sharp racial split. By six to one, whites said O.J. was guilty, by nearly the same margin, blacks said he was not.
Now, both whites and blacks think Simpson was guilty, though by differing margins. 82% of whites and half of blacks agree Simpson probably was guilty of the murders. Many African-Americans, however, take no position.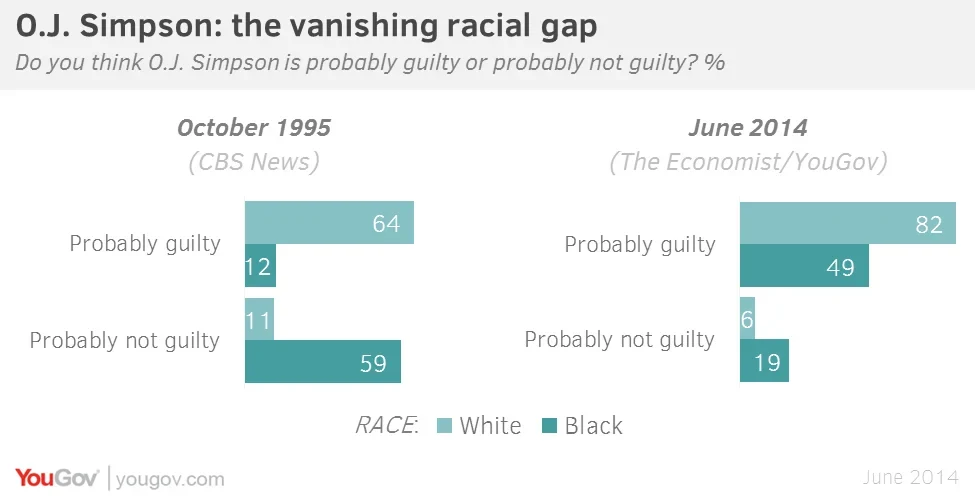 Twenty years later, Americans still know about O.J. Simpson. 93% have heard of him, and even among those under 30, many of whom would not have been attentive to the murder and trial, 83% are aware. And nearly two-thirds of those responding today admit they followed the case closely.
But while there does seem to be greater racial consensus on Simpson's guilt today, there are still racial differences. Looking back, three times as many blacks as whites say they were satisfied with the jury's verdict at the time. 43% of African-Americans say they were satisfied, compare with only 14% of whites, underscoring the racial differences that existed at the time of the trial. But, perhaps reflecting their changed opinion today, more than a third a blacks say they aren't sure how they felt about the verdict then.
Looking back on the whole O.J. Simpson saga (he is currently serving a 33-year term for several felonies, including armed robbery), one in four say justice has finally been served, though even more think the two cases have nothing to do with each other. But about a third of African-Americans believe the armed robbery conviction more likely indicates that the government was out to get the former football star.