Despite media coverage of some spectacular air rage confrontations, only 13% of Americans who travel by plane have ever been on a flight with somebody suffering from air rage. However, 17% admit to feeling their own stress-related rage while flying.
Before they get anywhere near the plane Americans are already provoked by the price of flights. Nearly two-thirds (64%) of Americans agree that the number one reason they dislike flying is cost. Small seats (49%), a lack of seating space (47%), security checkpoints (47%), and flight delays (47%) all also frustrate almost half of Americans.
Those older than 55 are more prone to complain about loud children (39%) than passengers between the ages of 18 and 34 (26%). Similarly, passengers who bring too much baggage are more likely infuriate fliers aged 55 and up (42%) compared to those between 18 and 34 (22%).
The inconvenience of immigration (15%), lack of entertainment (11%) and poor food (18%) although mentioned seem to be only minor irritants.
Have you seen or felt air rage while flying?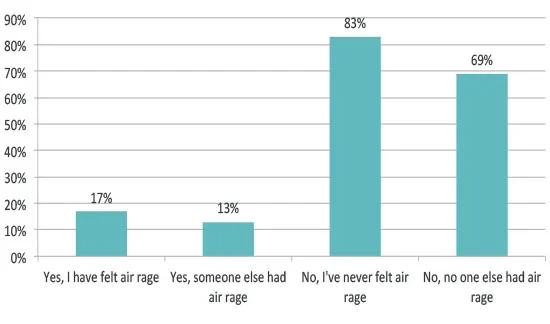 For further information about poll results, and for details about methodology and omnibus services, please email omnibus.us@yougov.com.
Find the full results here.
Image courtesy of Getty