Most people think that college athletes should be allowed to endorse products, but they don't support performance-related pay or unionization
Americans aren't in favor of college athletes forming labor unions, nor do they think those athletes should be paid for their performance. But the public does want those athletes supported in other ways – even if they are injured and can't play anymore. The latest Economist/YouGov Poll even finds majority support for letting college athletes do something they have been prohibited from doing for decades -- making money from product endorsements.
But performance-based direct payments are rejected by nearly two-thirds. The idea is especially disliked by those 65 and older (72% oppose it); those between the ages of 30 and 44 the most supportive (40% of them are in favor, but more are still opposed. African-Americans divide evenly, while support for direct payments drops as family income rises.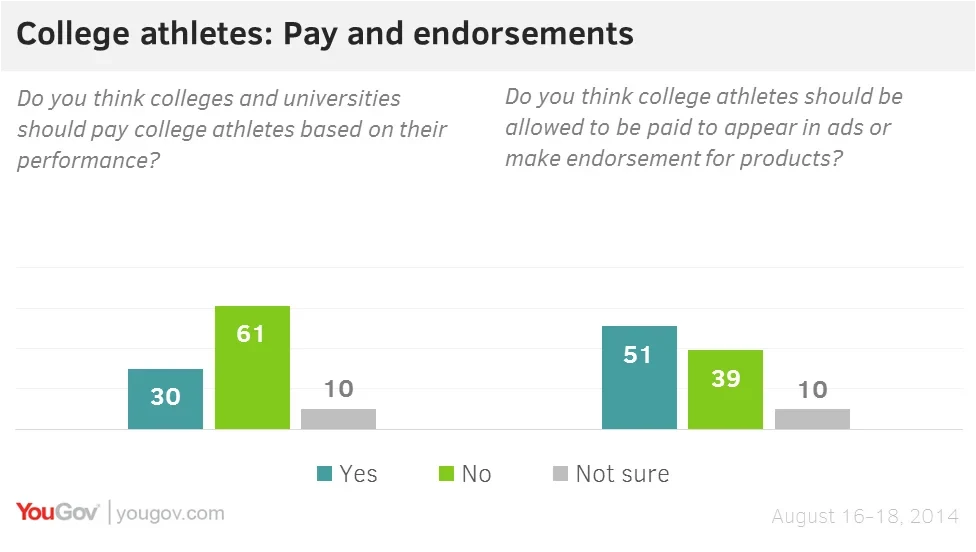 Most Americans would let athletes endorse products. But some would not. While there are no income differences on this question, and all racial groups believe college athletes should be able to make product endorsements (though by different margins), 50% of senior citizens and 53% of Republicans would not allow college athletes to endorse products for payment.
Americans overwhelmingly favor other benefits for college athletes: by two to one, they say colleges should be required to cover medical costs for former athletes, if the medical costs are due to the player's participation in college athletics. That would presumably cover any later onset of brain-related injuries and issues due to on-field concussions occurring while an athlete was participating in college sports. And by a wide margin, Americans believe colleges should be required to continue scholarships for athletes even if they are injured and can no longer play.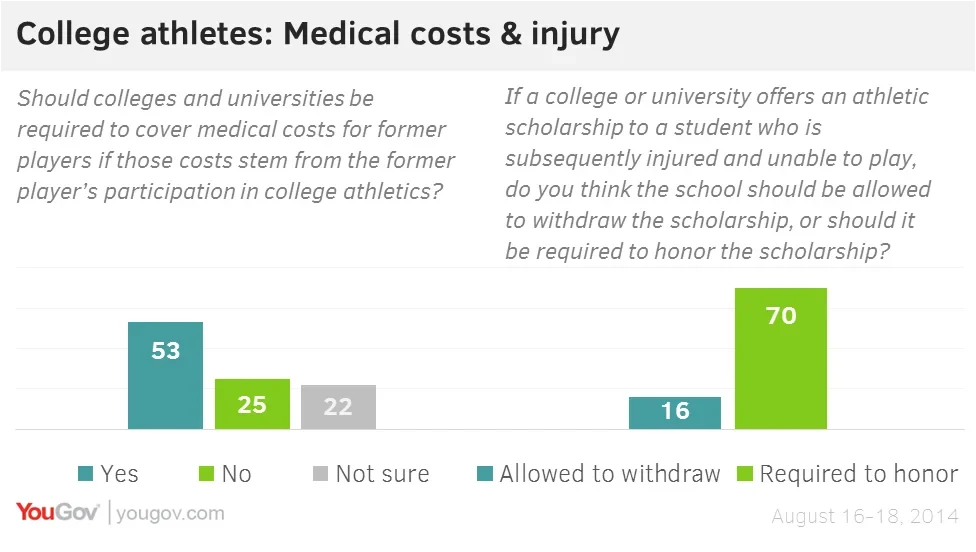 Republicans are less sure about both policies. They divide evenly on whether or not colleges should be required to pay the costs of longer term manifestations of sports injuries, and 24% of Republicans believe that colleges should be allowed to withdraw scholarships from injured athletes who can no longer play.
Americans don't yet want to go as far as the National Labor Relations Board, which ruled last March the college athletes on full scholarships were employees, and therefore could organize into labor unions to negotiate for such things as medical coverage, better scholarships or other issues.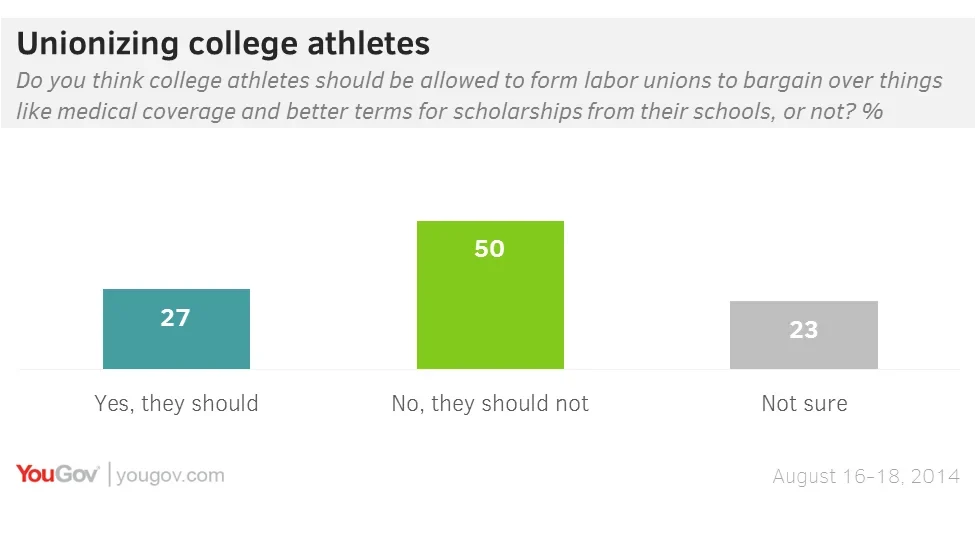 However, a majority of blacks and pluralities of Democrats and liberals support unions for college athletes. Those under 45 are evenly divided.
Image: PA
Full results can be found here.
Economist/YouGov poll archives can be found here.