One in three NFL fans expect the Seahawks to win the Super Bowl, more than any other team
And then there were four. Last weekend's games saw the exit of four teams – the Broncos, Cowboys, Panthers and Ravens – setting the stage for Sunday's Conference Championship games.
In YouGov's NFL Tracker, which tracks the Super Bowl expectations of NFL fans, the Seattle Seahawks once again benefit most from the winnowing of the field. One in three NFL fans (32%) now expect 2013 champions to go two for two, up from 16% last week.
This is significantly more than expect either the New England Patriots (24%) or the Green Bay Packers (23%) to win the Super Bowl, though most fans (56%) do bet on a team other than the Seahawks.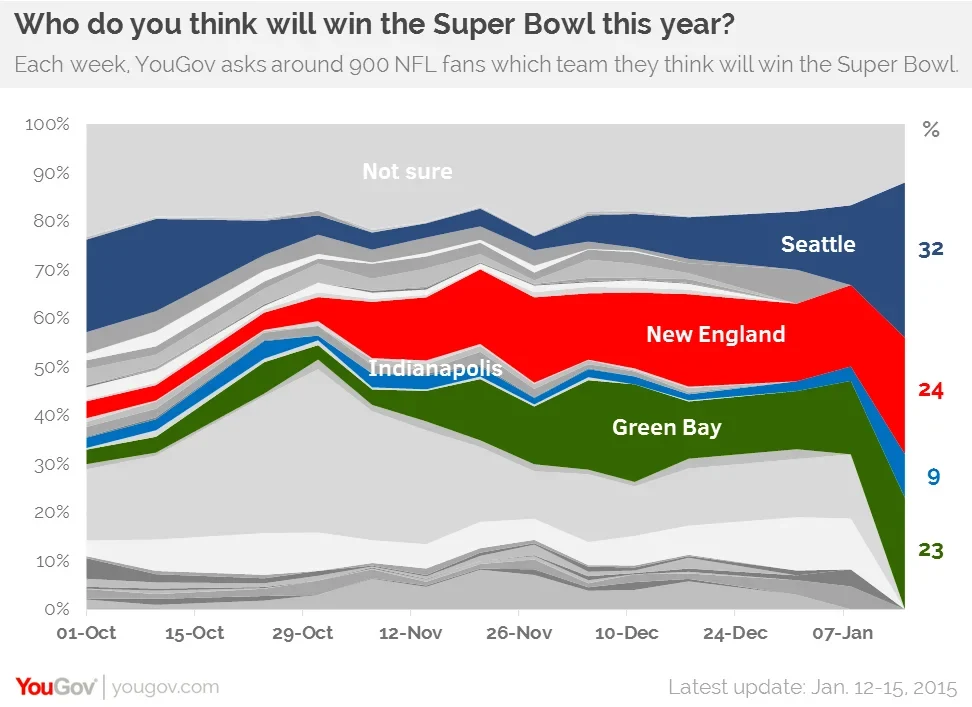 The Indianapolis Colts remain the biggest underdogs, with only about one NFL fan in ten (9%) giving them the advantage. This is technically an improvement, given that throughout the season no more than 4% have ever previously said the Colts would go on to win.
The Patriots will play the Colts for the AFC Championship this Sunday, and the Packers are up against the Seahawks for the NFC trophy on the same day. The winners of each game will meet at Super Bowl XLIX in Glendale, Arizona on February 1st.
Update 18/1/2015: A previous verison of this article indicated that the upcoming Super Bowl is Super Bowl XLIV. It is Super Bowl XLIX.