As Kobe Bryant exits the NBA, a comparison of his fans with the young fans of rising star Steph Curry suggests the league is set for a new tone — and new marketing opportunities
With a single game left in his career, legendary NBA player Kobe Bryant is on the verge of retirement. After two decades in the league, the shooting guard has established himself as a fierce competitor with little patience for fooling around.
In late 2014, during one particularly intense practice, for example, Bryant made headlines for calling his teammates "soft like Charmin," as in the toilet paper. Or consider his recent farewell ad for Nike. In the 60-second spot, titled "Don't Love Me, Hate Me," a stern-looking Bryant stares directly into the camera while listing the reasons people should hate him instead of love him. "Hate me because I demanded greatness, and greatness demands everything," he says, further cementing his reputation as one of the NBA's hardest-working athletes.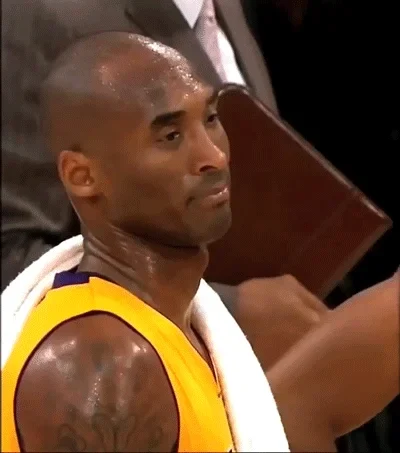 With his upcoming retirement, however, younger players — and their fans — are taking Bryant's place both on the court and within the NBA's promotional campaigns, and perhaps the epitome of this new generation is Steph Curry of the Golden State Warriors. With an NBA championship, league MVP title, three All-Star appearances, and an ability to shoot a 3-pointer unlike any player who's come before him, Curry is widely touted as the league's next major superstar. In a sport full of highly marketable stars such as LeBron James, Kevin Durant, Anthony Davis, and James Harden, Curry's is the freshest face. Last February, for example, Buzzfeed reported that Curry had become the most-watched athlete on YouTube.
With this new generation of players comes a new generation of fans. Data from YouGov Profiles confirms that Curry's fans skew much younger than fans of the outgoing veteran Bryant.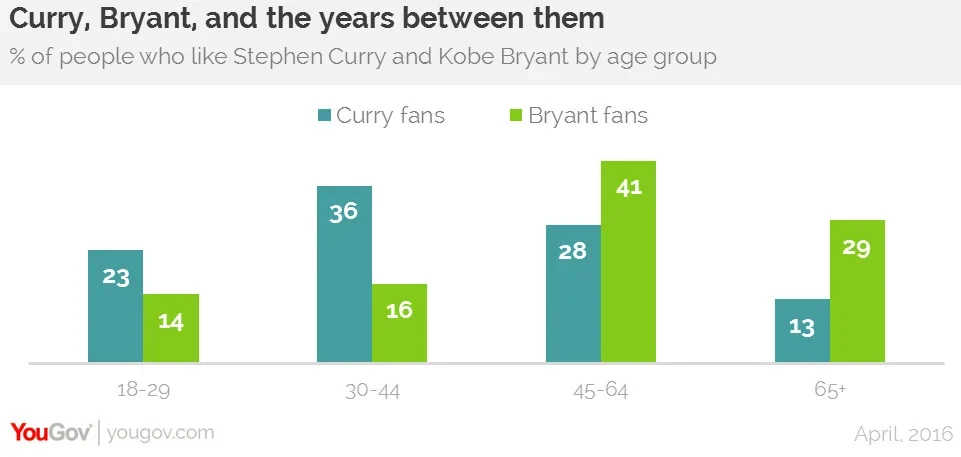 As you'd expect, these younger fans are much more tech savvy - Curry fans tend to use smartphones and laptops to acess the web, while the most-used device for connecting to the internet amongst Bryant fans is the desktop computer - and already we've begun to see younger stars like Curry used to promote technology products. Expect to see a lot more of that.
But perhaps the most significant lesson from the fans for professionals involved in the huge advertising and promotions industry around the NBA are the different groups approaches to humor. YouGov Profiles reveals that Curry's fans are far more likely to watch comedies, laugh at controversial or taboo subjects, and find cringeworthy and embarrassing situations funny. The serious, hard man image of basketball that Kobe Bryant leaves behind is bound to change, as a new generation emerges of fans that grew up with the internet. These consumers respond better to a lighter touch.

The difference in image between the two stars is already noticeable. Unlike Bryant, Curry doesn't mind posting self-depricating vines and dancing around for all the world to see. He's no comedian, but he certainly seems fine with laughing at himself.
This literal changing of the guards and their distinct personalities has many implications for how the NBA promotes itself and how marketers present their brands to the next generation of NBA fans. There's a new generation of fans, and a new mood in the arena.