New data reveals that fans of the Chicago Cubs are more likely to enjoy TV commercials than fans of the Cleveland Indians
The Cleveland Indians haven't won a World Series since 1948, making their succession of losing seasons one of the longest droughts in Major League Baseball history. The only franchise with a longer winless streak is the Chicago Cubs, who haven't won a championship since 1908. Now that the two teams are facing off for the trophy, ratings are expected to spike as one drought is guaranteed to end.
New data from YouGov Profiles, a research tool that tracks the public's opinion on a variety of topics, suggests that people who consider the Chicago Cubs among their favorite sports teams possess a degree of awareness and openness to advertising that isn't shared by fans of the Cleveland Indians.

Half of Cubs fans, for example, report that they often notice ads on public transportation, and that posters and billboards help them become aware of new products and services. For Indians fans, these numbers come in at 40% and 37%, respectively.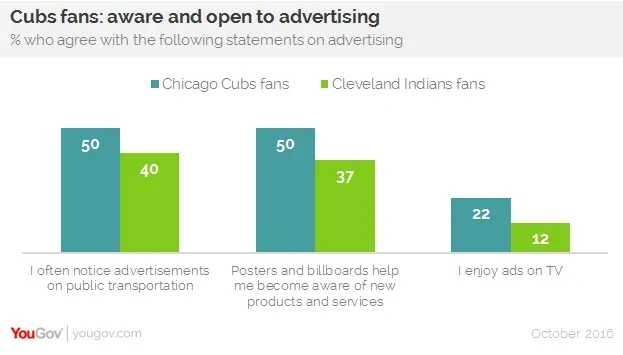 Beyond a mere awareness and openness to advertising, Cubs fans also show more signs of action. 31% recommend various products and services to their friends and family after seeing them advertised on posters and billboards, compared to just 25% of Indians fans. Cubs fans are also nearly 10 percentage points more likely than their rivals to say they search the internet for products featured in commercials while watching TV.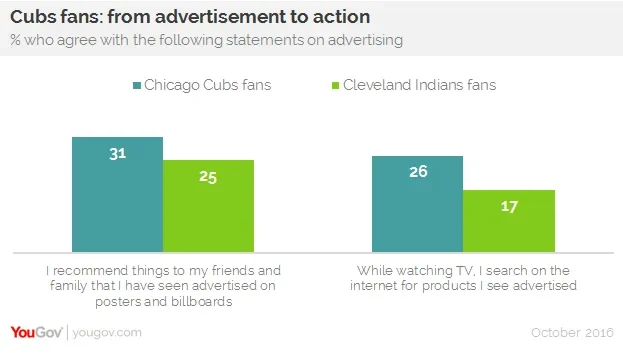 A demographic analysis of each group reveals that both skew male and are more likely to vote Democrat than Republican. Another similarity: just north of a quarter of Cubs fans and Indians fans earn at least $60,000 per year.
One factor that might help explain the different attitudes toward advertising is age. 29% of Cubs fans fall between the 18-34 age range, compared to just 22% of Indians fans, and data shows Millennials are more likely to be aware and open to advertising than their older peers.