Wimbledon viewership is highest among older Americans (35%), while younger spectators prefer the US Open (30%)
Wimbledon, the world's oldest tennis tournament, drew to a close last Sunday with Roger Federer and Garbine Muguruza hoisting the singles champion trophies. Players have only 43 days to adjust from Wimbledon's lush lawn courts to the unforgiving hard courts at the US Open. Playing surfaces aside, there are differences abound when one compares American spectators (live and TV) of these two magnificent grand slam events.
YouGov analyzed viewership data of both events and found generational differences between millennials and those older than 50 years of age. The data suggests that Wimbledon viewership is highest among Baby Boomers (31%) and much less appealing to those younger than that. The tournament is defined by its steadfast traditions — players are required to wear white and officials keep the crowds muted until rallies are over.
The London tournament harkens back to a time when propriety was synonymous with respect and is perhaps the reason why older Americans have a greater affinity towards it.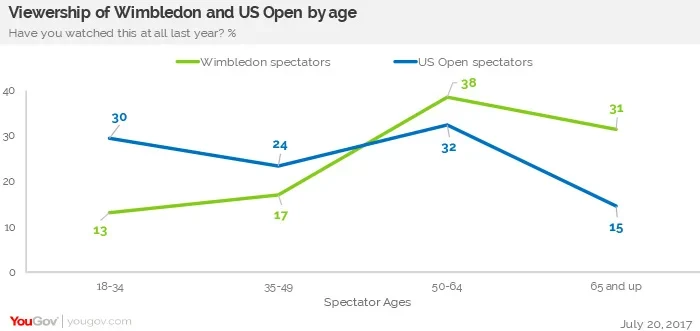 In contrast to the sea of white clothing at Wimbledon, the dark New York sky breeds excitement at the US Open night matches. In Flushing, NY, matches sometimes begin at 7 P.M. and often last longer than three hours. Under the cover of night, the crowds at Flushing Meadows could care less about propriety and would rather see some entertainment — a show that only some of the best athletes in the world could put on. It makes sense that such a loud, electrifying atmosphere would attract younger spectators by 15 percentage points more than those ages 65 and up.
YouGov also surveyed spectators on a personal level and it appears that the two grand slams attract different personality traits. Americans who watched or attended Wimbledon identify foremost as charitable (38%), considerate (32%), and compassionate (31%). These three adjectives can certainly align with the tournament steeped in tradition and propriety and describe an older, more mature crowd. What else could one expect from an event attended by Britain's own royalty?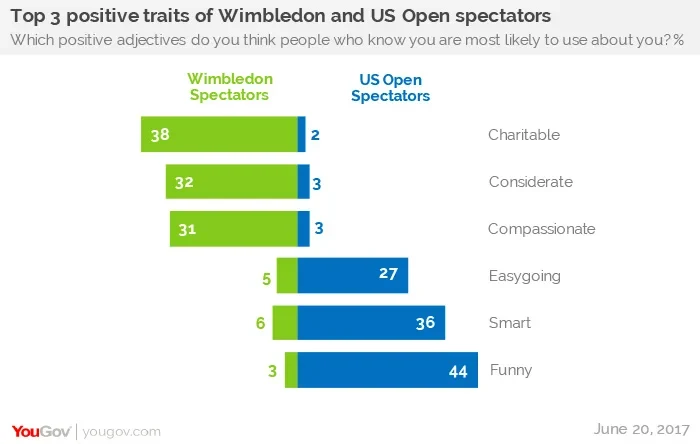 The US Open, on the other hand, seems to attract American spectators who describe themselves as easygoing (27%), smart (36%), and funny (44%). These are the viewers who want players to have a little fun on the court and often egg on some of that fun themselves. They trade strawberries and cream (a classic at Wimbledon) for pizzas and bar food. These spectators cheer for players to play harder as the night grows late — something only people from a city that never sleeps could do.