Most NASCAR fans drive and prefer Ford and Chevy vehicles
With just a month to go before the first 2017 NASCAR playoff race, YouGov breaks down the car maker preferences and purchase habits of both NASCAR enthusiasts and car hobbyists.
Data reveals that a majority of car hobbyists reside in the South (36%) and tend to be 50-64 years of age (32%), though millennials (24%) and those 65 and older (25%) are nearly just excited about automobiles. NASCAR fans, a niche community of car racing lovers, also live in the South (43%) and tend to be 50-64 years of age (38%) but suffer from a weaker millennial following (17%).

21% of NASCAR fans say that they drive a Chevrolet as their main car – something that 12% of car hobbyists also say. Ford is the second favorite amongst NASCAR fans (16%) but is the narrow favorite for car hobbyists – 13% of whom say that they drive one as their main vehicle. Toyota rounds out the top three in both the car hobbyist and NASCAR community - finishing with 10% and 7%, respectively.
When it comes to brand consideration, Toyota (33%) does nearly as well as Ford (36%) and Chevrolet (32%) among car hobbyists. Only 23% of NASCAR fans would consider Toyota, instead choosing to decide between Ford and Chevrolet (37%).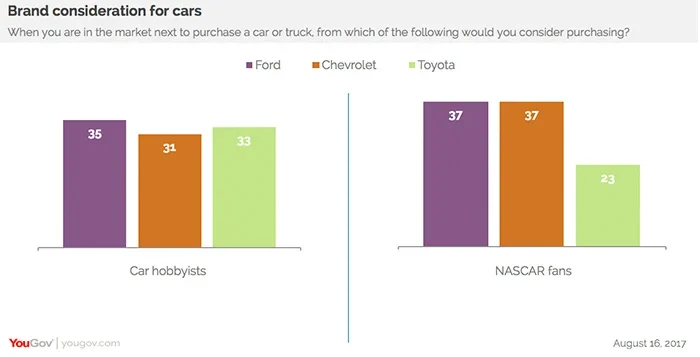 This battle between Ford and Chevrolet is fiercest when it comes to current and former customers. 45% of current Chevrolet customers were formerly Ford customers. Conversely, 42% of current Ford customers were formerly Chevrolet customers.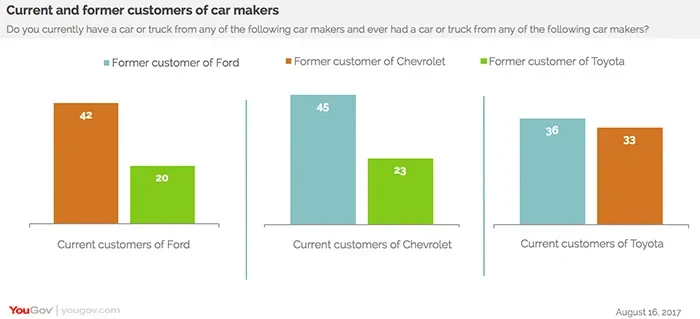 While the battle rages between the two biggest American car manufacturers, around 35% of Toyota's current business comes from previous Ford and Chevrolet car owners.