Over one-third of all residents in these three metro areas say NFL football is their favorite professional sport
As the 2017 NFL season begins, a recent YouGov Omnibus survey suggests that the league's most devoted fans among the nation's 20 most populated metro areas live in Denver, Dallas-Fort Worth, and Philadelphia. According to the poll, 37% of these cities' residents consider the NFL their favorite professional sport to either watch on TV, listen to on the radio, or attend a game in person.
Behind this three-way tie for America's top NFL city comes yet another three-way deadlock for second place: residents of Cleveland, Boston, and Seattle-Tacoma all recorded a score of 34%.
In last place, with the fewest number of NFL fans, is San Francisco-Oakland-San Jose (13%). It's interesting to note, however, that residents of California's Bay Area are the most likely group among the country's 20 biggest urban hubs to say NBA basketball is their favorite professional sport (18%).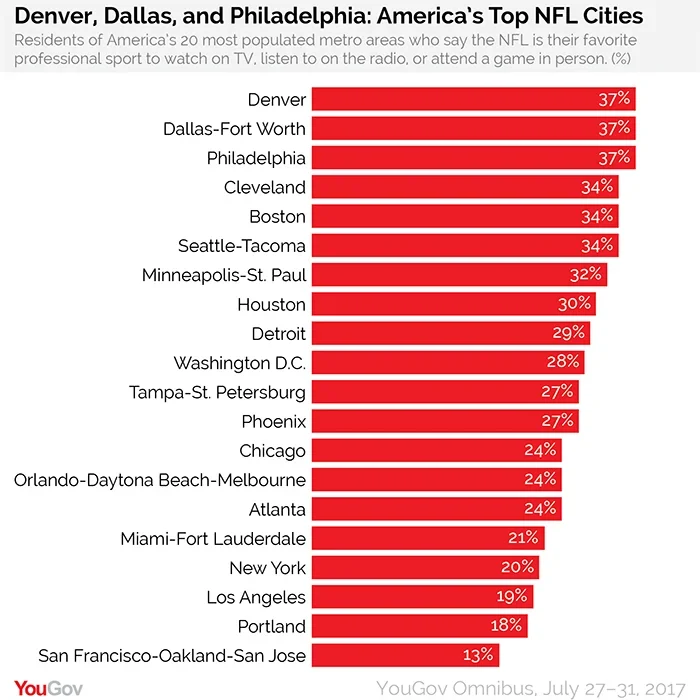 In addition to football and basketball, other professional sports listed on the survey were hockey, baseball, soccer, golf, and tennis. At 39%, residents of the Orlando-Daytona Beach-Melbourne metro area are the most likely group to say they do not enjoy watching, listening to, or attending any professional sports games.
Photo: Getty