38% of NFL fans think a player should be allowed to return to the game if he didn't lose consciousness
A study published last month in the Journal of the American Medical Association found a brain disease linked to repeated head trauma in 110 out of 111 deceased NFL players. Chronic traumatic encephalopathy (CTE) is a degenerative brain disease that often results in depression, aggression, and disorientation but can only be diagnosed after death (former New England Patriots tight end Aaron Hernandez's brain was the latest to be diagnosed with severe CTE).

Days after the study was published, YouGov panelists responded to the findings in a live survey and 63% said that the NFL should be doing more to protect its players and only 15% thought that the league was doing enough. At the center of this issue is an ethical problem that plagues many grueling contact sports. NFL fans believe that the league holds entertainment value over the safety of its players (42% to 27%). The rise of concussion studies and mounting death toll of former players certainly lends itself to this perception and again, fans who hold that the head is the most vulnerable body part are the staunchest believers that there's too much of an emphasis on entertainment value (53%).

Last year, 244 players were diagnosed with a concussion during preseason and regular season practices and games. New YouGov Omnibus research reveals that 34% of Americans interested in the NFL think the head is the most vulnerable body part followed closely by the lower body (33%). While one in five (20%) Americans think that all body parts are equally vulnerable, a study conducted in 2013 found that lower-body injuries accounted for 63% of all injuries that season – and head injuries tallied up to just 7.1%.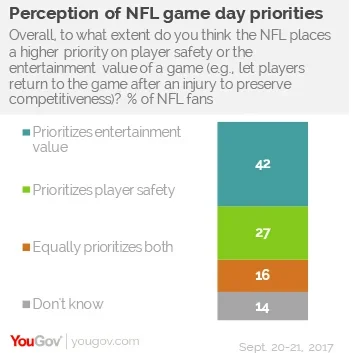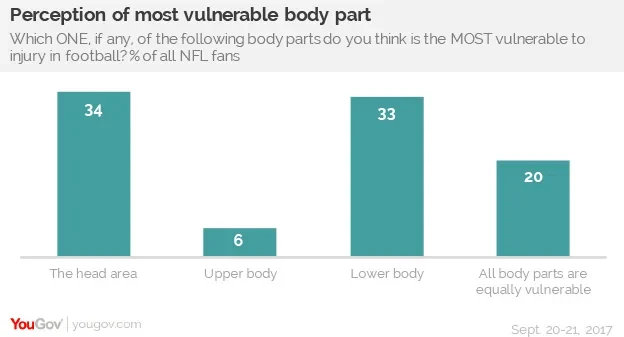 Currently, the
NFL Gameday Concussion Diagnosis and Management Protocol
states that all "gameday medical personnel" should be responsible for raising concerns regarding a potentially concussed player but only one in four fans (19%) agree that all parties share an equal responsibility. In fact, nearly half of NFL fans (48%) say that the player's own medical staff holds the most responsibility and 10% say that an on-site third party athletic trainer should make the call.
Another major concern is whether a player who has been sidelined or injured should be allowed to return if he appears fine and didn't lose consciousness. Fans are divided on this topic, with 38% on both sides saying that he should or shouldn't be allowed to come back. Of those NFL fans who say the head is the most vulnerable body part, more (45%) disagree with a player returning to the game while more of those who think the lower body is the most vulnerable believe a player should be be allowed to return (48%).