New data also suggests that white and black fans disagree about which team will win the 67th NBA All-Star Game
As the National Basketball Association's top players prepare for a weekend full of events, from the skills challenge to the dunk competition to the 67th NBA All-Star Game, a new survey from YouGov Omnibus shows that LeBron James is the 2018 All-Star player basketball fans across the country would like to hang out with most.
Fans of the league – defined as people either very, somewhat, or a little bit interested in the NBA – said they'd like to have a beer or share a meal with Steph Curry next, followed by Kevin Durant then Klay Thompson – all members of the Golden State Warriors. The All-Star players fans reported being least interested in hanging out with were Portland's Damian Lillard, Toronto's Kyle Lowry, Minnesota's Karl-Anthony Towns, and Detroit's Andre Drummond.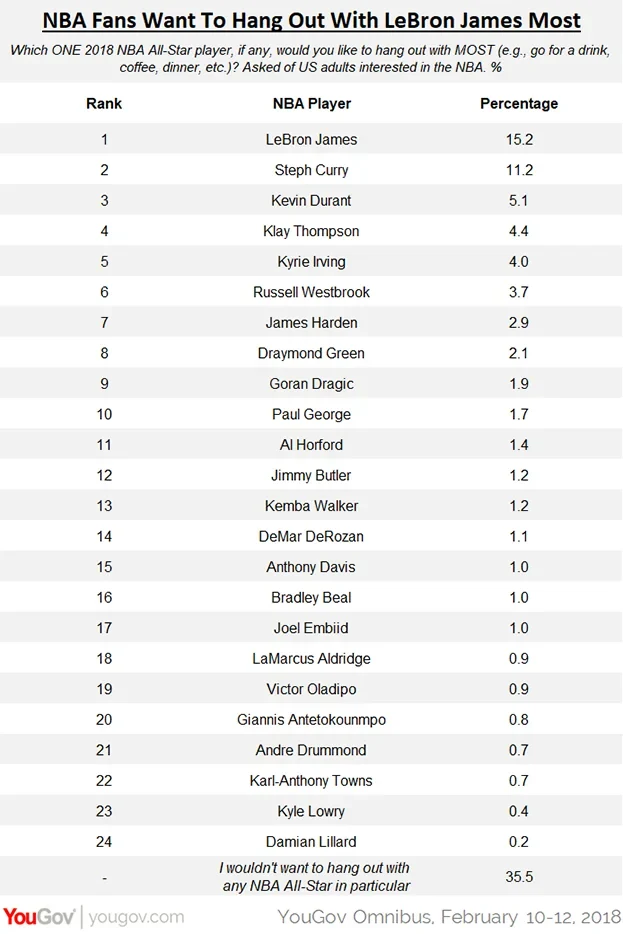 Perhaps it's no surprise, then, that LeBron James is the player fans look forward to watching most on Team LeBron, while Stephen Curry is the player fans look forward to watching most on Team Stephen.
When it comes to predicting which team will win the big game – Team LeBron or Team Stephen – fans are perfectly split down the middle at 32% each. At the same time, both black and Hispanic fans are more likely to favor Team Stephen over Team LeBron, while white fans are more confident Team LeBron will beat Team Stephen.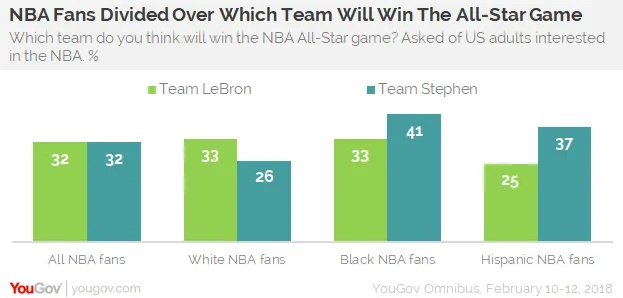 Additional data reveals that shooting is the one aspect of basketball that NBA fans enjoy most (37%). Following shooting comes dunking (20%), passing (11%), and dribbling (8%). Fans aged 55 and over are far more likely to say shooting is their favorite aspect of the game (49%) than those aged 18-34 (26%). Meanwhile, young people interested in the NBA are more likely to prefer dunking (22%) than their older peers (14%).
NBA fans are also more likely to say the dunk competition has increased in entertainment value over the past few years (33%) than they are to say it has decreased (22%). That said, black fans are the most likely group to say it's increased in quality (40%), followed by Hispanic fans (31%) then white fans (28%).
As for the All-Star weekend itself, nearly one-third (31%) of all Americans indicate that they'll watch at least some of the activities, whether that's attending in person or watching the highlights.
Image: Getty
Read more results from this poll here