Data shows young consumers are also more likely to place a bet with a bookmaker online
Now that the Supreme Court has cleared the way for legal sports betting across the nation, it's up to each individual state to decide whether consumers should have the opportunity to make wagers in casinos or place bets online — or whether the entire practice should remain prohibited.
When it comes to gambling in general, data from YouGov Profiles reveals that US consumers aged 18-34 are more likely to agree (50%) that online gambling should be legal than disagree (28%). Americans aged 35-49 also favor online gambling, while consumers aged 50-64 are divided on the issue and the majority of those aged 65+ oppose it.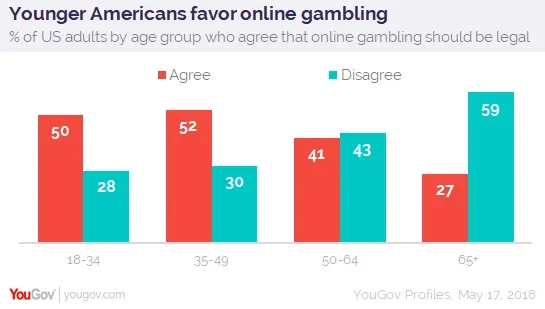 Another statistic that supports the notion that millennials would rather gamble via a digital space than a physical one: 47% of US adults aged 18-34 think casinos are depressing, compared to one-third who disagree with that assessment. Generally speaking, older Americans have more mixed feelings about whether casinos are depressing.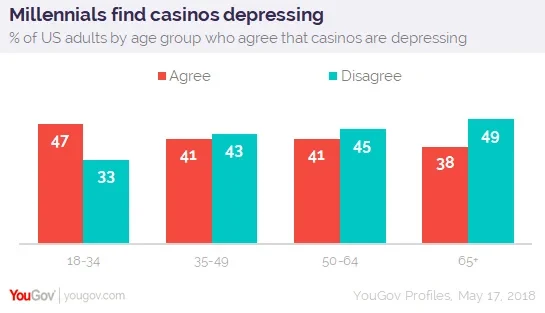 Furthermore, 3% of millennials admit to placing a bet with a bookmaker online in the past year. Only 1% of adults aged 35 or older say the same.
At present, data from YouGov BrandIndex shows that consumers aged 35+ hold a slightly more positive overall impression of the casino sector — which includes brands such as Caesars Palace, MGM Grand, and the Cosmopolitan — than millennials. Among US adults aged 35+, the casino sector currently holds an Impression score of 9, while it receives a 6 among those aged 18-34.
Older consumers are also more likely than younger consumers to say these traditional casinos represent good quality, as opposed to poor quality. On this metric, the casino sector has a Quality score of 11 among the older crowd, but a 7 among young people.
Photo: Getty