Even more Clemson fans think Alabama will triumph than not
The University of Alabama has competed in the last three College Football Playoff National Championship games, winning two of those matches. It has played Clemson twice before, winning one game and losing the other. Fans in the latest Economist/YouGov Poll expect the Crimson Tide to win again, but that's not necessarily what they'd like to see happen.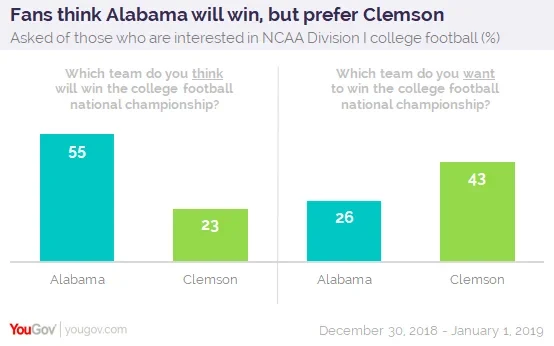 The Crimson Tide's former successes may be hurting it with fans. Or perhaps Clemson just is better liked. Among those who are at all interested in college football, more have a favorable opinion of Clemson (52%) than of Alabama (48%). One in four say they are unfavorable toward Alabama, while just 15% say that about Clemson.
Opinions in the South, the home region of both teams, are similar to those expressed by fans in the country as a whole.
Most of those who say they are interested in college football believe they will probably watch the game (though less than a third are definite that they will be watching on January 7).
Fans of each of the competing teams see the contest differently. Nearly all Alabama supporters believe the Crimson Tide will win. Those who like the Clemson Tigers aren't so sure — slightly more say Alabama will beat their team than expect Clemson to win.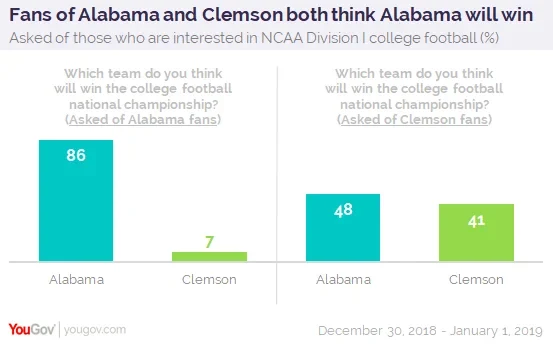 Those who expect an Alabama victory (the Crimson Tide are six point favorites) are closely divided on whether this is the outcome they want to see: 41% want the Crimson Tide to win the national championship, but nearly as many, 36%, are rooting for Clemson.
See the full toplines and tables results
Photo: Getty