New Yorkers are the least likely to follow the NFL
Some US cities are deeply devoted to their football team, throwing parades and parties for the games, painting their faces with team colors, and buying season tickets while others are, well, less enthusiastic. Data from YouGov Citybus's annual poll conducted in August 2018 finds that some cities are far likelier than others to regularly follow NFL games.
Though this weekend's Super Bowl matchup is between the New England Patriots (who are based out of Boston) and the Los Angeles Rams, neither of these cities are the the most likely to be home to devoted NFL followers. That honor goes to Philadelphia — home of the Eagles — where 43% of city residents say they follow the NFL.
Boston does come in tied for second place. Four in ten residents of this city follow the NFL, while an equal amount of Seattleites responded similarly.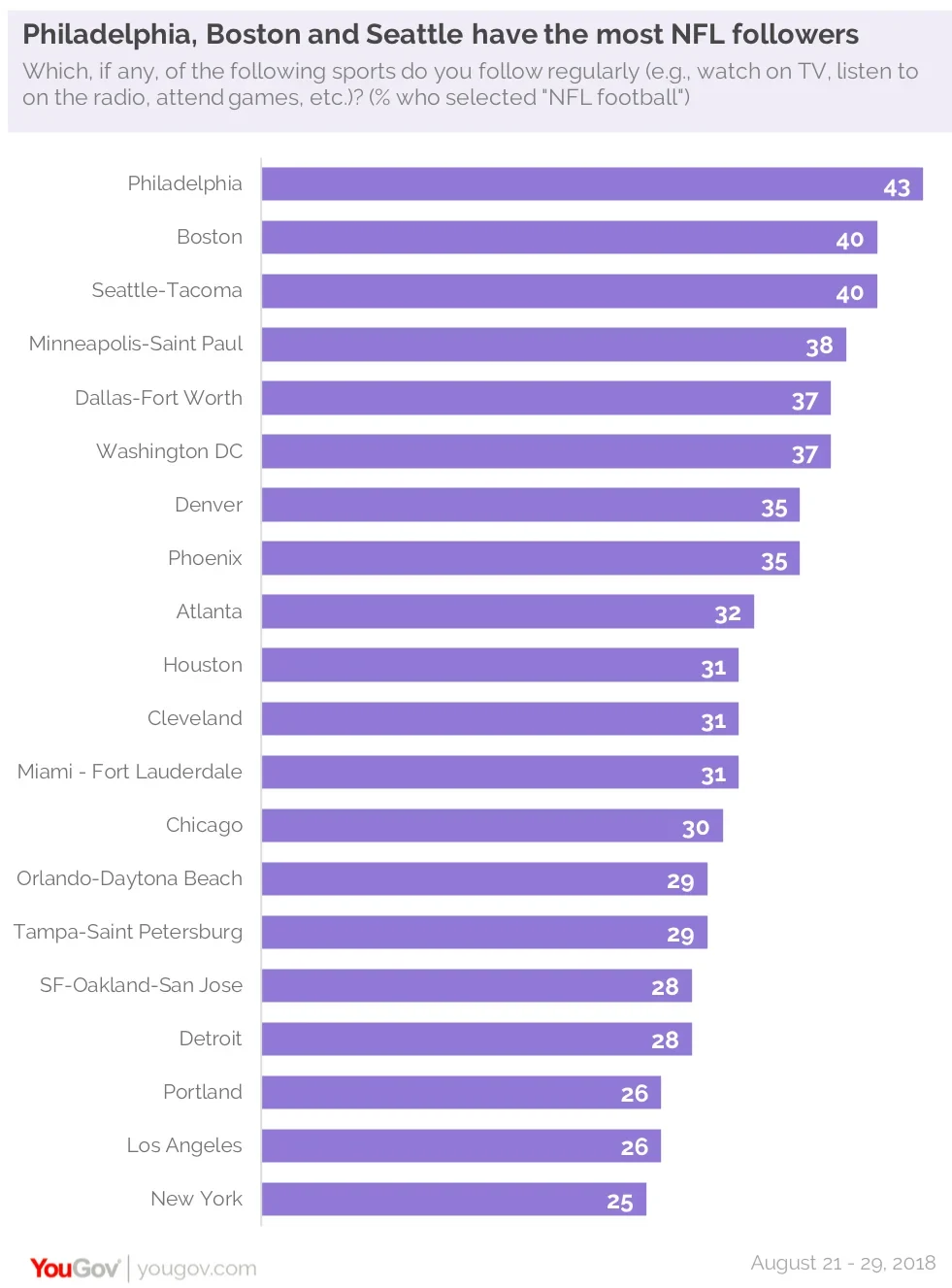 Though it's likely many Los Angeles residents will be watching their home team compete in the Super Bowl, YouGov Citybus data suggests that only about a quarter (26%) of the city's residents regularly follow the NFL. There's only one city where residents are less likely to report they follow the NFL: New York City, where 25% say they follow the NFL.
Super Bowl LIII will be played at Mercedes-Benz Stadium in Atlanta, home of the Falcons. Data from YouGov finds that residents of Atlanta fall somewhere in the middle of the pack when it comes to how many of them are professional football fans. About one-third (32%) say they're followers of the NFL.
To see NFL fan levels throughout the year, see YouGov Sports.
The respondents surveyed in this YouGov Citybus study reside in the following Designated Market Areas: Atlanta, Boston, Chicago, Cleveland, Dallas - Fort Worth, Denver, Detroit, Houston, Los Angeles, Miami - Fort Lauderdale, Minneapolis - Saint Paul, New York, Orlando - Daytona Beach Melbourne, Philadelphia, Phoenix, Portland - Oregon, San Francisco - Oakland - San Jose, Seattle - Tacoma, Tampa - Saint Petersburg, Washington DC.
Learn more about YouGov Omnibus.
Image: Getty