70% of viewers are looking forward to Super Bowl ads, but only 32% are looking forward to the halftime show
Americans are gearing up for Super Bowl LIII this Sunday between the Rams and the Patriots. Of the 55% who plan to watch the game, four in ten (42%) want the Rams to win, while far fewer (29%) want to see the Patriots lift the Lombardi trophy. Three in ten (29%) aren't rooting for either team.
The Patriots do better among younger viewers. A third (34%) of 18-to-34 year-olds want to see the Pats get their sixth Super Bowl since the turn of the century- exactly the same proportion as want the Rams to win. A similar number (31%) won't root for either team. The Rams do notably better among older viewers, with almost half (48%) of 35-54 year-olds backing them for the win along with 44% of those aged 55+.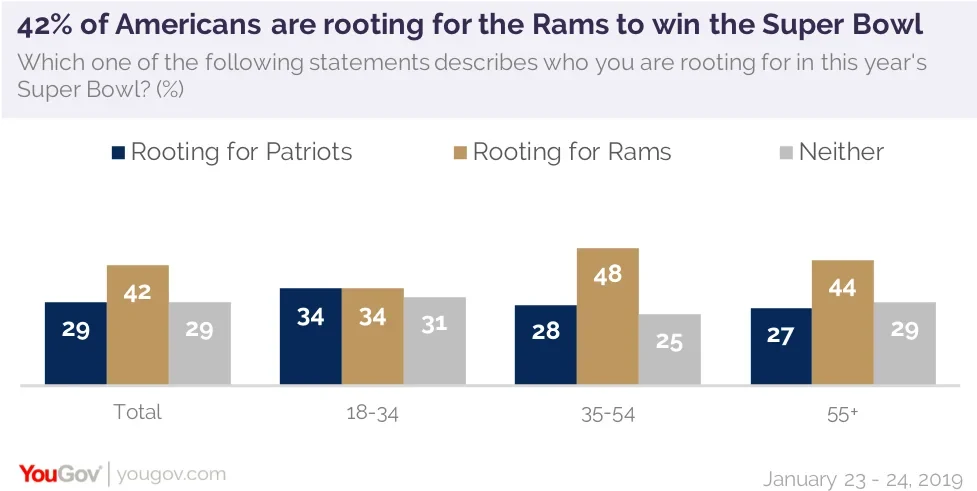 Understandably, viewers in the Northeast are especially likely (43%) to want to see a Patriots victory, while people in the West are more likely (52%) to be rooting for the Rams.
For some viewers, the actual game isn't even the real draw of the Super Bowl. Most Americans planning to watch the game (70%) look forward to the ads aired during the Super Bowl. This year brands including Budweiser, Avocados From Mexico, Audi, Walt Disney and Verizon are set to air commercials during the game.
A less popular part of the event this year is the halftime show. Only 32% say they're looking forward to this year's halftime performance by Maroon 5, Travis Scott, and Big Boi, while a slightly larger percentage (37%) indicate that they're not looking forward to it. This may be a reflection on this year's lineup as the research shows that half of those planning to watch the game (50%) generally look forward to the halftime show.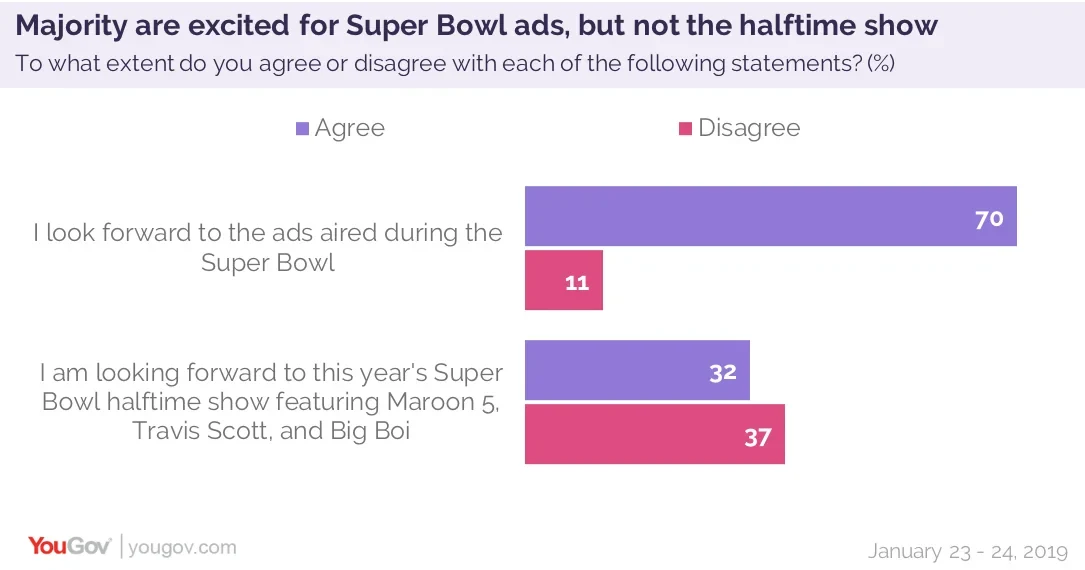 Anticipation of for this year's halftime show is strongest among 18-34 (40%) and 35-54 year-olds (36%). By contrast only around one in five (22%) of those aged 55+ are looking forward to the show. Data from YouGov Ratings finds that 47% of Americans have a generally positive view of Maroon 5, while 11% view them negatively.
See full results here.
Learn more about YouGov Omnibus.
Image: Getty