This month, Planet Fitness is the brand that achieved the most significant improvement in its Ad Awareness.
Planet Fitness, a national gym franchise, marked improvement in its advertising influence entering the New Year. In a January publicity blitz, the fitness club once again highlighted itself as an affordable, judgment-free zone for aspiring health customers. Planet Fitness' marketing emphasis on accessible, budget-friendly workout spaces succeeded in increasing its January Ad Awareness for the third year in a row, according to data from YouGov Plan & Track.
New data reveals that Planet Fitness experienced the largest rise in Ad Awareness during the month of January. The fitness brand's Ad Awareness score, which asks respondents if they've seen an advertisement for the brand in the past two weeks, grew from 15% in mid-December and maxed out at 24% in late January. The uptick in Planet Fitness recognition aligned with America's outlined New Year's resolutions, in which 59% of people acknowledged wanting to exercise more.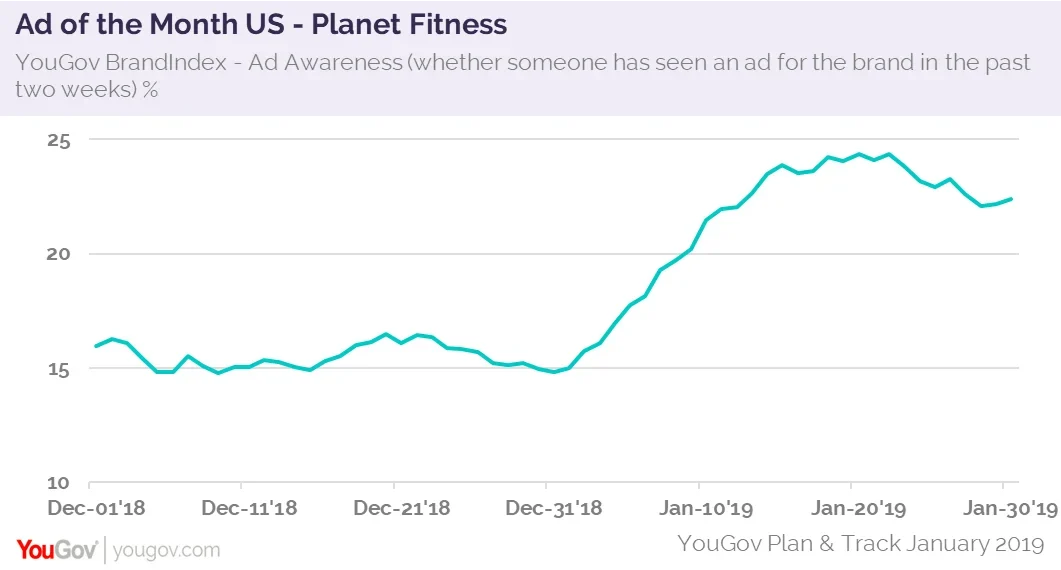 As Planet Fitness increased digital advertising rollouts in the first quarter of 2019, its popularity also rose among surveyed American adults. Data from YouGov Ratings indicates that millennials are the most likely generation to hold a positive opinion of Planet Fitness and that women hold a more favorable opinion of the gym franchise than men. Additional data also indicates that fans of Planet Fitness are also likely patrons of Foot Locker, Champs, Athlete's Foot, LA Fitness, and Pandora.