The Super Bowl, NBA Finals and March Madness Final Four were ranked as the most exciting sporting events of the year
March Madness is underway, and new research from YouGov RealTime finds that Americans consider March Madness' Final Four to be one of the year's most exciting sporting events.
Only the Super Bowl and the NBA Finals scored more highly than the Final Four for excitement among a list of 11 major sporting events which contained the NFL Draft, the US Masters golf, the Stanley Cup and All-Star games.Of US adults who are familiar with the each of the major sporting events in question, 18% say that they rank the March Madness Final Four as a 9 or 10 on a scale of excitement, where 1 is "Not exciting at all" and 10 is "Very exciting."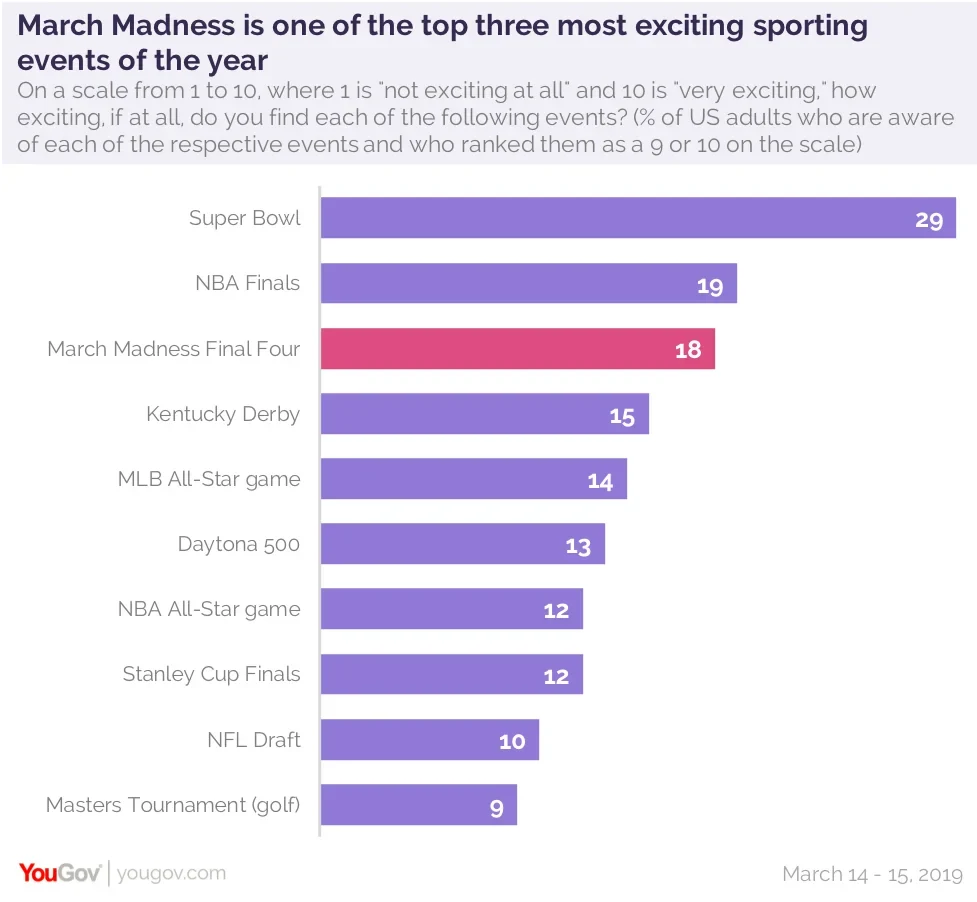 Those who indicated in an earlier survey question that they would be following March Madness in some capacity are especially likely to say it is a thrilling event. More than four in ten (41%) of this group say it is a nine or 10 on the excitement scale.
Nearly three in ten (29%) Americans who are aware of it said the Super Bowl is one of the most exciting events of the year, while 19% who are aware of the NBA finals say they are especially thrilling. Other events people tend to rank highly on the scale include the Kentucky Derby (15%) and the MLB All-Star Game (14%).
YouGov's data shows clear generational differences when it comes to which sporting events people find most exciting. Though millennials, Gen X'ers and baby boomers are all most likely to say the Super Bowl is a particularly exciting sporting event, they differ in which other events they find most compelling.
Millennials who are aware of the respective events are likely to categorize the Super Bowl (28%), the NBA Finals (25%), and the March Madness Final Four (21%) as a 9 or 10 on the scale. Among Gen X'ers aware of the events, the Super Bowl comes in with 29%, while the second and third most exciting events are the NBA Finals (19%) and the Kentucky Derby (15%). Meanwhile, baby boomers who are aware of the events tend to rank the March Madness Final Four (18%) as slightly more thrilling than the Kentucky Derby (17%), though both of these fall far behind the Super Bowl (30%) in terms of how exciting these events are to members of this group.