America's pastime is becoming a global operation.
As Major League Baseball gets ready for the 2021 season, data from YouGov's Global Fans Profile tool reveals just how popular Major League Baseball players are in 18 global markets outside North America.
Our data shows three players – Los Angeles Angels third baseman Anthony Rendon, Chicago Cubs first baseman Anthony Rizzo, and Washington Nationals right fielder Bryce Harper – each come out as most popular in three markets.
Rendon, who helped the Nationals to their World Series title in 2019, is the most popular MLB player among fans in Australia, Hong Kong, and India.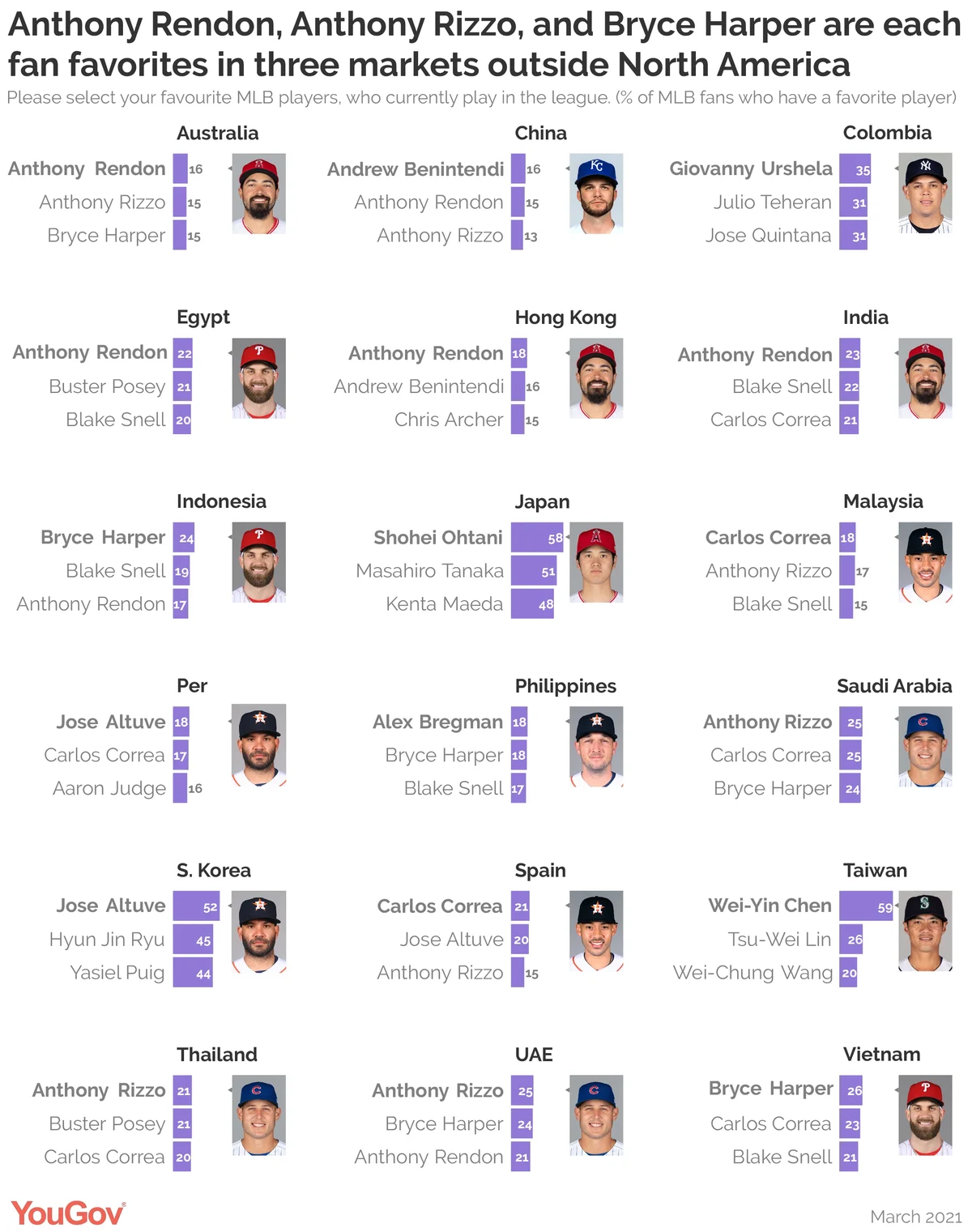 Rizzo is most favored in Saudi Arabia, the United Arab Emirates, and Thailand. Harper tops lists of favorite ball players in Egypt, Indonesia, and Vietnam.
National pride is also on display on our list. Roughly a third of MLB fans in Colombia say New York Yankees third baseman Gio Urshela, who hails from the South American nation, is their favorite player. He's followed by Detroit Tigers pitcher Julio Teherán, and Los Angeles pitcher José Quintana, who also both come from Colombia.
Japan is a major baseball nation and three of its products are top favorites among fans in the country. Angels pitcher Shohei Ohtani is the most popular ball player in Japan, with more than half (58%) of fans listing him as such. Masahiro Tanaka, who played for the Yankees until 2019, comes in second (51%), and Minnesota Twins pitcher Kenta Maeda comes in at No. 3 (48%).
Allegiance to homegrown players is also apparent in Taiwan, where Chen Wei-Yin (59%), Tzu-Wei Lin (26%), and Wei-Chung Wang (20%) make up the top-three list in the market.
In South Korea, Houston Astros second baseman Jose Altuve is the most popular (52%), edging out South Korean-born Hyun Jin Ryu (45%). Cuban-born right fielder Yasiel Puig is the third most popular player in South Korea.
During its 2019 season, the MLB played several out-of-country games and had plans for even more in the 2020 season before COVID-19 scuttled those intentions. These concerted efforts most recently included special series in the United Kingdom, Japan, and Mexico during the 2019 season.
Outside the US and Canada, the MLB is most popular in South Korea, Taiwan, and Philippines.

Methodology: YouGov Global Fan Profiles, which includes data from 38 markets, is based on continuously collected data from several sources, rather than from a single limited questionnaire. Data referenced is based on a sample size of between 100 and 5,015 adults in 18 markets who indicated they are somewhat interested in the MLB or it is one of their top interests. Online interviews were conducted between December 2020 – February 2021.

Top image: Getty; Player images: MLB