Last week, American tennis player Serena Williams announced her decision to retire from professional tennis and focus more on her family. The latest Economist/YouGov poll — conducted after her retirement announcement — finds that Williams is viewed positively by a large majority of Americans. Two-thirds of Americans (66%) have a favorable view of Williams — with Black Americans especially likely (76%) to view her positively.
In a Vogue article announcing her retirement and "evolving away" from tennis, Williams — a 23-time major singles champion considered by many to be the greatest women's player ever — explained her intention to focus on her family: "Believe me, I never wanted to have to choose between tennis and a family. I don't think it's fair. If I were a guy, I wouldn't be writing this because I'd be out there playing and winning while my wife was doing the physical labor of expanding our family."
Most agree with Williams's assertion that it is harder for mothers of young children to balance family and their jobs than it is for fathers of young children. Three in five adults (62%) say it is much harder or a little harder for mothers of young children to balance their careers and home life. Women are more likely (68%) than men (56%) to say this.
A separate YouGov poll conducted August 9 - 12 asked Americans to respond to an open-ended question about the impact Williams has made on culture, sports, and tennis. Many wrote about how Williams and her sister, Venus Williams, inspired generations of women to pursue competitive careers in tennis. Others wrote about her dominance of the sport (with more Grand Slam singles titles in the professional era than any other player, man or woman, has won) or her advocacy for equal pay for women in sports.Even as Williams is expected to end her professional career after this year's U.S. Open, which begins later this month, Americans believe by a two-to-one margin (40% to 19%) that Williams could win another major tennis tournament if she kept playing. About two in five (42%) are unsure. (Williams has lost three of her four matches this year heading into the Open.)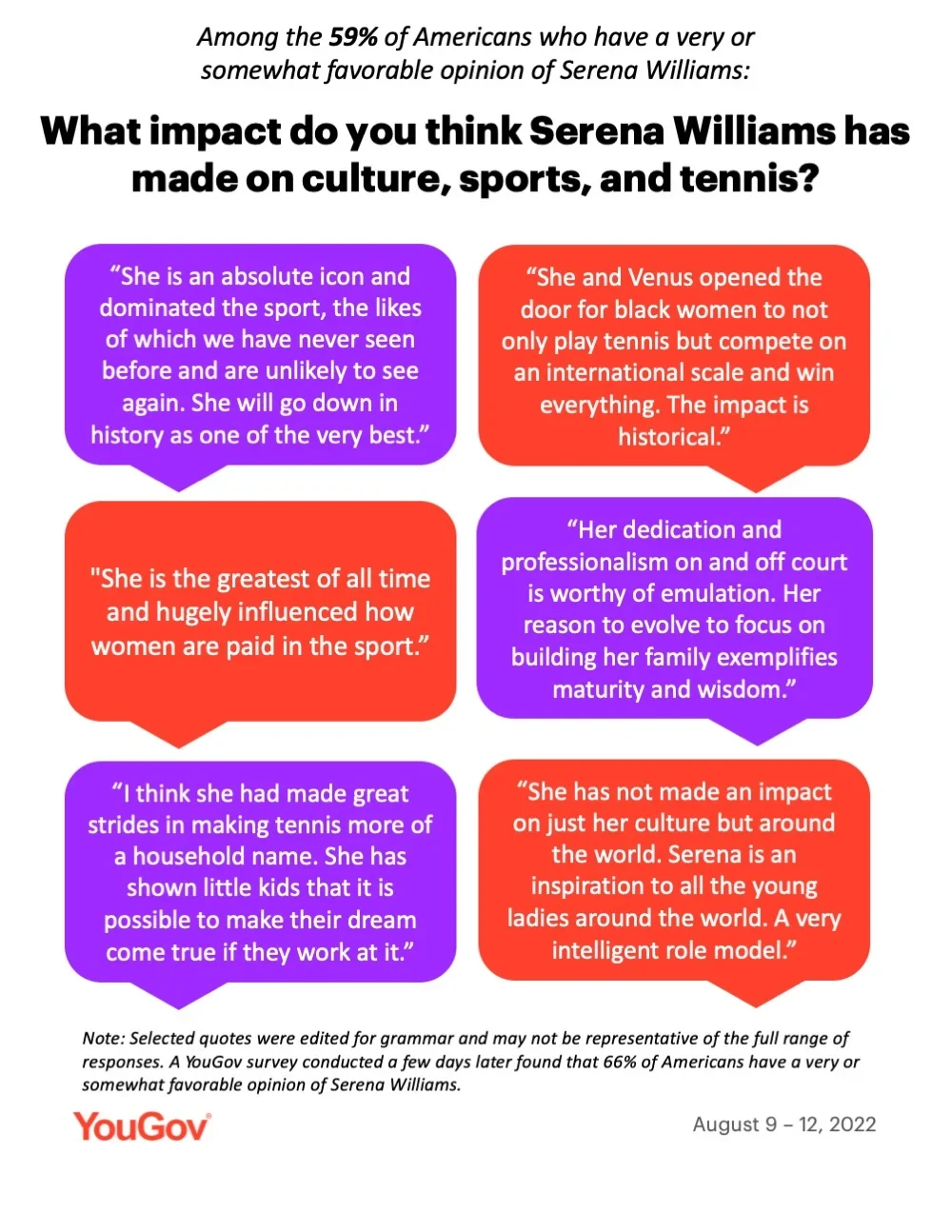 These polls were conducted on August 9 - 12, 2022 and August 13 - 16, 2022. The earlier poll was conducted among 1,000 U.S. adult citizens, and the later one among 1,500 U.S. adult citizens. Explore more on the methodology and data for YouGov's recent polls on Serena Williams:
Image: Getty (Photo by Vaughn Ridley)