Americans are unsure whether Derek Jeter's legacy will be one of sportsmanship or celebrity, but Yankee fans are disappointed by his departure.
Derek Jeter, current captain of the New York Yankees, announced his intention to retire after the 2014 season via Facebook last week. Jeter has played 19 seasons wearing the Yankee pinstripes and in that time has helped win 5 World Series. He may be most famous for his effort on the field, which have won him numerous records and awards, but his private life has also been the subject of much media attention. Jeter has been criticized in the past for his partying and other antics, often taking place in the middle of the baseball season. Jeter has dated many high profile singers and actresses including Mariah Carey, Jessica Biel, and Minka Kelly, among others.
According to the latest YouGov research, more people say that he is known better for his athletic ability (26%) rather than his celebrity status (11%). That said, more than a quarter of Americans (26%) think that he will be remembered for both equally. Yankees fans, or those with a 'very favorable' opinion of the team, were much more likely to say he would be remembered for his athletic ability (49%) rather than his celebrity (7%).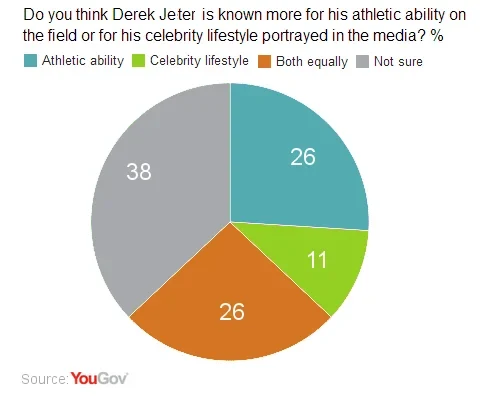 Most people (54%) don't care that Jeter is retiring, but many Yankees fans (42%) are very disappointed with the news. He isn't universally popular with fans of the team, however, as 15% of people who hold a very favorable view of the Yankees say that they will be happy to see him go.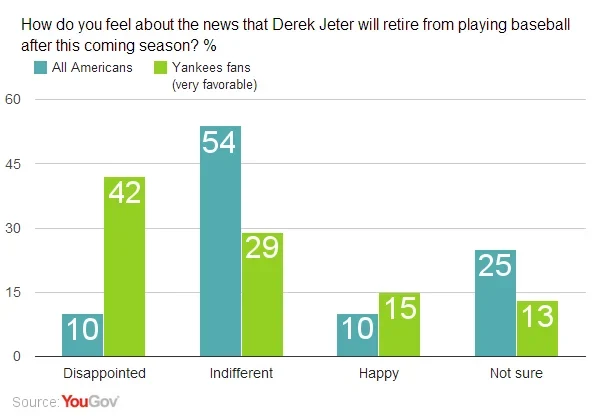 Aside from Jeter's celebrity, when compared to other national MLB teams the Yankees receive less love. Out of five other national teams the Yankees had the lowest favorability rating (38%), and the highest unfavorability rating (32%). The Red Sox received the highest favorability rating with nearly half of all Americans (45%) saying they have a favorable opinion of the Boston team.
Full poll results can be found here.
Image: Getty