The famous American apathy towards soccer may be weakening, as half the country knew that the men's team beat Ghana in their first game of the 2014 World Cup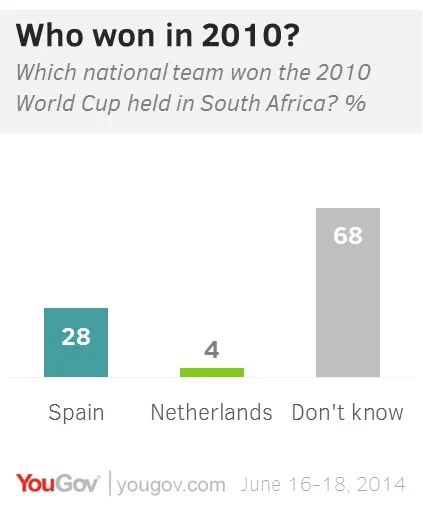 Every four years the eyes of the world turn for a month to watch the best soccer players in the world battle for national pride in the World Cup. This year the contest is taking place in Brazil, and the US Men's National Team has got off to a good start, beating Ghana 2-1 in their first match. While the US women's soccer team is one of the best in the world, the men's team traditionally doesn't do as well. But this poor historical performance hasn't managed to quash American confidence, with the US being one of the only countries in a New York Times/YouGov survey to say that they - and not the Brazilians - will win the World Cup this year.
The latest research from YouGov shows that most Americans (68%) simply don't know who won the 2010 World Cup, with only 28% correctly saying that Spain won and 4% incorrectly asserting that the Netherlands had triumphed. Hispanics were by far the most likely to know that Spain had won, with 50% getting the answer right.
Americans are paying better attention this time around, at least when it comes to the American team, as nearly half the country (48%) did know that America beat Ghana in their first game of the 2014 World Cup. Moreover, 21% say that they watched the Ghana game.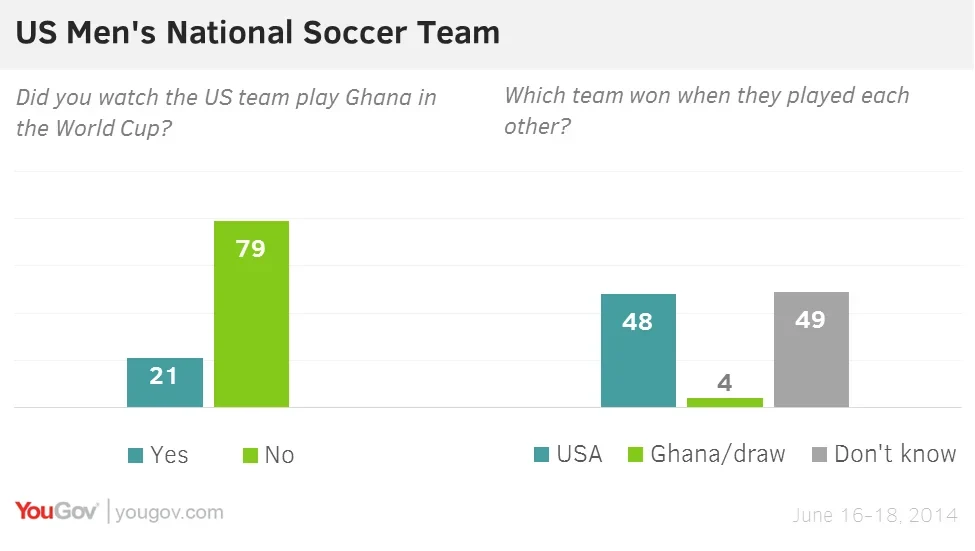 At 6pm EST [on Sunday] the US men's national team will be facing Portugal. Portugal have historically been one of the top international soccer teams, but their star Christiano Ronaldo has so far been unable to play due to injury and their stunning 4-0 loss to Germany could bode well for USA's chances to progress from the group stage to the round of sixteen.
Full poll results can be found here.
Image: Getty