The market for wearable devices - be they smartwatches, fitness trackers, or smart accessories – is expected to exceed $34 billion by 2020. Although this anticipated 143% growth in the market represents a major opportunity for device manufacturers, adoption of these devices is still low, especially in comparison to more ubiquitous personal technology products such as computers, smartphones, and tablets.
However, according to a recent survey by YouGov, there is evidence that the reality is beginning to live up to the hype. While ownership of fitness devices, smartwatches, and smartwear / accessories are in the single digits to low teens (twelve, six, and three percent, respectively), purchase intention is healthy for wearable devices across all categories, suggesting that the market is poised to grow. Thirteen percent of respondents say they are likely to purchase a wearable fitness device in the next twelve months, and 15% say they are likely to purchase a smartwatch.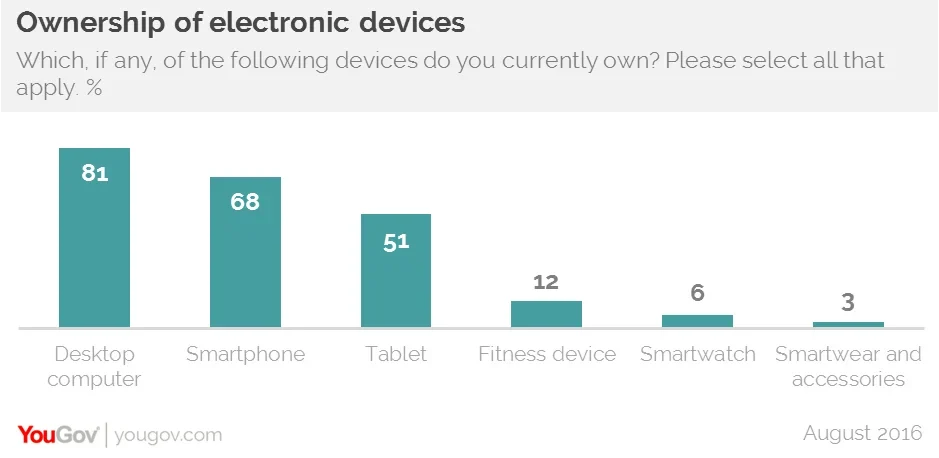 At the current 'early-adopter' stage of its lifecycle, ownership of wearable devices seems to correlate most closely with income, as respondents with an annual income of $80,000 or higher are nearly three times more likely to own a wearable fitness device as compared to those earning less than $40,000 annually (23% to 7%). A similar dynamic is at work in the smartwatch market: 11% of high-income respondents (>$80k) own smartwatches, compared to just 5% of low-income respondents (<$40k).
That said, data on future purchase intention shows that high income will be less predictive of ownership, suggesting that the category is set to become more mainstream. High and low income earners have almost the same levels of purchase intent for both smartwatches and wearable fitness devices. Among those earning less than $40,000 per year, 12% are likely to buy smartwatches in the next year, compared to 9% of those earning $80,000 or more. Wearable fitness devices show similar results: 11% of low earners plan to buy in the next twelve months, as compared 10% of high earners.
When asked about specific brands, Apple leads the smartwatch ownership race (41%) over Samsung (25%), Motorola (5%), Sony (4%) and Huawei (3%). Moreover, iPhone owners are highly loyal to Apple: among iPhone owners who also own a smartwatch, 92% chose an Apple Watch, suggesting a strong draw for either the Apple brand or Apple's ecosystem. While this bodes well for Apple, the world's most valuable brand may see its market share in the category erode slightly over the next year, as their share of expected smartwatch purchases over the next twelve months is lower (32%) than their current market share (41%). Samsung is set to maintain its position, claiming 24% of expected purchases in the next year.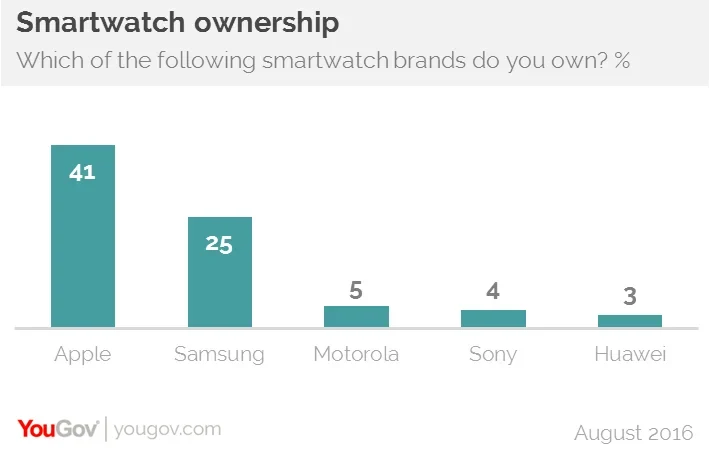 In the wearable fitness device category, Fitbit is the dominant brand, controlling over half of the market (56%), with six times the market share of its next largest competitor. Competing brands include Garmin (9%), Samsung (6%), Nike (6%), Apple (3%), and Jawbone (3%), with remaining brands falling under two percent or less. Like Apple in the smartwatch category, Fitbit can expect to retain its position as the leader in the market, though its lead may narrow: it is the top brand among those planning to purchase a fitness wearable (26%), but purchase intent is substantially lower than its current market share and Samsung (15%) is close behind.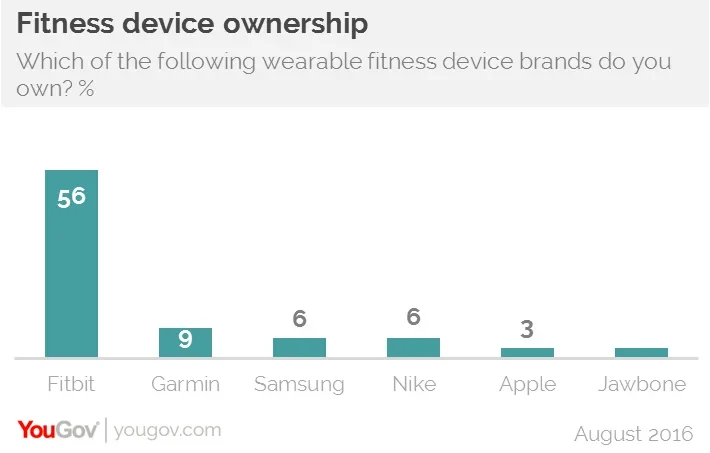 While smartphones are pitched as multifunctional tools that bring a sense of simplicity to the consumer, most owners tend to use their smartwatches in a similar capacity as they would a smartphone. Smartwatch owners are most likely to receive text messages (39%), check the time (38%), make phone calls (32%), get notifications from apps on phone (29%), and track activity, i.e. heart rate, steps, etc. (25%). More complex activities like getting the news (11%) or shopping (8%) are less likely to be performed using a smartwatch.
Wearable fitness device users, on the other hand, tend to use the features of their devices for the purposes in which the device was created: to measure steps or distance walked/run (87%), heart rate (36%), sleep patterns (32%), and calories consumed (26%).
YouGov will be launching a US wearables tracker study to quantify the evolution of this growing market over time. We will perform data collection on a quarterly basis, with the first wave in August, and additional waves in November, February, and May. The study will track market penetration, brand awareness and ownership, key features, future purchase intent, and other key metrics of interest.
For information on becoming a subscriber, please contact Tom Fuller at tom.fuller@yougov.com.