In Q2, young people's impression of the tech company moved from a negative to a positive
While BlackBerry has struggled to return to its glory days of 2007, when its stock surpassed the $200 mark (it's currently priced at under $10), not all news is bad news for the Canadian-based company.
Data from YouGov BrandIndex shows that BlackBerry experienced a reversal in consumer perception for the better among young people during its second quarter of FY 2018, June through August. On July 23, millennials aged 18-34 gave the brand a negative Impression score of -6.8. Throughout the following weeks, however, this number climbed into the positives, eventually landing at +6.9 on September 1. The occasion marked BlackBerry's highest Impression score of the year among young Americans.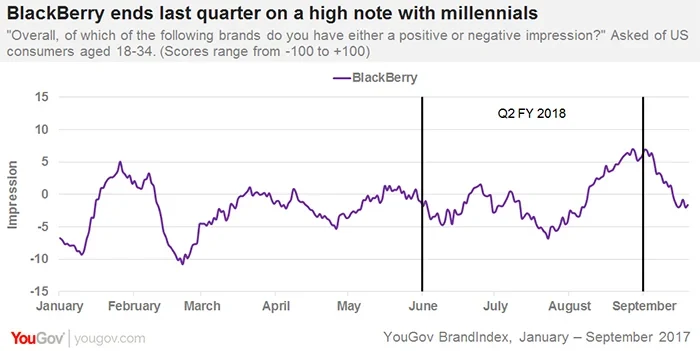 It's worth noting that young people's opinion of BlackBerry has since declined back below zero, while Apple and Samsung currently maintain scores of 35 and 43, respectively, among the same demographic.
Photo: Getty