Data suggests that Verizon customers recommend Verizon at higher rates than AT&T customers recommend AT&T
As parent companies of the nation's top wireless carriers — Verizon Wireless and AT&T Mobility — prepare to release their respective earnings report for the third quarter of 2017, recent data from YouGov BrandIndex shows that Verizon Wireless holds a particular advantage over its rival. In short: Verizon customers appear more likely to recommend Verizon to a friend or colleague than AT&T customers are to recommend AT&T.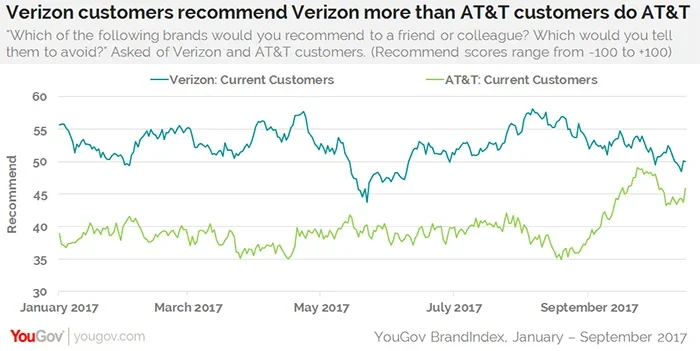 Indeed, numbers show that Verizon has led AT&T on this metric since YouGov BrandIndex began tracking it in November 2012. Although AT&T has yet to catch Verizon, the gap has shrunk significantly throughout the month of September.
At present, Verizon customers give their wireless provider a Recommend score of 50, while AT&T customers give their service a 46. YouGov BrandIndex's Recommend scores range from -100 to +100.
Image: Getty