More than three quarters of followers of gaming influencers use their smartphones/tablets for gaming, according to data revealed in a new YouGov whitepaper series about the power of gaming influencers.
Looking across the 17 international markets surveyed, for 12 out of the 17 countries, smartphones/ tablets are the most popular device used for playing video games among those who follow gaming influencers.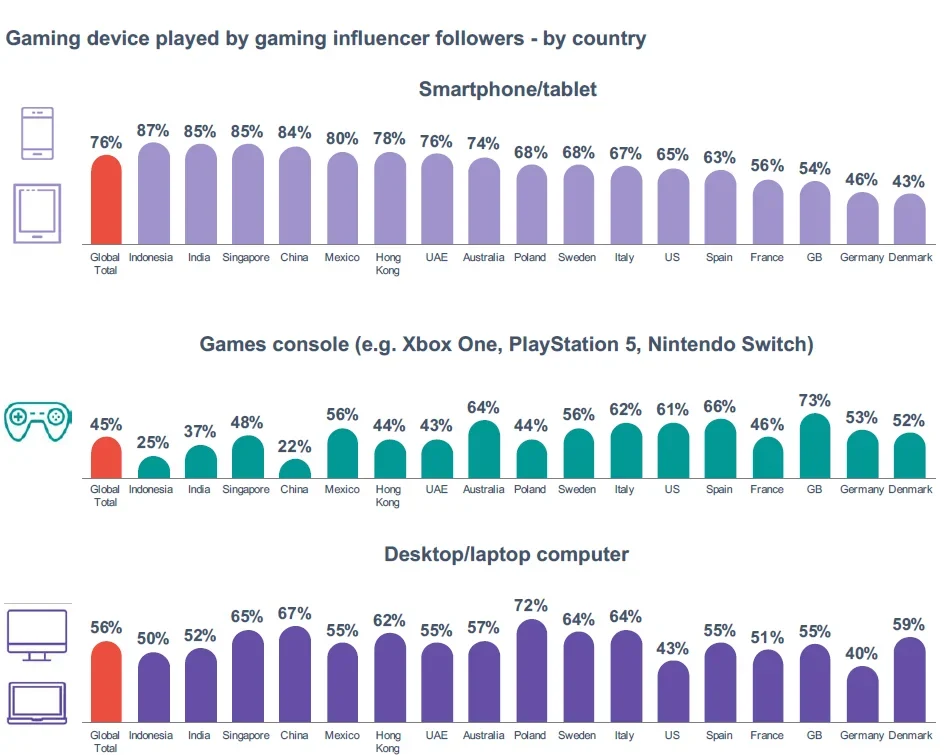 Expectedly, Asia's mobile-first countries including Indonesia, China, India, and Singapore have the highest proportion of gaming influencer followers playing games via their smartphones/ tablets, registering more than 80% mobile gamers in each market.
Desktops/laptops are the second most popular device used among the followers of gaming influencers – albeit that nuances exist between different countries. In Great Britain for example, games consoles are the top gaming device used among followers of gaming influencers (73%), outweighing PCs (55%) and with mobile gaming a close third (54%). Other countries where consoles are top include Germany and Spain. In Poland and Denmark, PCs are the most popular gaming device among followers of gaming influencers. This granular data can help marketers determine which platforms best suit their needs.
YouGov's three-part global report series, Game-changers: the power of gaming influencers, is an in-depth exploration of the gaming influencer landscape, the profile and behaviors of gaming influencer audiences, and the value of trust within the influencer sector.
Methodology: The insights in this report series are drawn from a recent global Custom survey on the global influencer sector and, specifically, the gaming influencer landscape today, covering 17 global markets and nearly 19,000 respondents. Our survey results were further bolstered by connecting respondent level data to YouGov's proprietary syndicated data solutions, BrandIndex and Profiles, allowing us to merge our respondents and their answers to the 100,000s consumer attributes that we collect on an ongoing basis for audience segmentation and profiling. The report also draws on data from our Teen Profiles solution.
Our survey was fielded the week of July 21st through the week of July 30th 2021.
The YouGov panel provides a naturally accurate and representative view of the population. Data is adjusted using a mild weighting team using interlocking demographic characteristics—methodology considered advanced in the market research space. For this report series the following population representation was used: