Is Lincoln getting less mileage from its Matthew McConaughey ad campaign this time around?
Lincoln's latest set of stylistic, quirky McConaughey ads hit the same perception heights as last year's debut campaign, both September launches, but is falling short in ad awareness and purchase consideration with potential car buyers.
Last year's campaign, Lincoln's first with McConaughey, tripled its consumer perception as measured by Buzz score, which asks respondents: "If you've heard anything about the brand in the last two weeks, through advertising, news or word of mouth, was it positive or negative?" Happily for Lincoln, this year's spots brought the car maker to the same Buzz score levels.
However, ad awareness didn't have the same pop as 2014, when Lincoln jumped from 18% to 31% of potential auto buyers reporting they were aware of the ads by October 19th. This time around, Lincoln swung from ad awareness levels of 17% to 25%, and for the moment, that number seems to be the plateau.
The metric that is perhaps more concerning is purchase consideration, YouGov BrandIndex's measurement of potential revenue. Last year, Lincoln benefited significantly when it went from 6% of potential car buyers considering a Lincoln for their next auto purchase to 9%, although that wasn't the high mark for the brand in 2014.
The campaign's latest iteration has not moved purchase consideration levels, which are currently at 7%.
Buzz: Lincoln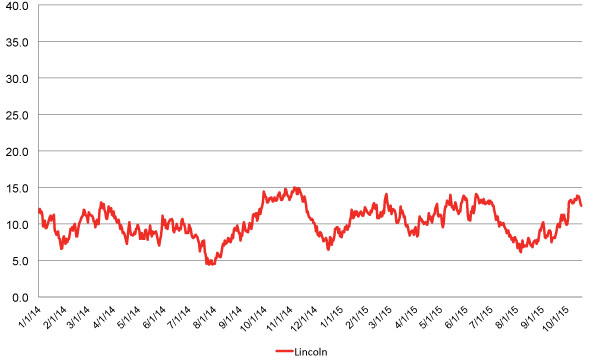 Ad Awareness: Lincoln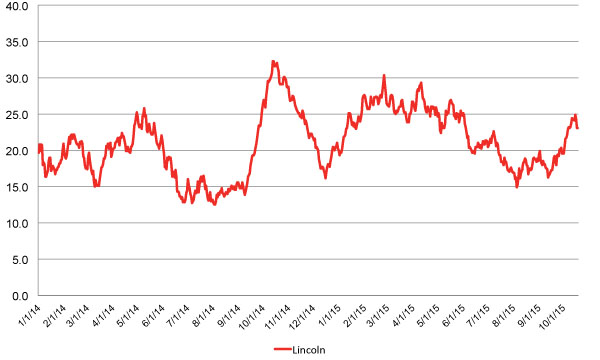 Purchase Consideration: Lincoln