After taking a big consumer perception hit in the wake of losing its Apple lawsuit on August 24, Samsung began to rebound one week later.
Leading the Samsung rebound are adults aged 18 to 34. Scores among this demographic have rebounded to where they were prior to the verdict, and have even edged past Apple's scores over the past couple of days.
Another important constituency, early technology adopters, also registered a steep drop off in scores but perception has now recovered more than half of its initial drop and appears poised for full recovery.
While sales of the Samsung Galaxy S3 may have surpassed the iPhone 4S just this past month, Samsung's consumer perception has been close to Apple's all year, and has occasionally overtaken Apple, although never for very long.
Apple and Samsung were measured with YouGov BrandIndex's Buzz score, which asks consumers: "If you've heard anything about the brand in the last two weeks, through advertising, news or by word of mouth, was it positive or negative?" Results were filtered for all consumers, adults who consider themselves early technology adopters, and all adults 18 to 34.
For the first three weeks of August, both Apple and Samsung were very close in perception with both adults and early tech adopters. Conversely, the group that is fueling Samsung's rebound the most, 18 to 34 year-olds, had better perception scores for Apple for most of that time period.
However, that changed once the verdict was announced on Friday, August 24. Samsung's Buzz score was cut in half from 26 on that day to 12 by August 31, while Apple rose modestly from 33 to 38 in the same period, making a 26 point difference between the two brands at the end of the month. For early tech adopters, the gap between the two brands at month's end was even wider –39 points.
As with the first two demographic groups, adults aged 18 to 34 went through a similar decline in buzz score from 32 to 10, but turned back up sharply. Samsung eventually surpassed Apple's buzz on September 5 (36 vs. 26). Interestingly, Apple's 26 buzz score for this demo is a little below where it was two days before the verdict was announced, 32.
Current trends indicate that the other two groups are also on the road to full recovery. Buzz scores among adults 18+ have increased from 12 on August 31 to 19 on September 5. The early adopter demo showed a jump from 3 to 19, the same Buzz among all consumers.
Buzz score for Apple and Samsung among early technology adopters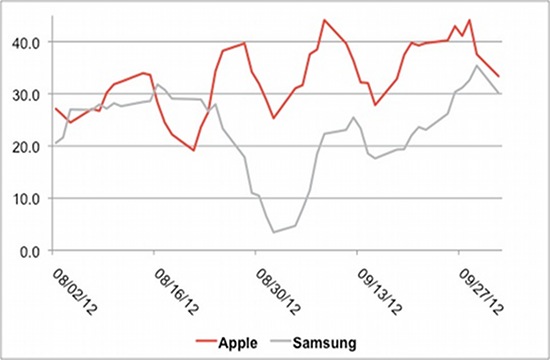 Buzz score for Apple and Samsung among 18-34 year-olds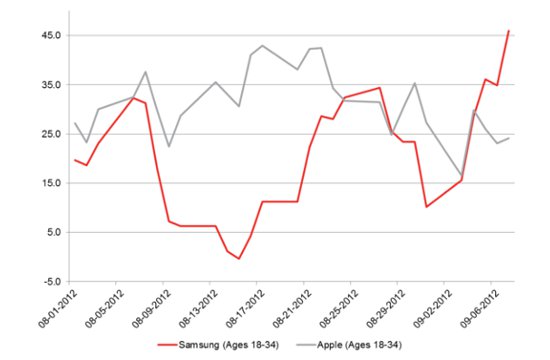 Buzz score for Apple and Samsung among consumers aged 18 or over