The month of August means it's time for many parents to do back-to-school shopping.

YouGov data shows that these parents are careful consumers: six in 10 (62%) say they shop with a strict budget in mind and a greater number (72%) say they will choose discounted brands over brands they tend to buy from.

Which brands win in terms of Value and Ad Awareness?

Parents tend to stretch their dollars as far as they will go and the data reveals that they are value-conscious consumers. In our analysis of 51 brick-and-mortar retailers, Walmart (42), Old Navy (33), Target (29), Sam's Club (25), and Skechers (25) have the highest Value scores among parents of school-aged children.

The battle for parents' attention has intensified during the advent of online and social media. Compared with other retailers, Walmart fares best in Advertising Awareness, with 47 percent of these parents saying they saw an ad for the brand in the last two weeks. This is a marked increase from this time last year, when just 31 percent of these parents noted they saw an ad for Walmart.

Parents of school-aged children also say Nike (35%), Target (31%), Old Navy (27%), and Forever 21 (19%) do well in terms of advertising exposure.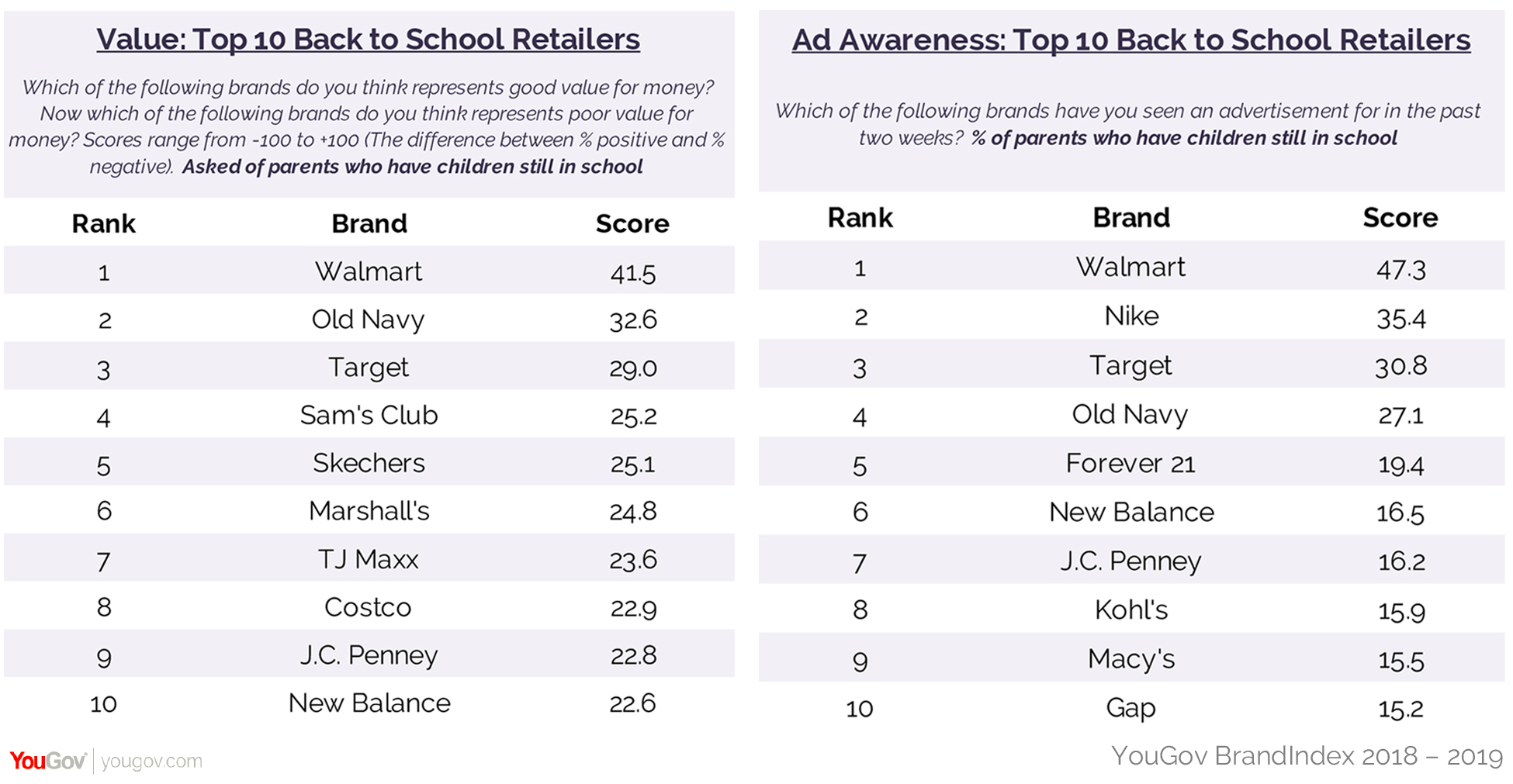 Which brands are being considered more since school ended?

Now that school's out, consumers can expect retailers to ramp up their efforts in anticipation of the back-to-school season. YouGov data points to five retailers whose Purchase Consideration levels have improved most since summer break began. Aeropostale leads this list of Biggest Improvers with 19 percent of parents now saying they would consider buying from the brand. This marks an 8.3 percentage point increase since June. 

A few other brands have also seen gains in Purchase Consideration during this time frame. Gap, Ugg, J.C. Penney, and Kmart are all being considered more by these parents entering the back-to-school season.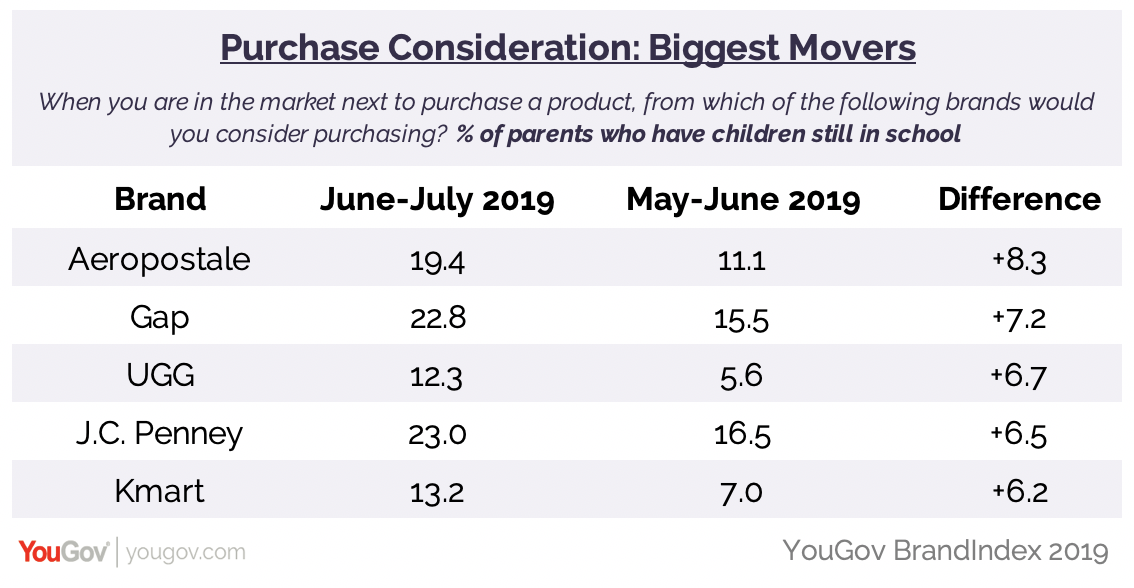 How do retailers in the back-to-school sector stack up?

YouGov data also reveals the relationship between two brand health metrics – Word of Mouth Exposure and Purchase Consideration. The former measures whether or not consumers are talking about certain brands within their social circles and the latter measures whether consumers would consider buying from a brand.

Parents of school-aged children are more likely to talk about and consider buying from brands such as Walmart, Nike, and Target. Brands that reside on the trend line, such as Old Navy, J.C. Penney, and New Balance, receive a proportionate level of Purchase Consideration relative to how much the brands are talked about.

The back-to-school retailers that rank highest in Purchase Consideration among parents are Walmart (54%), Nike (38%), Target (34%), Old Navy (33%), Forever 21 (26%), Reebok (26%), J.C. Penney (23%), Gap (23%), Converse (23%), and Skechers (23%).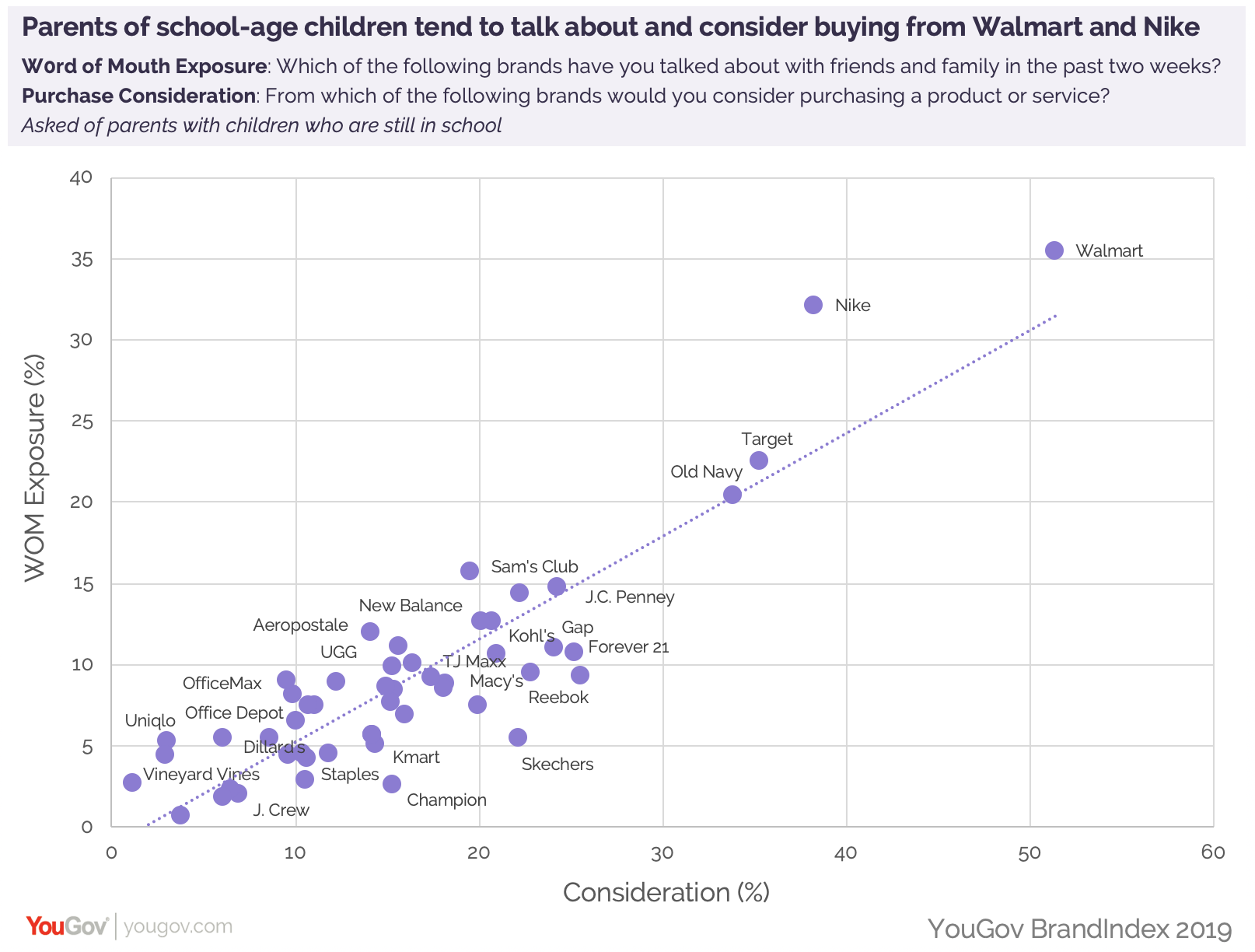 [Click to enlarge]

Learn more about YouGov Plan and Track

Methodology: This analysis uses data from YouGov BrandIndex and surveyed US adults aged 18 and over who identified as a parent of a child who is still in school. All interviews are conducted online.

It examines the back-to-school sector which consists of 51 brands including Old Navy, Forever 21, Walmart, Nike, Kohl's, Target, Gap, American Eagle, Reebok, Crocs, Macy's, TJ Maxx, Foot Locker, Office Depot, New Balance, Costco, North Face, Aeropostale, Marshall's, Sam's Club, Skechers, Columbia, The Finish Line, Levi's, H & M, J.C. Penney, Express, UGG, DSW Shoes, Kmart, Famous Footwear, OfficeMax, Banana Republic, Staples, Hollister, Abercrombie & Fitch, Vans, Champion, Pacific Sunwear, K-Swiss, Urban Outfitters, Converse, Dillard's, Shoe Carnival, BJ's Wholesale, Payless, Uniqlo, Vineyard Vines, J. Crew, Hot Topic, Sears.

Photo: Getty