Some brands can withstand a controversy. Can SoulCycle and Equinox?
These exercise brands have come under fire because of their owner, Stephan Ross's politics. Ross, a billionaire who also owns the Miami Dolphins, hosted a fundraiser for President Donald Trump's reelection bid in August. Calls for a boycott surfaced. 
YouGov tracks SoulCycle in its Plan and Track tool, but not Equinox. Early indications are not good for the company.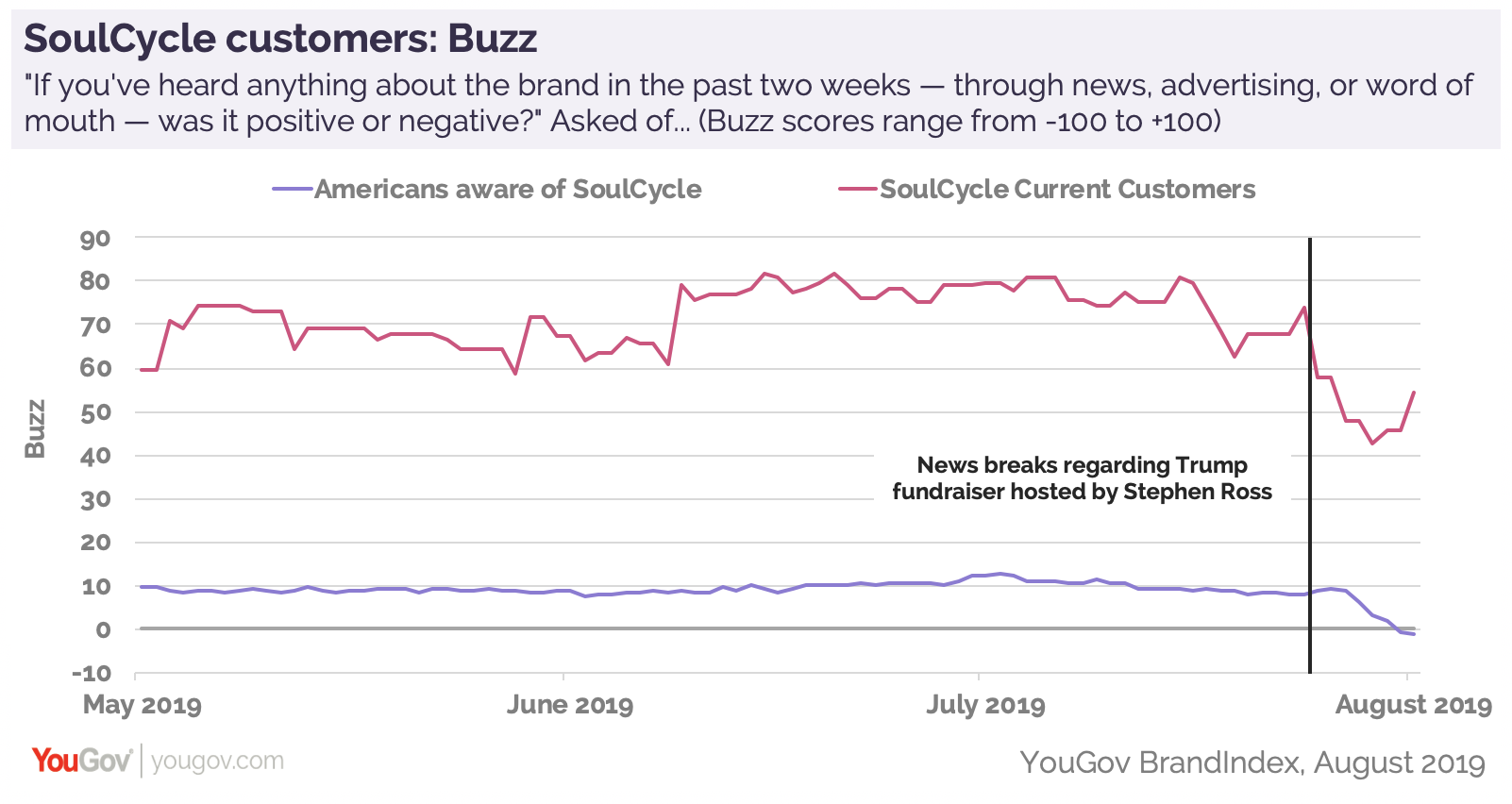 The chart above takes a look at how both the general public and SoulCycle received the news about Ross's fundraiser and the boycotts against it. Both groups seem to have viewed the boycotts as a negative development. The sharpest reaction came from customers. 

This might be why: SoulCycle customers are willing to take action against a brand if they don't agree with its views. 
 


Just 15 percent of SoulCycle customers could be considered loyal to the brand, while 68 percent are the type that will take action. That means the bulk of its customers say they'll consider going elsewhere if SoulCycle's views don't align with theirs. 

SoulCycle might not be surprised by this finding because it has courted this type of customer. The Washington Post's Cristopher Ingraham notes: SoulCycle, for instance, sells itself as a "meditative fitness experience that's designed to benefit the body, mind and soul." It positions itself as a company that is pro-woman and pro-LGBTQ, and it partnered with the NAACP Legal Defense Fund to organize fundraising rides during Black History Month.

The company has courted a liberal base of fitness enthusiasts who have suddenly found out that the ownership may hold different political views than they do. 

 It's still too early to tell if the controversy will have a lasting impact on SoulCycle, or its sister company Equinox, but it does seem like these brands are vulnerable to some sustained backlash.

Methodology: The data from the top chart comes from YouGov Plan and Track, which measures the day-to-day brand health of various brands, and the number of respondents varies each day. The data from the risk versus reward framework in the second chart examines 57,015 US adults aged 18 and over and 114 SoulCycle current and former customers using data in the year up to July 28, 2019. All interviews were conducted online.

Learn more about YouGov Plan and Track