America's cities boast famous sights, bright lights and big names – but the US also has rural areas that are the envy of the world. So which offers a better quality of life – city convenience or countryside space? To find more about where we live and why, YouGov asked its nationally-representative panel of respondents about their neck of the woods: what they like and dislike about their area, how conveniently located they are, and where they would most like to live.
The suburbs are the most popular area we live in (36%) and would like to live (29%)
Although 25% of us would like to live in a rural area only 15% actually do
A small city was the least popular (12%) type of place respondents would like to live
Political gap as 25% of Liberals want to live in a big city but only 4% of Conservatives
The biggest group of respondents (37%) live within one mile of a grocery store
Only 2% live more than 15 miles away from their nearest grocery store
Owning a house in one of America's leafy suburbs comes out top as the most desirable way of life – 39% of Americans would want to live in the suburbs of a city. A rural area was the next most popular type of place to live – 25% say they would most like to live in the countryside, although only 15% of respondents actually live in a rural area.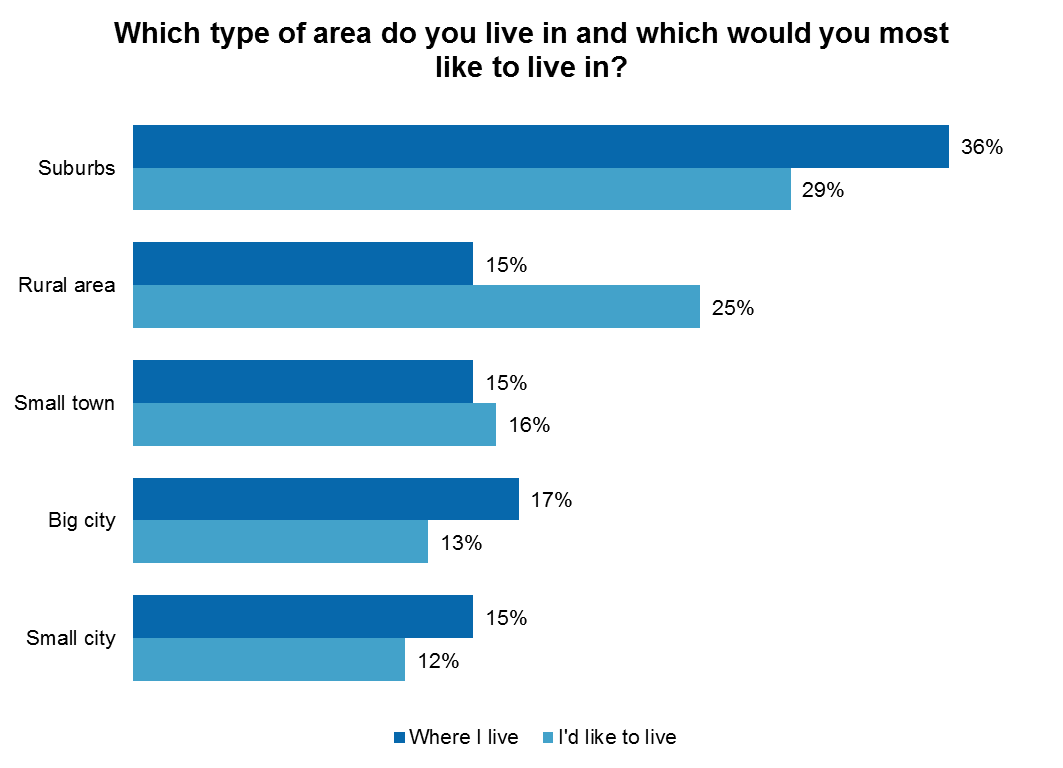 For younger respondents, the lure of the city is preferable (37%) to living in a rural area (12%). The older you are, the more likely you are to want to live in the countryside – only 17% of over-65s wanted to live in the city, compared with 30% who would prefer a country life. But many people in this age group aren't living in their dream location, as 40% of over-65s responded that they live in the city and 18% in a rural area, both figures being considerably different from their preferred type of area.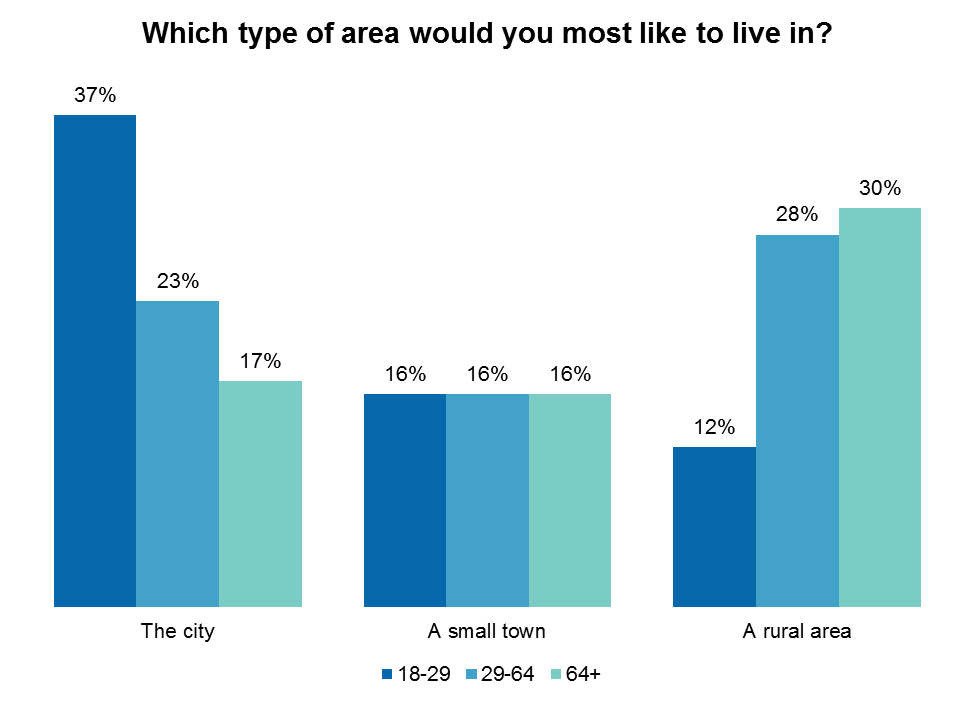 It makes sense that since most of us live in the suburbs, the majority of respondents lived 4 miles or less from their nearest grocery store. But a significant proportion – 17% - live 5 miles or more from their nearest store. Presumably this makes up the 15% of people who live in a rural area – and sacrifice space and country air for nearby conveniences.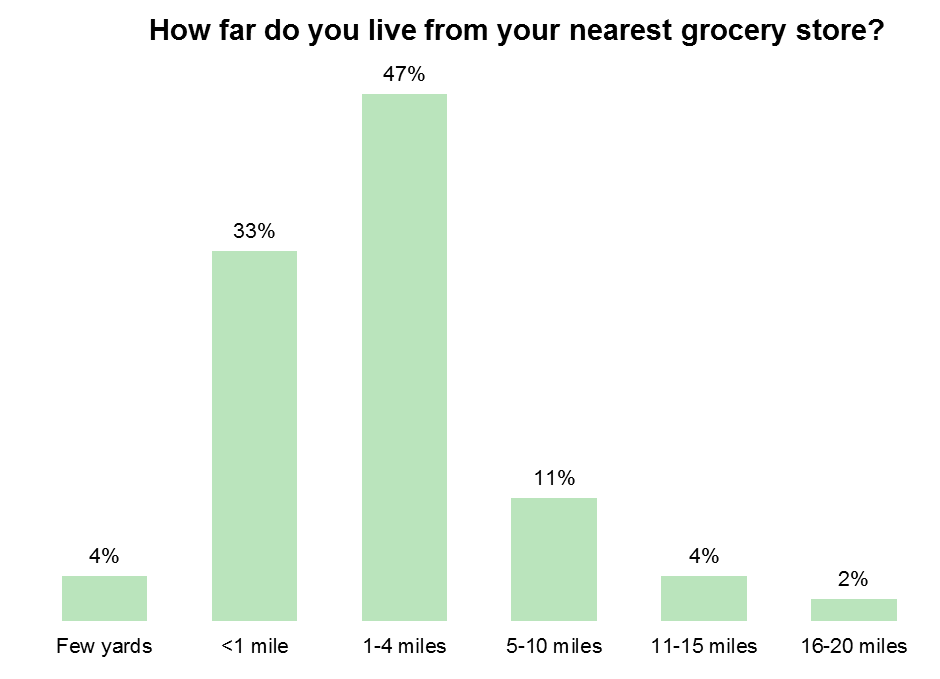 To find out what it's really like living in the city or in a rural area, YouGov asked panelists to describe the best and worst aspects of the type of place they live in – and funnily enough, we found out nowhere is perfect…
Q: What do you like or dislike about the area you currently live in?
"It's near a national forest and the ocean"
"The environment and access to outdoor activities"
"It's private and quiet"
"No close neighbours and my kids have a large yard to play in"
"Being able to ride a bicycle and not have to worry about cars"
"Just about everything I need is within half a mile, 10 minute walk, or less"
"Centrally located between work and family"
"Overall diversity in people and geography"
"Number of choices for shopping and leisure activities"
"I have the school, train, park, library, grocery stores, expressway all close to my home"
"It's miles to the nearest big city. If you need something you can't just run and grab it"
"Too much yard work"
"Have to have a dependable vehicle"
"Modern conveniences like high speed internet not available where I live"
"Too small – I'm not from the country and treated like an outsider"
"Becoming more crowded and congested, especially automobile and truck traffic"
"The expense"
"Crime and too much traffic"
"Living next to an airport can get noisy sometimes"
"Quite a few people are down and out"