(Week of 10/13/2012)  Once again, the presidential election is neck-and-neck, with likely voters closely divided. In this week's Economist/YouGov Poll, 47% of likely voters say they will vote or are leaning towards voting for President Obama, while 46% are supporting Republican Mitt Romney.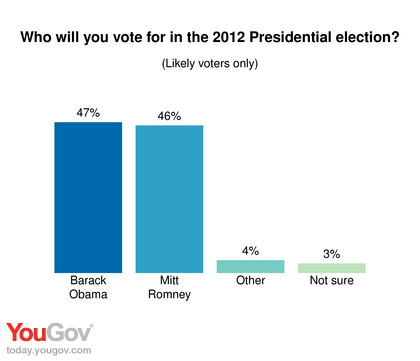 The gap between the two has narrowed since the first presidential debate earlier this month, making Tuesday's stakes even higher. Romney gains against the President when the race is measured among those likely to vote; the President leads Romney by five points, 48% to 43%, among all registered voters.
The President maintains his lead among women, while Romney leads with men. Hispanic voters give the President a 23-point lead; moderates favor the President by two to one. College graduates give the President a 14-point lead. Independent voters are evenly divided. Romney's lead among those with family incomes above $100,000 a year is just three points.
The President is still seen as the likely winner in November, despite Romney's close race, though the margin has shrunk in recent weeks, and has dropped ten points from the 26-point margin the President enjoyed just a week ago. In this weeks' poll, 45% of registered voters expect an Obama victory, while 29% say Romney will win.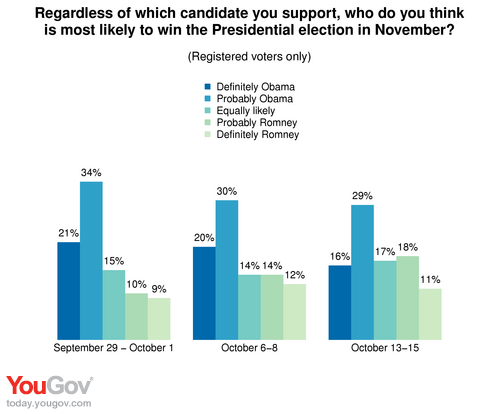 Economist/YouGov poll archives can be found here
Photo source: Press Association