Republicans tend to like Jeb Bush, but he might not be conservative enough for the GOP
Former Florida Governor Jeb Bush may be marginally ahead in Republican preference for the 2016 presidential nomination, but his lead in the latest Economist/YouGov Poll is small (just 14% of Republicans choose him), though more Republicans expect him to win the nomination.   Bush and Donald Trump, who also just joined the race, are the best-known of the Republican contenders, and while Republicans generally like Bush (and not Trump), many characterize him in ways that suggest he may not really represent them.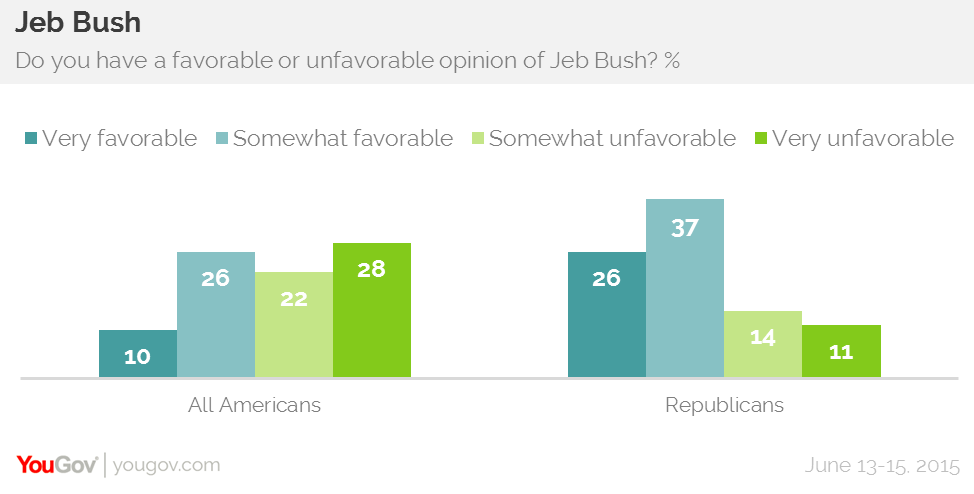 Republicans are more than twice as likely to have a favorable view of Bush as they are to have an unfavorable opinion.  Americans overall are less kind: half are unfavorable.  But one in three independents and Democrats agree that he will be the third Bush to win the nomination.
However, there are concerns that the Florida Republican will have to deal with: less than half of Republicans call Bush a conservative (77% of Republicans describe themselves that way).  In fact, Democrats and independents are more likely than Republicans to see Bush as a conservative.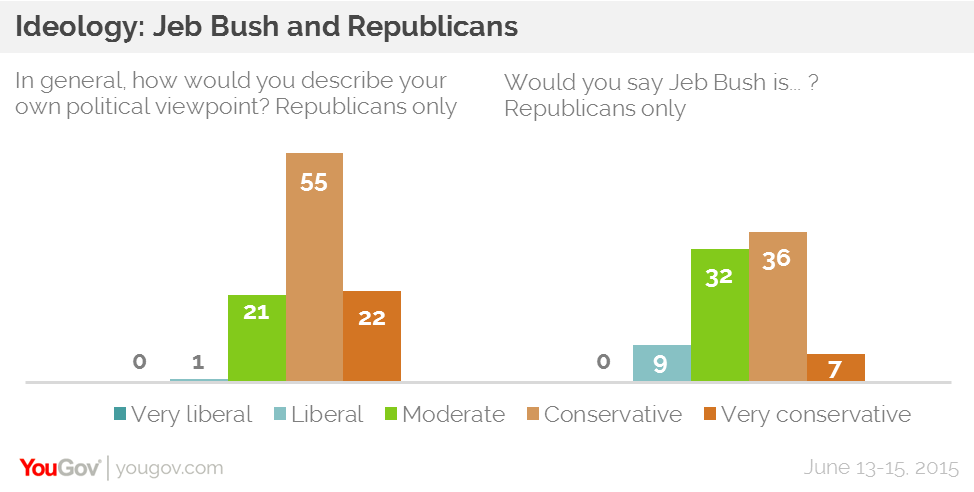 Nearly a third of Republicans say Bush isn't conservative enough for them. 
The mixed feelings about Bush are even more obvious when Republicans are asked to describe Bush in their own words.  The word cloud that is formed for the words mentioned by Republicans finds "liberal" more prominent than "conservative" in descriptions of the former Governor.  And "moderate' is just as prominent.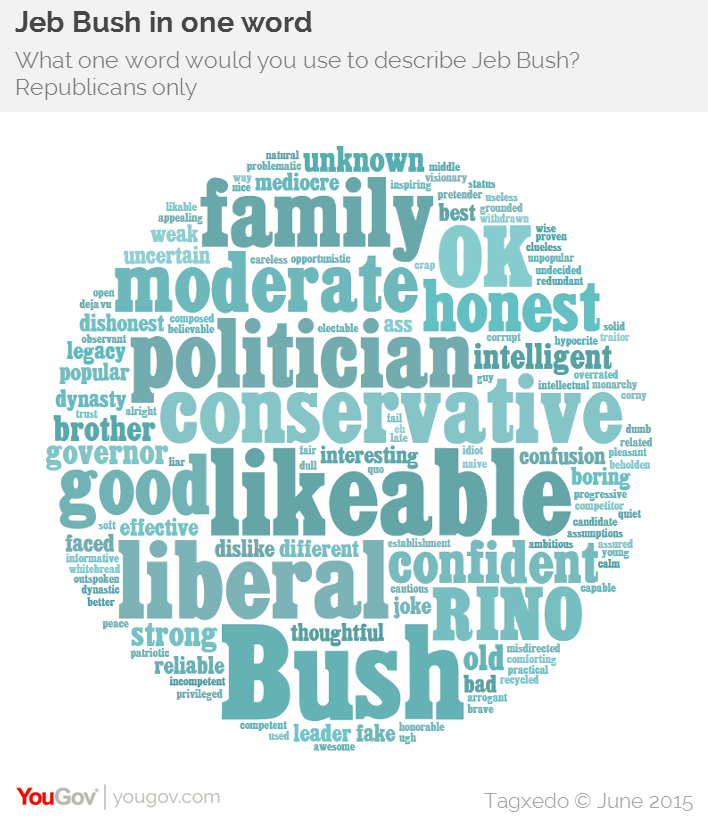 "Likeable" is one of the biggest positives.  But, in addition to the ideological mentions, the word "Bush" is dominant.  It may be a reference – at least in part -- to his brother, former President George W. Bush, and his father, former President George H.W. Bush.  That link may be one of the reasons that two-thirds of Republicans describe Jeb Bush as qualified for the Presidency.  But it is also something negative.  Among the public overall, "Bush" is much more likely to be cited by those who don't like Jeb Bush than by those who do. 
Economist/YouGov poll archives can be found here.