61% of Americans think President Trump is a cyberbully
On November 3rd of last year, Melania Trump made a pre-election pledge to combat cyberbullying. At the time, at least 1 in 2 Americans knew about the now First Lady's campaign. New YouGov data reveals that even months into her tenure as First Lady, 60% of Americans haven't heard anything about her efforts against cyberbullying.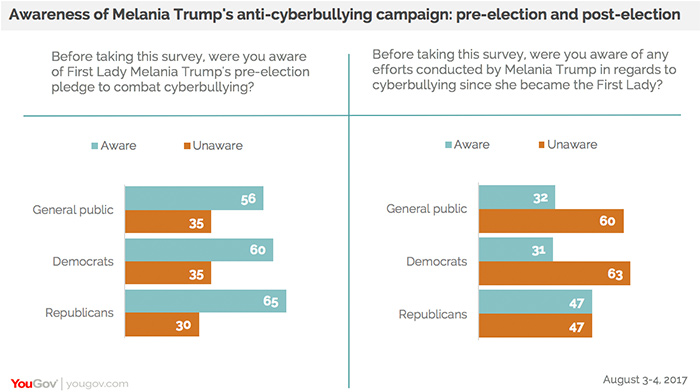 64% of Americans believe that first ladies should dedicate their time and resources towards a national campaign. The scrutiny of this first lady's pre-election promise is amplified by some of President's Trump's statements, particularly his remarks on social media. 61% of Americans think that President Trump is a cyberbully.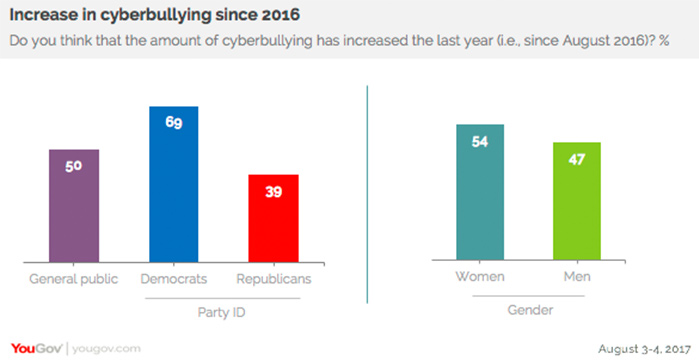 In April of 2016, YouGov found that 1 in 2 Americans said they have been a victim of bullying and harassment. Over a year later, half of the population believes that cyberbullying has increased. Unsurprisingly, when you mix in politics, the topic becomes contentious. 2 in 3 Democrats think that cyberbullying has increased while only 1 in 3 Republicans feel it has become worse. Interestingly, more than half of the women polled believe that online bullying has worsened but men are less convinced at 47%.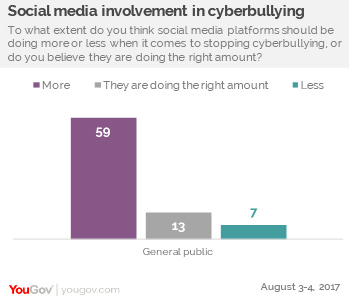 Most people feel that the first lady shouldn't have to tackle the issue of cyberbullying by herself. 59% of Americans feel that social mediaplatforms should play a greater role in stopping cyberbullying – an idea that both Democrats and Republicans agree with. First Lady Melania Trump will certainly have a majority of Americans behind her in this fight against online bullying.