Millennials, particularly women, are more likely to shop around for hair stylists
A good haircut can do wonders for a person's self-image and even boost confidence in some. Changing one's hair doesn't go unnoticed either – a YouGov poll last year found that more than half of Americans say "most" (20%) or at least "some" (36%) people notice their new hairdo. Given the positive effects a good haircut can have, it's no surprise that most people remain loyal to a barber or stylist they trust their hair to. A new survey from YouGov Omnibus finds that more than a third of Americans (38%) always see the same person for a haircut.

A fifth (22%) report that they "often but not always" see the same person, while 17% say they "generally see different people" for their haircuts.

Results appear generally uniform when it comes to gender. Nearly the same amount of men (39%) and women (37%) say they "always" see the same person when it comes time to get a haircut. Men (25%) are five percentage points more likely to say they try to see the same hair stylist "often" compared to their female counterparts (20%). And close to a fifth of women (19%) say they see different people each time they get their haircut.

Fidelity to a particular barber or hair stylist may be a generational quality though. Nearly half of Americans over 55 (48%) say they "always" see the same barber while just a quarter of millennials aged 18 to 24 say the same (25%). The likelihood for these younger millennials (32%) to sometimes get their haircut by someone other than their normal barber or stylist is ten percentage points higher than the national average (22%).

YouGov Profiles tells a more granular story. A look at female millennials 18 to 34 shows that they they are just as likely to go to a different hair stylist every time they need a haircut (26%) as they are to "always" see the same stylist (26%). The trend remains unique to this group. Most of their male counterparts at the same age say they are more likely to "always" visit the same person (31%).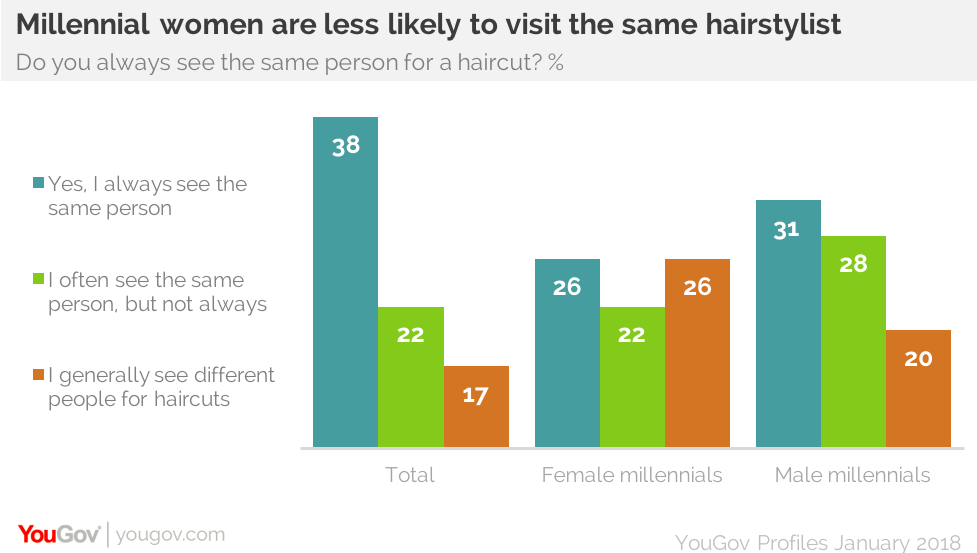 Learn more about YouGov Omnibus and YouGov Profiles

Image: Getty