With recent terror attacks in Egypt, Lebanon, France, and Mali fresh within the global psyche, international travel is being approached with a heightened sense of caution and concern.
According to a recent survey by YouGov, these acts have had a slightly adverse effect on American travelers; with 10% having cancelled a booked trip in response to recent terrorist attacks, impacting an estimated $8.2 billion in travel spend. Furthermore, 22% have elected to delay booking a planned trip, and 18% have switched to a safer destination. About half of all American travelers are maintaining their current international travel plans (54%).
Among high-earning Americans, defined as those with a household income of $100,000 or more per year, just 7% have cancelled a booked international trip, impacting an estimated $1.9 billion (or 23% of total affected travel spend), while 11% have switched their travel plans to a safer destination, and 7% have delayed booking a planned trip. The majority of high-earning travelers are maintaining their current international travel plans (75%).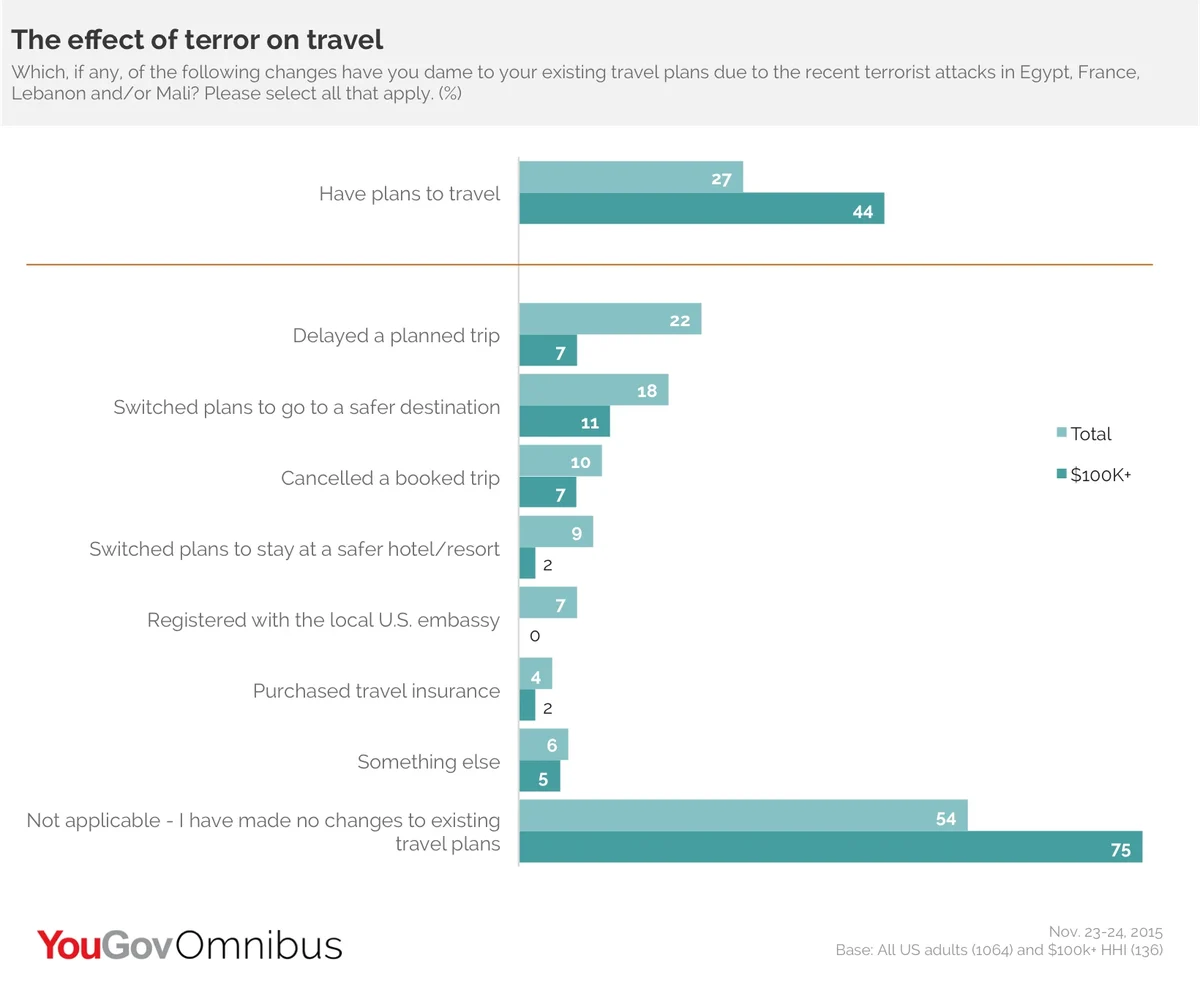 Americans traveling internationally emphasize the safety and security of a travel destination as the leading factor when determining where to travel for vacation or leisure, slightly ahead of the cost of transportation and lodging, traditionally the two most expensive categories for international travel.
According to Cara David, managing partner at YouGov, "high-income consumers simply love to travel, it is as if travel is embedded in their DNA. It represents freedom, a chance to learn something new, and a way to remain connected to the wider global community." David added, "their willingness to travel in the face of risk is reassuring, given their financial importance in the market."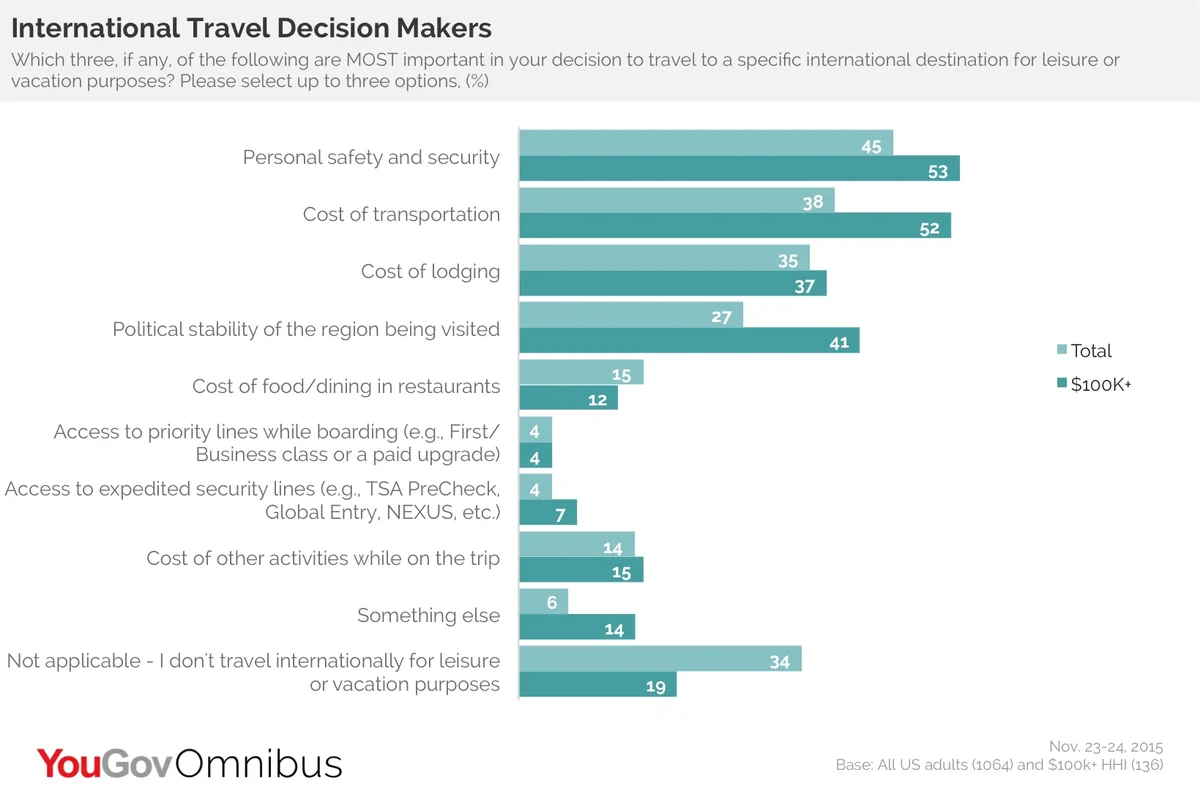 High-Income Travelers Defiant As Travel Plans Remain Intact
High-income consumers' willingness to travel, despite being affected by what they see and hear in the news, is influenced in part by a desire to "not let the terrorists win," with 71% of high-income respondents agreeing with the statement that placing restrictions on their travel plans is equivalent to letting terrorists dictate how they live their lives. That said, 55% generally do not feel safe when traveling overseas given the current environment, and 45% believe the U.S. government is doing a good job of protecting its citizens. Needless to say, the threat of international terrorism is a significant worry for international travelers, with 66% stating that the Islamic State/ISIS is the biggest threat to U.S. national security.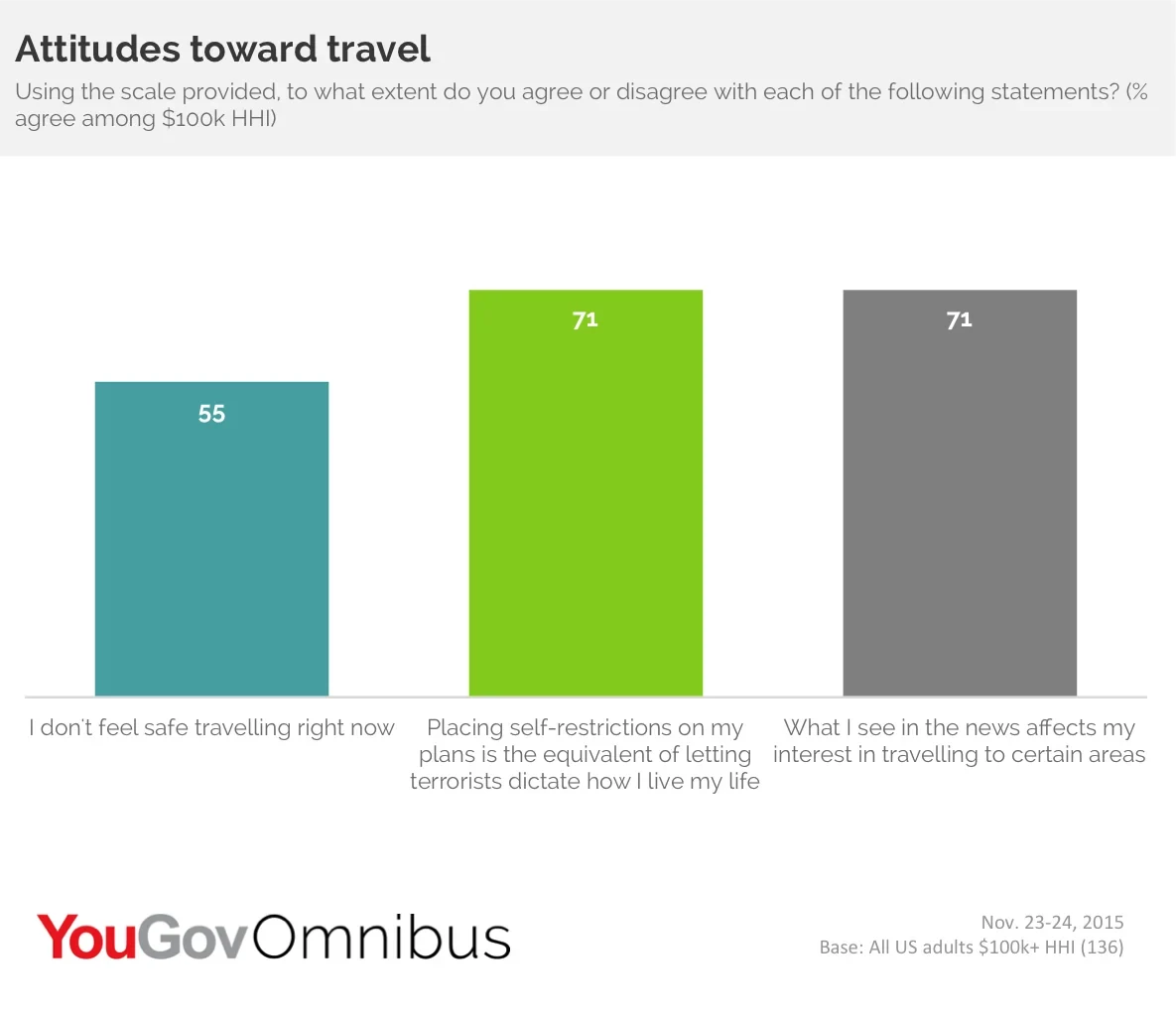 "Based on our extensive research of affluent consumers, we've learned that events beyond their control are cause for significant concern," said David. "While most high-income travelers' plans remain intact right now, it's something worth monitoring closely."
All figures, unless otherwise stated, are from YouGov Plc. Fieldwork was undertaken between November 23rd and 24th, 2015. The survey was carried out online. Total sample size was 1,064 adults. The figures have been weighted and are representative of all US adults (aged 18+). This poll included 136 adults with a household income of $100,000 or more. The margin of error for this poll ranges between 1.5% to 3% among the full 1,064 sample and 4% to 8% among the $100,000+ income group, at the 95% confidence level.

Image by Dancgreer (Daniel Clayton Greer). (Own work.) [CC BY-SA 3.0 or Public domain], via Wikimedia Commons