US adults who drive a Chrysler, Ford, or General Motors vehicle are divided on whether humans impact climate change
Social issues can have a ripple effect on certain industries, but has the automotive industry started to feel the heat of climate change?
YouGov polled two groups of US car owners: those who drive one of the Big Three domestic car brands (Fiat Chrysler, Ford, or General Motors), and those who own one made by one of the three largest Japanese manufacturers (Honda, Nissan, or Toyota). As it turns out, the two groups of car owners differ in opinion when it comes to climate change and what to do about it.
To start, 60% of the American general public believes that climate change is caused by human activity. US adults who drive a Japanese vehicle are just as confident, at 59%, while fewer than one in two Americans who own one of the domestic Big Three cars believe that humans are causing climate change (49%). In fact, the latter group is just as likely to disagree that there is any climate change caused by human activity (46%). Overall, domestic car owners appear more divided on the issue than those who opt to drive a Japanese brand.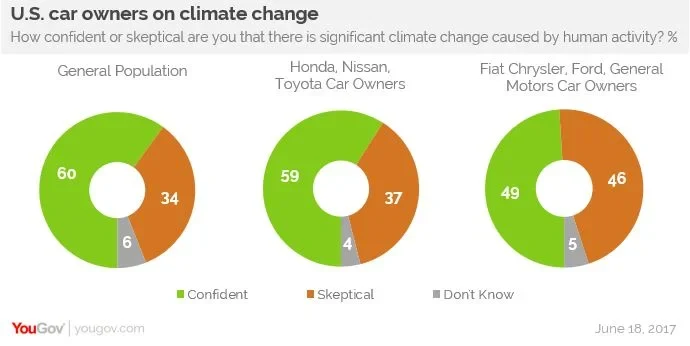 Among the owners of domestic car brands, GM owners seem to be the least confident that human activity affects the climate (46%) and the most skeptical (52%).
YouGov also asked the same two groups of car owners if they were willing to drive less to help save the environment. The answers followed a similar trend: 55% of the general public and Japanese car owners agree that everyone should use their cars less, while only 47% of Big Three car owners feel the same. Again, domestic car owners seem divided on whether they should do something about the issue.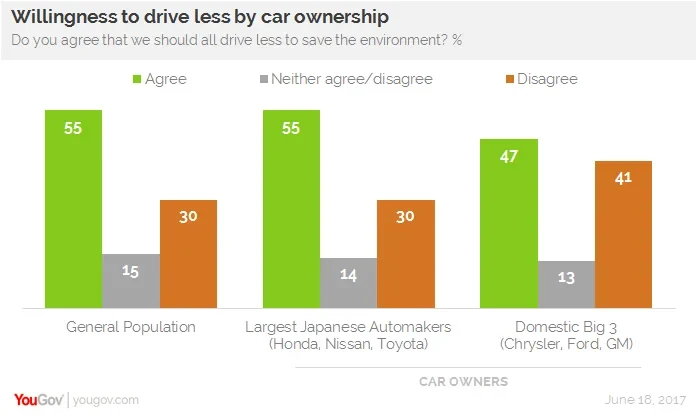 Driving less isn't the only way to lessen one's effect on the environment, though. In fact, hybrid and electric cars are alternatives for people who want to reduce their environmental imprint without sacrificing their time on the road.
In the YouGov poll, car owners were also asked to select the auto features they were most interested in — ranging from eco-friendly choices to smarter safety options. Despite their answers on climate change, both groups of car owners appear to value their safety and the safety of their passengers over eco-friendly options.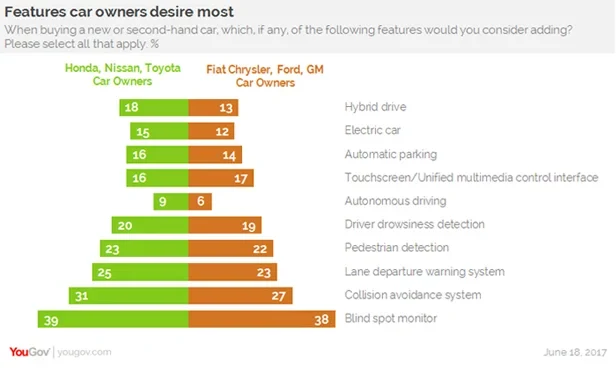 The chart above shows that car owners, both of domestic and Japanese manufacturers, care almost equally about eco-friendly (hybrid drive, electric car) and convenience options (automatic parking, unified multimedia control interface, autonomous driving). However, self-driving cars ranked last in what people want, despite the feature being all over the news.
When it comes to auto features, car owners desire options that will keep them safe on the road. The blind spot monitor is the clear winner among both groups, and this victory suggests that while climate change is a concern, it's not divisive enough to keep car owners from putting their immediate safety first. After all, car safety should be blind to opinions and brands.