United Airlines is taking a long time to regain its perception mojo with prospective travelers, yet it is seemingly benefiting from a consolidated airline industry where flight options on many routes can be limited, according to YouGov BrandIndex.
UNITED FOLLOWS CLASSIC CRISIS PATTERN
Last April, when a video of a United passenger being forcefully dragged off of a plane went viral, the airline's perception went into freefall for one month. United would then follow a classic pattern that YouGov BrandIndex sees with most serious crises: its perception slowly rose back up for several months, then hit a ceiling that was well short of recovery.
United's perception took another hit this past March when a flight attendant forced a family to put its dog in an overhead bin and it died. United's perception fell through mid-April and is now working its way back up again, still well short of the domestic airline industry average.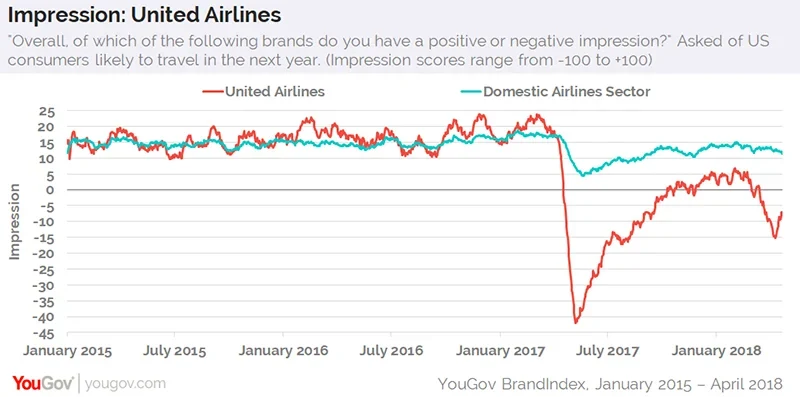 WITH LITTLE CHOICE, TRAVELERS CONSIDER UNITED
United's Purchase Consideration – a measurement of potential sales revenue – paints a different, brighter story.
With domestic airlines consolidated down to a handful, travelers likely had no choice but to put United back on their ticketing radars, even if they didn't think much of them.
After a significant drop, the airline's Purchase Consideration bounced back up above the domestic airline industry average just three months after the passenger was dragged off the plane.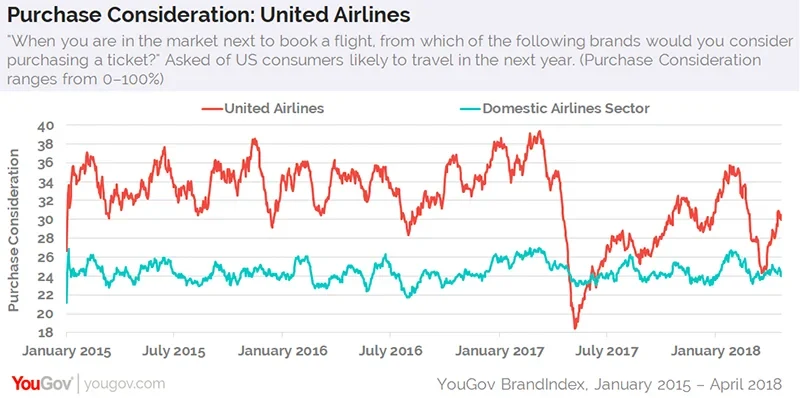 Breaking down the timeline, last April 10th, 35% of travelers would consider booking their next flight with United, a percentage that dropped to a bottom of 18% one month later. That was six percentage points below the domestic airline industry average.
By the third week of June 2017, United was already returning, passing the 24% industry average, and eventually regaining its earlier 36% mark on February 2, 2018. After a computer outage delayed 600 flights less than a week later, followed by the dog incident, the score dropped down to 25%.
Currently, 30% of travelers would consider flying United the next time they book a flight, six percentage points above the domestic airline sector average.
For this research, YouGov BrandIndex used its Impression score, which asks respondents: "Which of the following airlines do you have a positive or negative impression?" YouGov BrandIndex defined "travelers" as consumers 18 and over who said they were somewhat likely, likely, or very likely to travel in the next year.
Photo: Getty