Mustang fans have a higher opinion of Ford than Dodge Charger fans have of Dodge
As the Ford Mustang celebrates its 55th anniversary, new data from YouGov Plan and Track sheds some light on consumers who hold a positive opinion of the popular American muscle car.
Overall, fans of the Ford Mustang ages 18+ appear more patriotic than US adults as a whole. When asked if they're proud to be an American, for instance, 88% of Mustang fans agree, compared to 82% of all consumers ages 18+. Ford Mustang fans are also more likely to say they make an effort to support American businesses and, if given the choice, tend to buy products made domestically.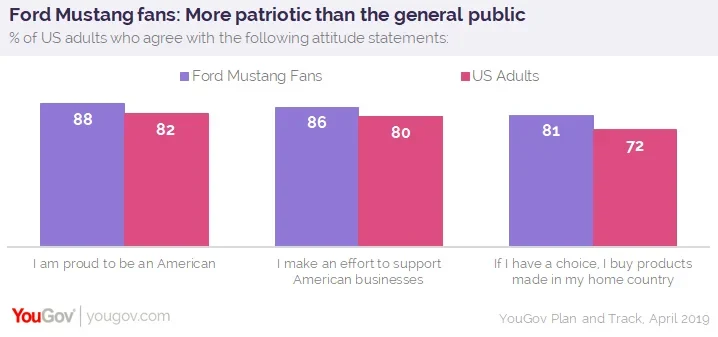 Mustang fans also appear to show a stronger devotion to family. This consumer group is slightly more likely than US adults, in general, to agree that having a car that works well for the whole family is very important (86% vs. 84%). Furthermore, Ford Mustang admirers report a higher level of agreement when presented with the statements, "My family is more important to me than my career" and "Family over everything."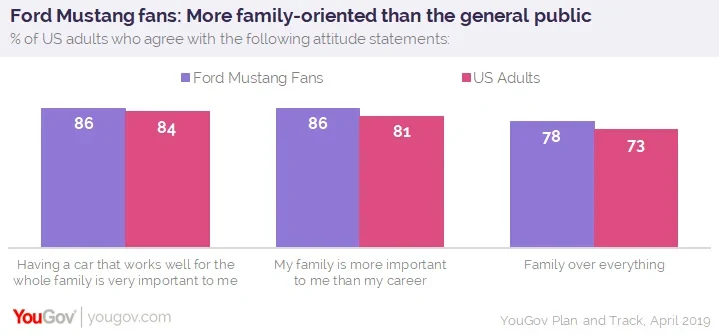 In another comparison with all US adults, figures suggest Mustang fans are more drawn to loyalty programs. In total, 61% think all brands should offer loyalty programs, compared to 58% of American shoppers. Mustang fans also say they're more loyal and feel more emotionally connected to brands when they're a loyalty program member at higher rates than the average consumer.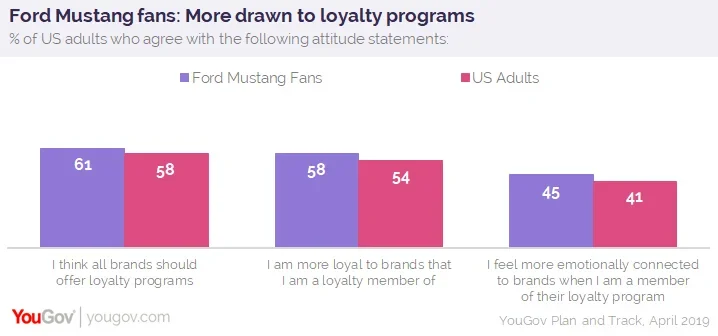 Additional data, going back to April 2018, reveals that fans of the Ford Mustang have consistently given the Ford brand a higher Quality score than the general public.
Last April, when asked if they think Ford represents either good or poor quality, Mustang fans gave the brand an average score of +41 on a scale ranging from -100 to +100. While numbers began dipping a bit in July 2018, as news spread that Ford had
recalled around 550,000 vehicles
,
agreed to pay nearly $300 million to resolve a lawsuit over defective airbags
, and
lowered its annual earnings projections
, Mustang fans currently give the automaker a Quality score of +41. On the other hand, US consumers as a whole have given Ford an average Quality score of +23 since last April.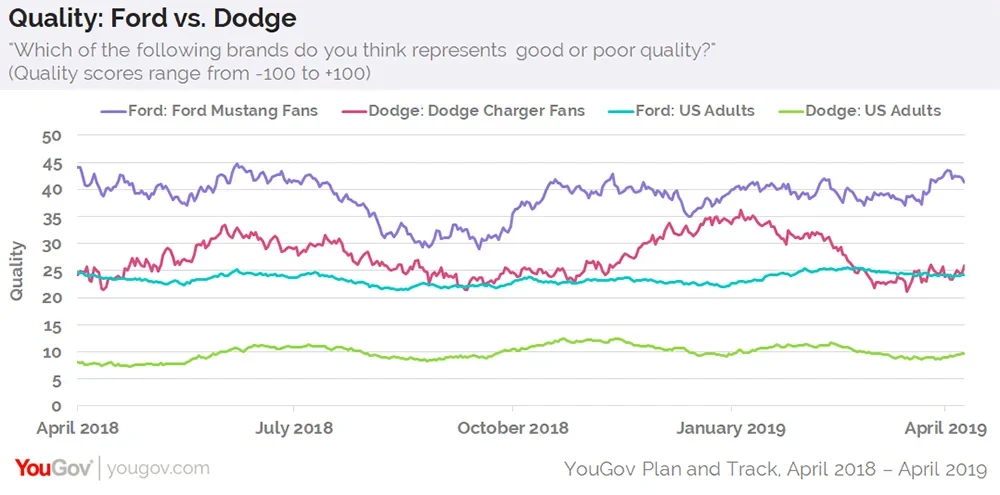 For the sake of comparison, fans of rival muscle car, the Dodge Charger, also give Dodge a higher Quality score than the general public does. Throughout the past year, Charger fans have given Dodge an average Quality score of +28, compared to the general public's +10. Yet Ford Mustang fans have a more favorable view of Ford than Dodge Charger fans have of Dodge, at least in terms of perceived quality.
Photo: Getty