Parents (86%) are especially likely to say they plan to take a road trip this summer
Whether you're winding down the Pacific Coast Highway or cruising along Route 66, chances are, you're taking a road trip soon. Nearly three-quarters (73%) of Americans say they plan to take at least one road trip this summer, and if you're a parent to children under 18 (86%), it's even more likely you'll be hitting the open road at least once this year.
Many families plan to take road trips in the coming months, and they may be considering which automotive technology can keep them safe on the road. Majorities of Americans say they would feel safer driving in a car equipped with blind spot monitoring (83%), a rear-view camera (78%), a navigation system (75%), lane-keep assist (72%), and automatic emergency braking (71%).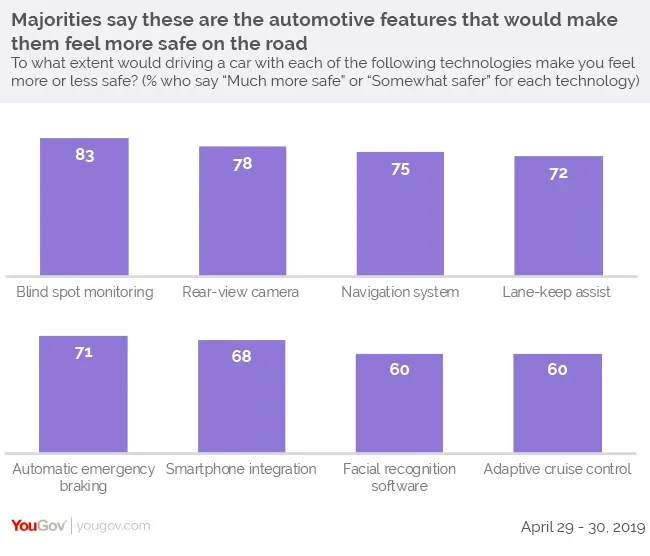 Manufacturers including Hyundai have recently introduced facial recognition software for use in cars. The software would monitor the driver and send an alert if he or she appears to become drowsy or distracted. Six in 10 (60%) Americans say software like this would make them feel safer on the road.
Of course, it's not a real road trip without a good playlist. A majority (82%) say they typically listen to music when they're on a road trip, while 26% say they listen to talk radio. Fewer (16%) say they listen to podcasts, while 13% listen to audiobooks.
Though music is the most common pick among various age groups, 18-34-year-olds are more likely than other age groups to say they listen to podcasts (26%) and audiobooks (17%) while on road trips.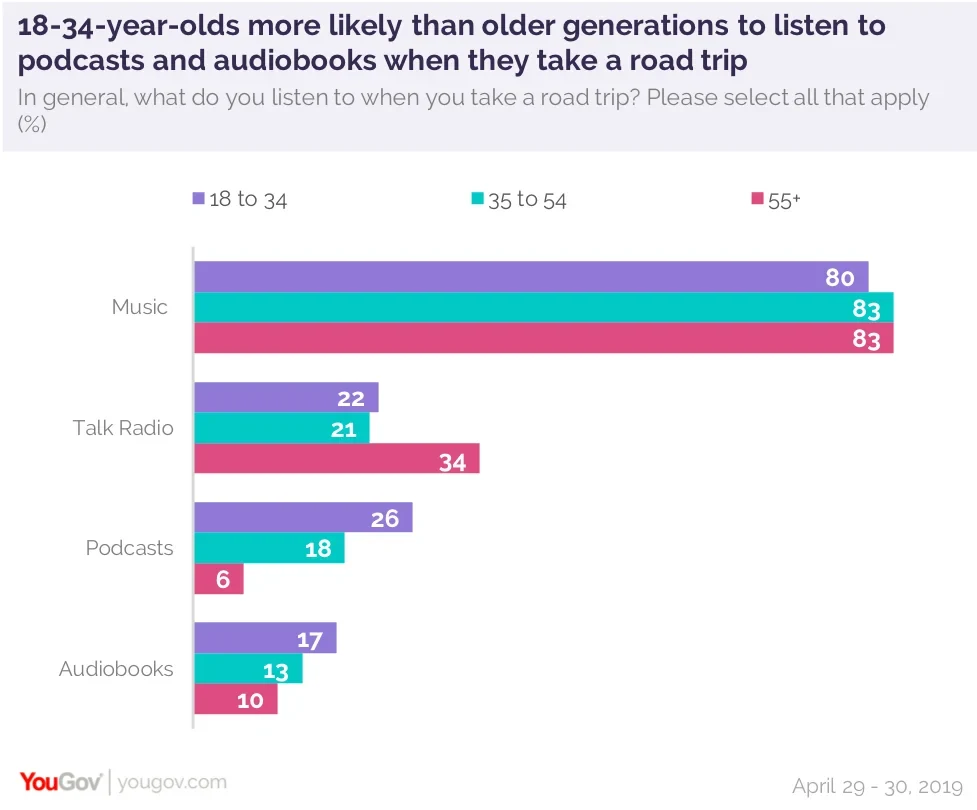 Parents of children under 18 are also especially likely (21%) to say they'll be listening to podcasts as they drive, while 85% say they'll be listening to music and 24% say they'll be listening to talk radio.
Most Americans will have quite a lot of time to listen to their music, talk radio, and podcasts. Nearly two-thirds (64%) of people taking road trips this year will be driving over 300 miles. One in five (20%) plans to drive between 301 and 600 miles this summer on road trips, while 13% plan to drive between 601 and 900 miles. Three in ten (31%) Americans taking road trips this summer plan to go 901 miles or more.