So you're looking to get something for dad to celebrate Father's Day.
Chances are when you asked your dad what he wanted he demurred and told you he'd prefer a day to himself or something homemade, like a card.

But let's be real: dads like stuff, even if they won't say so.

YouGov's Plan and Track tool offers a look at dads' preferences for a few classic items: electronics and gadgets, power tools, and clothing. We took a look at dads across the United States to see which brands really resonate with them, and which brands might be hiding the absolute perfect gift. When it comes to electronics brands, there are a few that dads really like.
Sony, Bose, Playstation and Panasonic stand out in terms of positivity ratings from fathers in America. These four brands were rated positively by more than 70% of American fathers.

If you really want to make a splash with your gift, it might be a good idea to select from Playstation and Panasonic offerings. That's because dads like this brand more than the average American. Playstation is viewed positively by 66% of dads but just 61% of the public, which could mean that your dad will be more elated by a Playstation gift than you might expect.

Something else to consider, JBL, an audio brand, provides the biggest difference between positive ratings from dads vs. the average American (50% to 31%).

Does your dad need a little more power than a Playstation can supply? How about a new tool?

The desire is clear in this department: Dads like Dewalt.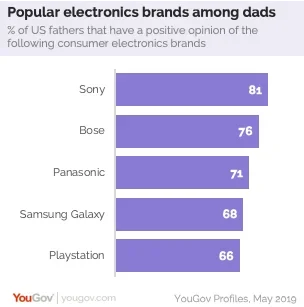 The power tool brand draws a positive opinion from 76% of fathers, the highest of any power tool brand followed by YouGov's Plan and Track data. Dewalt also offers the biggest positivity difference between dads and the average American, 59% of whom have a positive opinion of Dewalt.
That means, if you get dad a Dewalt power tool for Father's Day, chances are he's going to like it a lot. Makita brand tools offer a similar opportunity, not only are they popular with dads (56%), but they're more popular with dads than with the general public (36%).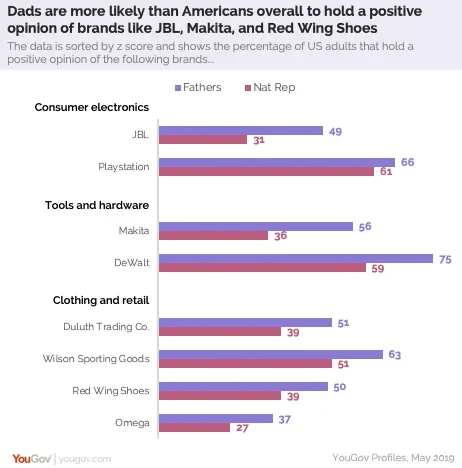 In the clothing department, Hanes, Levi's and Adidas are draw the most positivity from dads. More than 70% of fathers like these three clothing brands (78%, 77% and 68% respectively). Seems like any dad would be pleased with getting a gift with one of these brand logos on it.
But there might be an opportunity to get dad something that he likes a lot more than the average public.
Duluth Trading Co., Wilson, Red Wing Shoes, and Omega are four retail brands that are viewed more positively by dads than by the average American, which means that a new watch or a pair of boots could be the ticket to making your dad feel like the best guy on the planet.