Most Americans support expanded federal hate crime laws, but are divided on banning hate speech
Since 1994 people convicted of federal crimes motivated by the 'actual or perceived' identity of victims have faced tougher sentences. Many other states had passed 'hate crime' statutes in earlier years, and in recent years many states have been adopting laws which make crimes motivated by the victim's sexual orientation of gender identity hate crimes which face tougher sentences, something the federal government did in 2009. Unlike much of the rest of the developed world, however, the United States does not make it a criminal offense for people to make statements which encourage hatred of particular groups. For example a prominent British columnist, Katie Hopkins, is being investigated by the police for referring to African migrants crossing the Mediterranean as 'cockroaches'.
YouGov's latest research shows that many Americans support making it a criminal offense to make public statements which would stir up hatred against particular groups of people. Americans narrowly support (41%) rather than oppose (37%) criminalizing hate speech, but this conceals a partisan divide. Most Democrats (51%) support criminalizing hate speech, with only 26% opposed. Independents (41% to 35%) and Republicans (47% to 37%) tend to oppose making it illegal to stir up hatred against particular groups.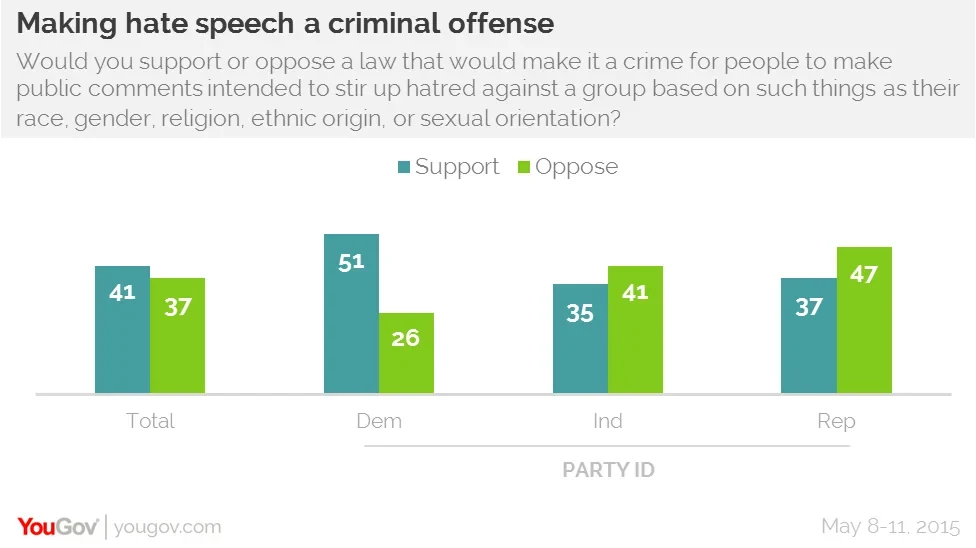 Support for banning hate speech is also particularly strong among racial minorities. 62% of black Americans, and 50% of Hispanics support criminalizing comments which would stir up hatred. White Americans oppose a ban on hate speech 43% to 36%.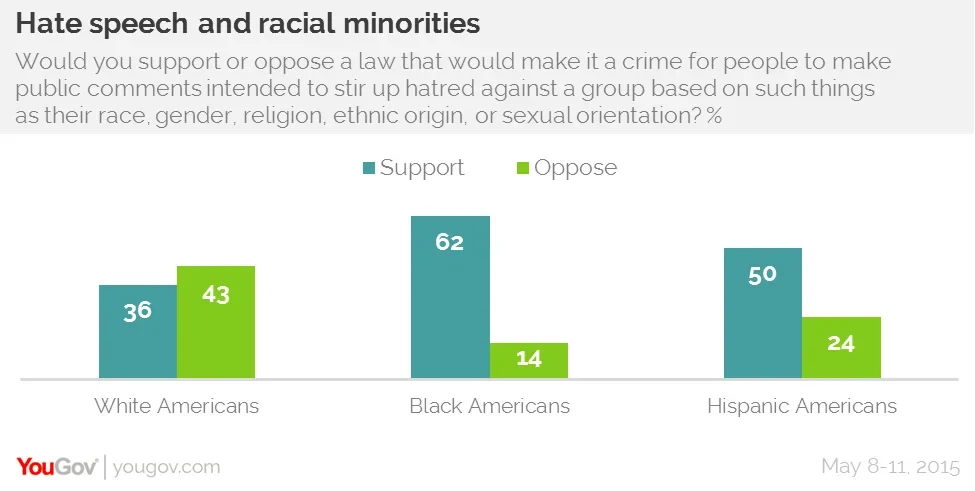 When it comes to crimes motivated by hatred, most Americans do back the current federal hate crime laws, including the expanded definition of hate crime passed in 2009. 56% of Americans back the federal law mandating tougher penalties for cimes motivated by race, religion or gender, and 51% support expanding that to include sexual orientation, gender identity and disability. Democrats (68%) tend to be much more supportive of the law than either independents and Republicans. Republicans (38% to 39%) are split over the expanded definition of hate crime, while independent tend to support (46%) rather than oppose (28%) it.