Since 2018, public perception of the duke and duchess of Sussex has improved, while opinions of Prince William and Kate Middleton have fallen
Nearly a year after they married, Prince Harry and Meghan Markle are expecting a baby. Though the royal couple hasn't publicly shared the exact due date, Markle has said that the baby is due sometime in the "end of April, early May."
Regardless of when exactly he or she arrives, the baby will be joining a fairly popular family. Data from YouGov Ratings shows that Prince Harry is now one of the public figures Americans hold in highest regard, effectively tied with his grandmother, Queen Elizabeth II. More than six in ten Americans (62%) hold positive views of Prince Harry and Queen Elizabeth II.
Since 2018, public perception of the duke and duchess of Sussex has improved, while opinions of Prince William and Kate Middleton have fallen.
While Meghan trails behind her husband in the popularity stakes, she is more popular now than she was a year ago. Last year just over one in three (36%) of Americans had a positive view of her, this has now increased to 41%. Harry has gone up 5 percentage points, from 57% to 62%.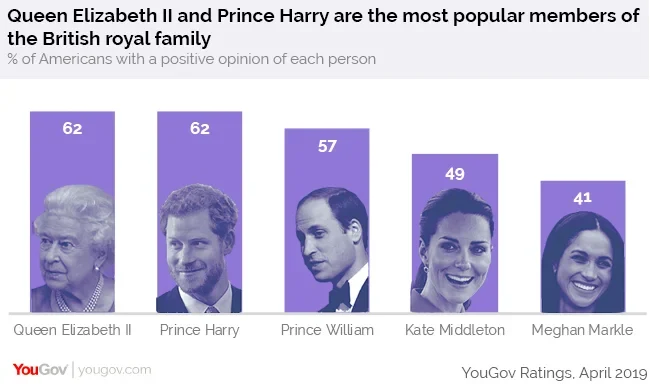 In contrast, Middleton is the only member of the royal family who has become generally less popular since April 2018, when 55% of Americans said they had a positive view of the Duchess of Cambridge. Prince William remains about as popular now (57%) as he was a year ago (58%).
After Harry and the Queen, Prince William is the third-most-popular member of the royal family, with 57% of Americans holding a positive opinion of him. Kate is liked by 49% of Americans.
Perhaps unsurprisingly, the British royal family tends to be more well-liked in the UK versus the US. Among Britons, over half (52%) have a positive opinion of Meghan Markle, while 72% think well of Prince Harry.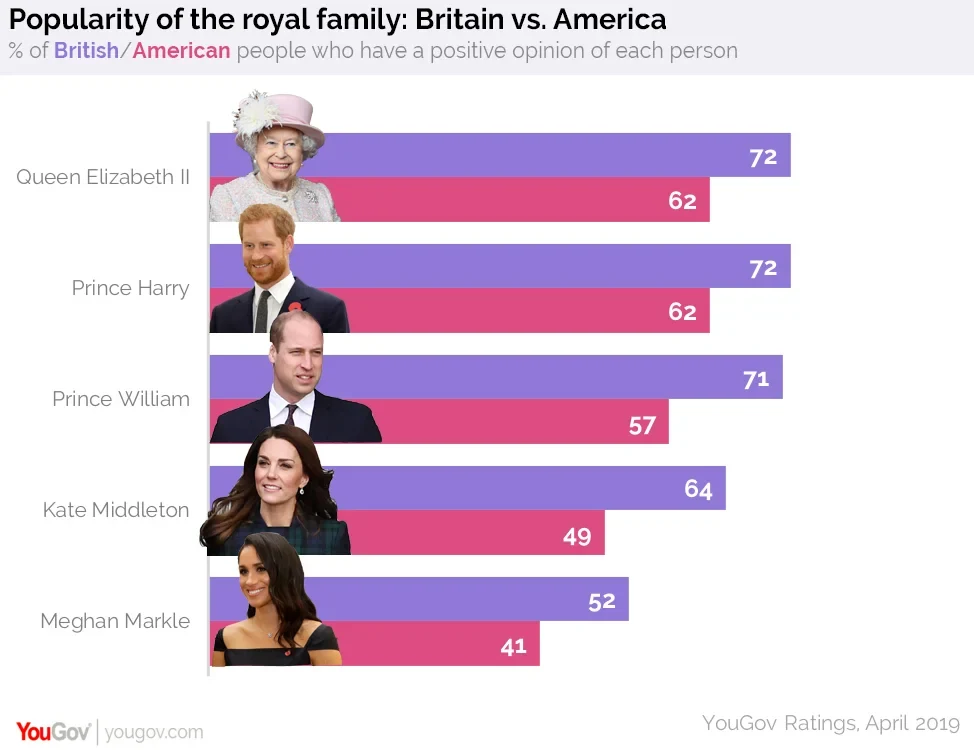 Brits (64%) are 15 percentage points more likely than Americans (49%) to have a positive opinion of Kate Middleton, and 14 percentage points more likely to think favorably of her husband, Prince William. Overall, most members of the Royal Family tend to be better-known in the UK: while 92% of the British public knows who Meghan Markle is, only 77% of Americans say the same. Similarly, 95% of Brits know of Kate Middleton, while only eight in ten (80%) Americans do.
Learn more about YouGov Ratings and sign up to become a panelist here.
Images: Getty