Some of the worst wildfires to hit the western United States have forced people from their homes and mobilized rescue forces attempting to fight the blaze. In the wake of the destruction, YouGov spoke to some of those who have been affected. Details of rushed evacuations, breathing problems and family members fighting the fire lend a remarkable insight to the ongoing situation. Affected states include:
Colorado
Utah
Montana
Wyoming
Idaho
Nevada
New Mexico
Last week residents of Colorado Springs, one of the worst affected areas, were allowed to return to their homes for the first time since the fire took hold – many found their cars burnt to nothing and homes destroyed. So far, at least 34,500 residents have been evacuated from their homes since June. Officials estimate the fire has burnt 202,425 acres and destroyed more than 600 homes.
"It was like looking at the worst movie set you could imagine," Colorado Governor John Hickenlooper is reported as saying. "It's almost surreal. You look at that, and it's nothing like I've seen before." Stoked by high temperatures and strong winds, it is believed that the fire originated from dry conditions and temperatures of over 100 degrees Fahrenheit. Here is the response from selected members of the YouGov panel:
2012 Wildfires: Experiences and tributes



"My dog and I were given two minutes to evacuate. I fortunately was able to go to a private shelter that allowed my dog to be by my side. My home was less than two miles from the fire. I was lucky that I just got a lot of smoke in my home." Robin, Woodland Park, Colorado
"I live in between the 2 major fires… smoke, now with the rain, potential damage to our drinking water. Seeing so much damage. Seeing people, like me, lose everything." Lorri, Littleton, Colorado
"I am on standby to evacuate others. I have to go to a lot of meetings but I am getting overtime." Anon.
"My son went to work battling a wildfire in our back yard last year. Now he is in another state battling the wildfires in that state." Lynn, Zootown, Montana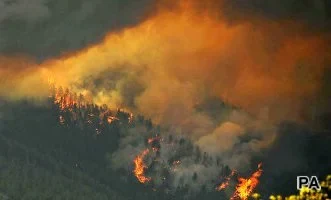 "Evacuated at the last minute. Lost utilities (lights, etc.), police came, we left not totally prepared (too dark to get everything we needed). Getting back in to our home was a challenge." Gloria, Colorado Springs
"Heavy smoke and bad air" Anon.
"I live in the Colorado Springs downtown area, though the fire danger wasn't close, we did experienced breathing issues because of the smoke and dust the wind blew; I have been using a surgical mask to deal with the problem" Lillian, Colorado Springs
"Smoke from the Little Bear fire near Ruidoso, NM, filled our air. With my asthma, that meant staying indoors until the smoke vanished. I'm not complaining – the smoke was a very small thing in comparison to those who have lost their lives or their homes." Roswell, New Mexico
"My grandson is a fire fighter in Montana. He would text us and send us photos every day." Anon.
"Pray… I do not know anything else to do." Randy, Mebane, NC
"My home burned down in October 1973 and we lost everything but the clothes on our backs, so I understand what you are going through and my heart goes out to you. Look to God. He will help you to recover!" Frank, Greenville, SC
"Though this is very sad, time goes on and this is a chance to rebuild and start anew." Jacqui, Winchester, CA
"I have been caught by forest fires in the past. Don't waste time or energy blaming or asking why; just accept, move forward and realize it could happen again, so be PREPARED!" Terri, Carson City, NV
"Stay strong and know your home will be rebuilt and your homeowners insurance will lead you the way to a speedy recovery." Sergio, Los Angeles, CA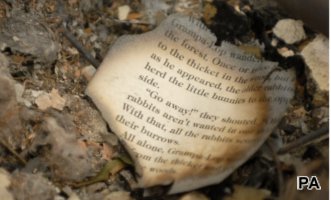 "I was badly affected by the Alaska Big Lake fire in '96. We did the best we could – no trees near the house, dug out firebreaks, drenched the house and surrounding area. All to no avail; as many of you now know, the idea of stopping a raging wildfire is." Heather, Centralia, WA
"Hang in there. When you live in a high risk environment you exchange safety for beauty and peace and quiet." Anon.
"When things cool off, go back, rebuild or just clean up and help your neighbors. Stay the course. You and your family can make the best of this. God bless." Jim, Carrollton, TX
"We hope that you will rebuild, and with all people helping we can band together and get things done . We are all so sorry for all your devastation." Edwina, Minneapolis
"I hope you have friends and family and strangers who come to help." Lena, Miami, FL
"Glad you made it through." Pat, Saginaw, Michigan
"Please help the wildlife, horses and other animals get to safety." Anon., New Orleans, LA
"My pets, my photo albums, my personal papers (birth certificate, insurance policies, etc)" Athens, GA
"Home owners fire policy" Sergio, Los Angeles, CA
"Heirlooms: Family Keepsakes that CANNOT be replaced." Jimbo, Marfa, TX
"My family only" Lewis, Los Angeles, CA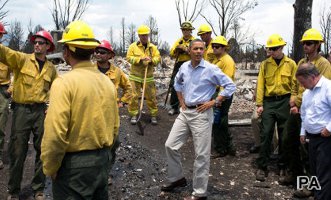 "Valuable documents, money or near money and small items such as cameras and laptops." Selwyn Roberts, Mississauga, Ontario, Cananda
"Pets and farm animals, though not possessions, must be evacuated early." Anon, New Orleans, LA
"I had only one choice: rescue my wife. The fire was too intense to even consider anything else." Frank, Greenville, SC
"I would grab my family, because they are unreplaceable to me." Phyllis, Philadelphia, PA
"Pets, guns, documents (birth certificate, car titles, etc.) & emergency cash, first aid kit, external hard drive (backup of all my work), few clothes, bit of food, various small sentimental items if still time left." Heather, Centralia, WA