YouGov's latest Citybus survey gives a representative sample of Chicagoans, so we can say definitively – Giordano's is Chicago's choice for deep dish pizza.
Top Chicago Deep Dish Pizza
The Top deep dish pizza restaurant, according to local popular vote, is Giordano's favored by 28% of Chicagoans, but followed closely by rival Lou Malnati's at 26%. The next rated was Gino's East with 15%.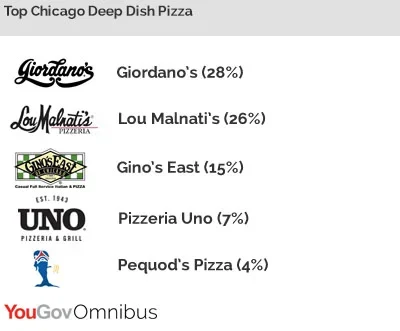 While Giordano's comes out number 1 looking at all age groups combined, each generation seems to have their own favorite:
Giordano's wins the young vote – 37% of Millennials
Lou Malnati's is the place of choice for those aged 35-54 (31%)
Gino's East is the old school choice – 23% of those aged 55 and over
Top Chicago Steak House
A quarter of Chicagoans think that the tastiest steak is waiting at Gibsons Bar & Steakhouse (25%), followed by Chicago Cut Steakhouse (14%). Gibsons appeals equally to men and women but is a particular favorite with Boomers and older generations (31% of over 55s).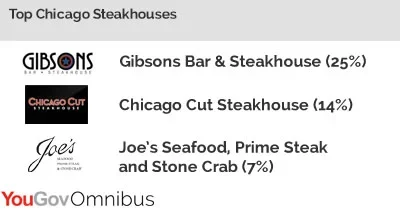 Diets are not Popular in Chicago
Food is the top rated local item for Chicago locals, over three-quarters (77%) of Chicagoans told us that food is one of the things they really like about their city. The majority of Chicagoans choose not to restrict their food input with any special diets - 63% of Chicagoans chose not to go on a diet in the last year, compared to only half New Yorkers (50%), and Los Angelinos (51%).
Find out more about YouGov Citybus
Full Chicago Citybus tables here