Even in Portland, the city least likely to say they enjoy spring, a majority (87%) say they like it
Spring has sprung, and Americans in many major cities are happy about it.
Data from YouGov RealTime/Citybus finds that majorities in 20 metropolitan cities tend to say that they enjoy springtime weather in their area. The metro areas most likely to say that they enjoy spring are Philadelphia (93%), Dallas-Fort Worth (93%), Denver (93%), and Chicago (93%). Boston (92%), Washington DC (92%), and the SF/Oakland/San Jose area (92%) are about equally likely to say the same.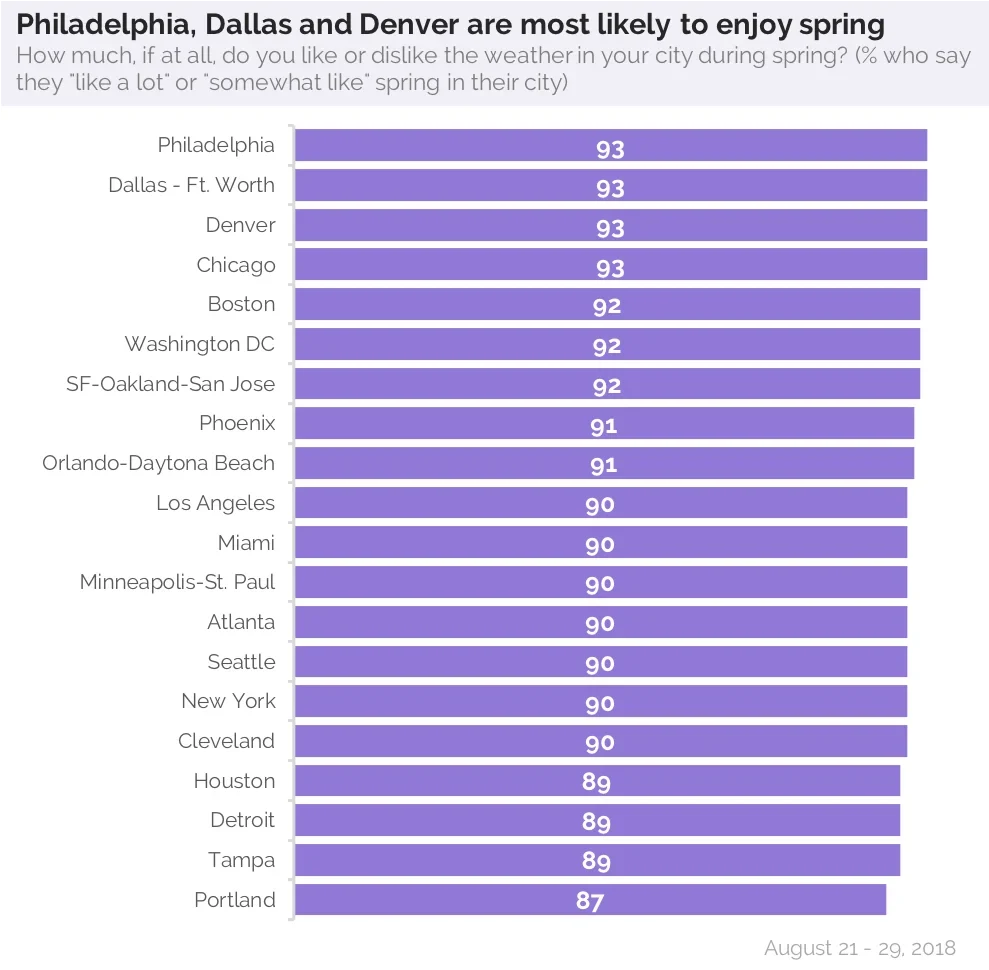 Portland is the city least likely to say they enjoy spring in their city, but even there, 87% say that they like the weather during this season. About one in ten (11%) Portlanders say they dislike spring, while 2% say they don't know whether they like or dislike the season.
About nine in ten (89%) people in Tampa, Detroit, and Houston say they enjoy spring, while a near-equal number (90%) in Cleveland, New York, Seattle, Atlanta, Minneapolis, Miami and Los Angeles say the same.
Spring and fall both tend to be generally well-liked around the country: 91% of people in 20 major metropolitan areas say that they enjoy autumn in their area. Opinions about winter are generally more divided. While those in generally warmer climates like Phoenix (90%), Miami (85%), and Tampa (85%) tend to say they enjoy winter, those in cities further north like Chicago (30%), Cleveland (31%) and Minneapolis (33%) are far less likely to say they like winter.
Methodology: For the YouGov Citybus data, the total sample size was 4,065 US adults aged 18+ (i.e. approximately 200 people per metro area). Interviews were conducted online between August 21-29, 2018. The respondents surveyed in this study reside in the following Designated Market Areas: Atlanta, Boston, Chicago, Cleveland, Dallas - Fort Worth, Denver, Detroit, Houston, Los Angeles, Miami - Fort Lauderdale, Minneapolis - Saint Paul, New York, Orlando - Daytona Beach Melbourne, Philadelphia, Phoenix, Portland - Oregon, San Francisco - Oakland - San Jose, Seattle - Tacoma, Tampa - Saint Petersburg, Washington DC.
Read the city-by-city data on access to mental health clinics, and learn more about YouGov RealTime polling.
Image: Getty