Same-sex attraction is more widely reported for Millennials than older generations. In fact, fewer than half (46%) of Millennials say they are completely heterosexual, according to new research from YouGov RealTime.
Americans were asked to evaluate their sexuality roughly according to the Kinsey scale, which is a commonly-used research tool to measure a person's sexual orientation. The scale typically ranges from 0, indicating a person is completely heterosexual, to a 6, indicating that a person is completely homosexual. The original study used several methods to determine where someone would fall on the spectrum, but YouGov simply asked people to place themselves on the scale.
Almost four in 10 (38%) Millennials describe themselves as being between 1 and 6 on the scale, meaning they are not completely heterosexual. Millennials are considerably more likely than Gen Xers or Boomers to describe themselves this way: Just 25% of Gen Xers and 15% of Baby Boomers say they are anything other than completely heterosexual.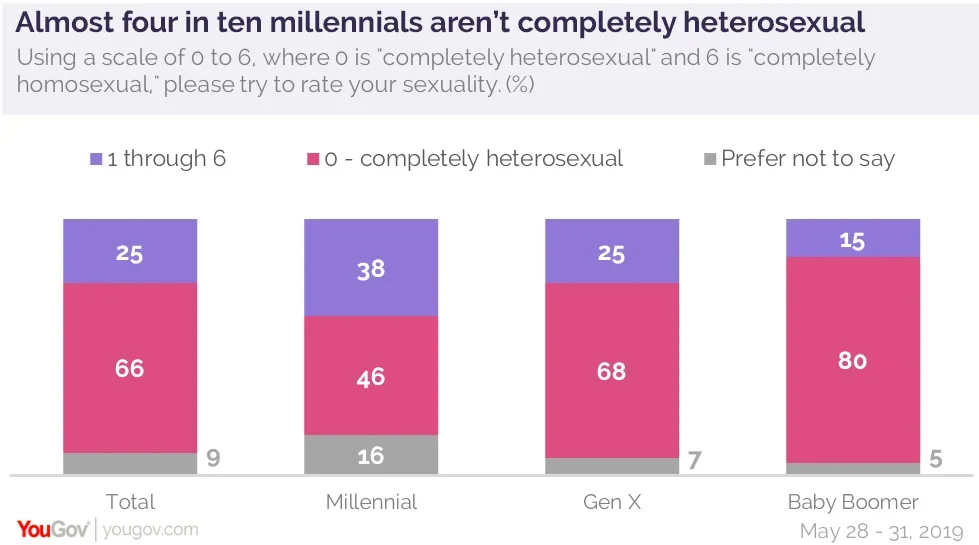 Although roughly two-thirds of Americans (66%) presently self-identify as completely heterosexual, a plurality (46%) believe that sexuality is a scale. Millennials (48%), Gen Xers (47%) and Baby Boomers (46%) are all roughly equally likely to believe this.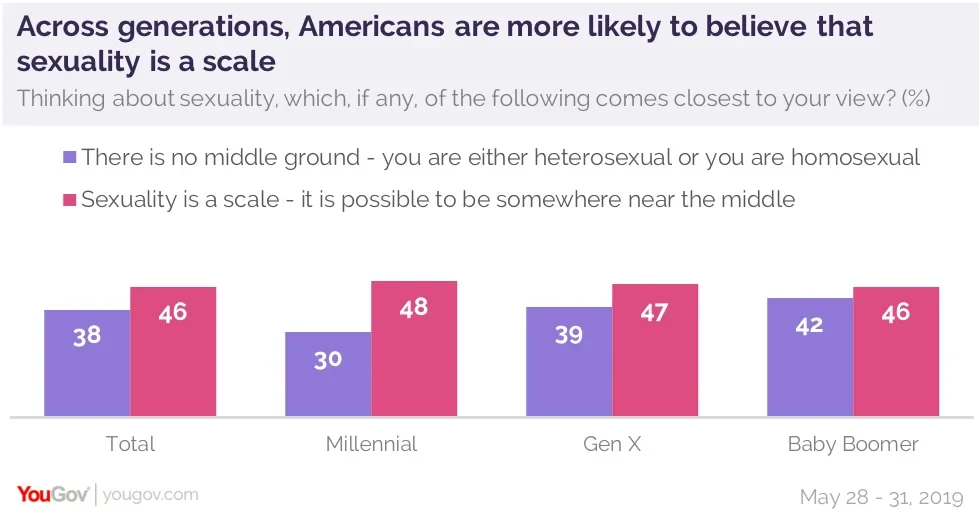 There has been a slight change in thinking around this topic from last year to this year. When YouGov asked the same question in 2018, slightly more people (42%) said "there is no middle ground" than said "sexuality is a scale" (40%). This year, the plurality has switched. Those who believe sexuality to be a scale (46%) now outnumber those who believe it is binary (38%).

Baby Boomers (42%) and Gen Xers (39%) are more likely than millennials (30%) to say that there is no middle ground when it comes to sexuality.
See full results here and sign up to be a member of our panel here.
Related: LGBTQ+-inclusive advertising is a win with these consumer groups
Methodology: Total unweighted sample size was 3,721 US adults ages 18+. Interviews were conducted online between May 28 - 31, 2019.