In honor of the spookiest month of the year, YouGov asked Americans about their belief in various paranormal entities. Turns out that more than four in 10 Americans believe that ghosts, demons, and other supernatural beings do exist.
More than one in five (22%) say that demons "definitely exist" while slightly more (24%) believe that they "probably exist." The numbers are similar when Americans are asked about ghosts: 20 percent say they "definitely exist" and 25 percent say they "probably exist."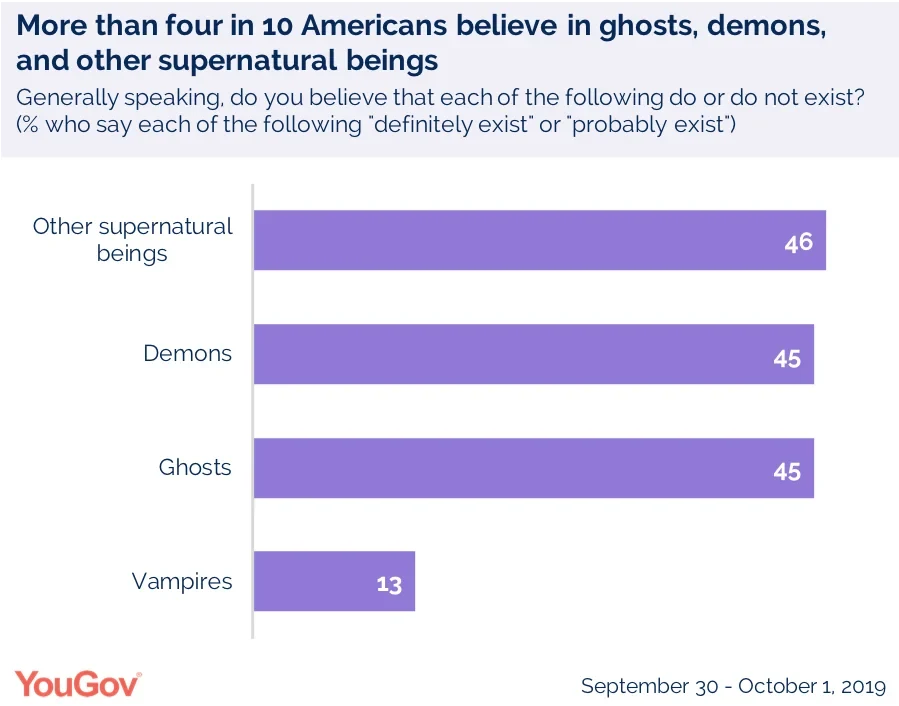 Far less common is the belief that vampires live among us. Only 13 percent of Americans say that vampires definitely or probably exist.

There are some slight partisan differences when it comes to a belief in supernatural entities.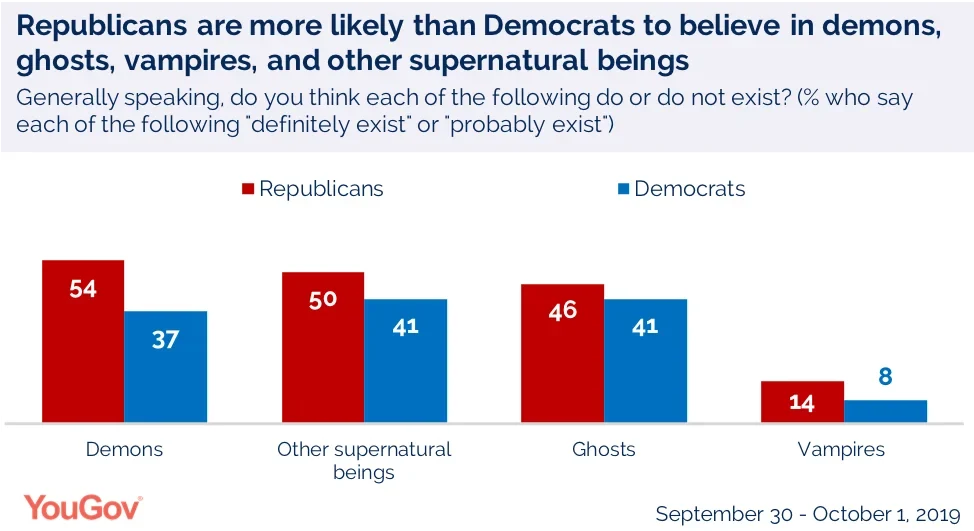 Republicans are more likely than Democrats to believe supernatural entities of all kinds, particularly demons. Over half (54%) of Republicans say that they believe in demons, while far fewer (37%) Democrats say the same. Similarly, Republicans are more likely than Democrats to believe in ghosts (46% vs 41%), vampires (14% vs 8%) and other supernatural beings (50% vs 41%).
With 45 percent of Americans expressing a belief in ghosts, perhaps it's unsurprising that many Americans also believe that ghosts and spirits can come back to haunt certain places on Earth. About four in 10 (43%) US adults say they think ghosts can come back and haunt people or places. Women (51%) are more likely than men (35%) to hold this belief.

More than one-third of Americans (36%) say that they have personally felt the presence of a spirit or ghost. Once again, women (41%) are more likely than men (31%) to say that this has happened to them. Just over one in ten (13%) Americans say that they have communicated directly with a ghost or spirit of someone who has died.
Related: What most Americans spend on Halloween
Methodology: Total unweighted sample size was 1,293 US adults. The figures have been weighted and are representative of all US adults (ages 18+). Interviews were conducted online between September 30 and October 1, 2019.
See the full survey results here.