The 47th Super Bowl will be played in New Orleans this Sunday and millions of football fans and converts-for-the-day will be glued to their TV sets. According to our latest YouGov Omnibus survey nearly two thirds (63%) of Americans will be watching the Super Bowl, nearly a third of Americans (29%) have yet to work out which teams are going to be playing.
45% of people surveyed like watching football and intend to watch on Sunday, while another 18% don't really like football but will be watching anyway. Men, unsurprisingly, are the most engaged with 55% both football lovers and intending to watch the game. One in five women will be reluctantly joining the festivities; 21% of women don't like football but will be watching.
The big question – apart from will Beyoncé lip-synch – is who will triumph on the day?
The San Francisco 49ers were hot favorites in this survey over the Baltimore Ravens at 31% to 22% for all responders. And for a more informed comparison, 52% of those who correctly identified the teams expect a 49ers victory, against 35% who expect a Ravens win.
Thinking about this year's Super Bowl game, which one of the following best applies to you?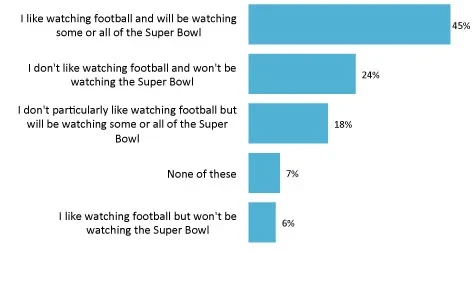 For further information about poll results, and for details about methodology and Omnibus services, please email omnibus.us@yougov.com.