According to the latest YouGov Omnibus survey, Americans would prefer to include baseball in the 2020 Olympics than wrestling. The International Olympic Committee has decided to drop wrestling from the 2020 games despite it being part of the first Olympics in 708 B.C. and one of the sports included in the first "Modern Olympics " in 1896.
There is a chance that the decision will be overturned in May when the IOC considers which of nine sports should be included in 2020. However, when asked to nominate just one sport 23% preferred baseball compared to 17% who preferred wrestling just ahead of karate at 13%. Baseball and softball were dropped from the Olympics after the 2008 Beijing games and have a joint bid for 2020.
Some of the nine sports under consideration are not very familiar to American audiences. While baseball is familiar to 64%, and wrestling 52% only 18% had heard of sport climbing and 3% have heard of Washu. Wushu is China's national sport, and is a style of martial arts.
Which one of the sports competing for inclusion in the 2020 Olympic Games would you prefer to be included?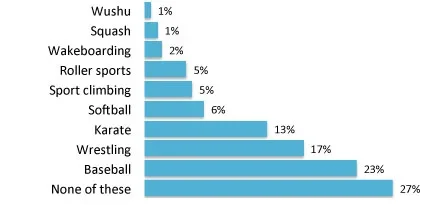 For further information about poll results, and for details about methodology and Omnibus services, please email omnibus.us@yougov.com.